Standing in the by lanes of iconic Paranthe wali gali (if you ever get a chance), you will realize how special this delicacy is. Paratha is the most frequently made breakfast in the Indian homes. I am skeptical about the fact that there is a person in India who has never eaten a Paratha. Prove me wrong if you are that person. The recipe of Paratha doesn't need specific measures, it needs treasures of love that should go in it while making.
I personally liked Parathas since a very young age, because my mom makes some delicious Parathas that I prefer to eat with tomato sauce or ketchup (yes both of them are different things). What is your favourite sides with Paratha? Is it Achaar (Indian Pickle) or Dahi (curd)? For me, may be the movie Chandni Chowk to China made me obsess over Paratha so much that I started seeking them at many places.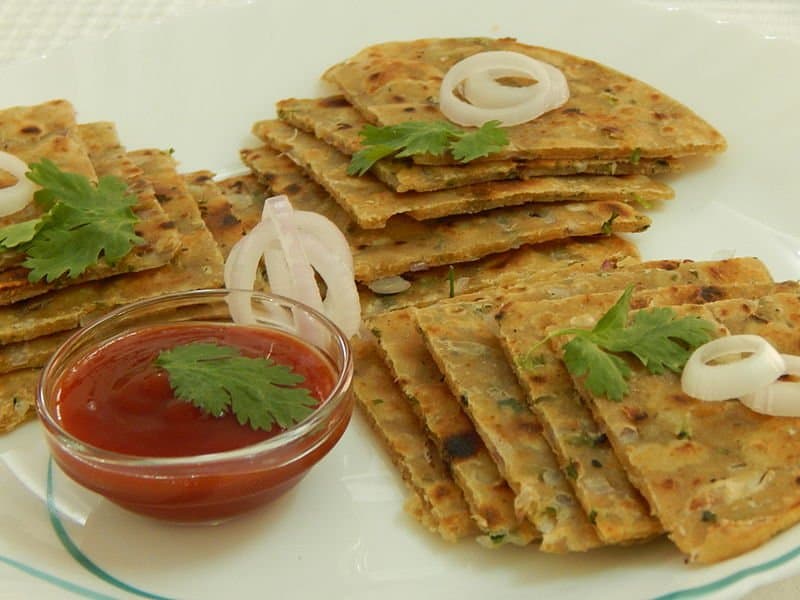 Chatta Madan Gopal, Paranthe wali gali, Lal Quila, Chandni Chowk, Delhi-6, these were the words of Akshay Kumar in that movie. Though I openly admit that the movie was a disaster, but these words are rather worth focusing. They describe the address of the most legendary place which serves Paratha in enormous quantities which taste so delicious that is hard to describe. So by now you must have realized what this blog will be about. Paratha the unofficially accepted national breakfast of India, considering that it is eaten in most of the states during breakfast.
Paratha is just another comfort food that resides in the heart, especially of the people from north of India. Toppled with Ghee or Butter and served with Dahi. Just writing this has made me think about eating one. I don't know how I am going to survive till the end of this blog. A Paratha can be eaten for breakfast, lunch, snacks or dinner, and this makes it an all-rounder in the team of Indian cuisine. So let us tear into the layers of this beauty and see what spills out.
History of Paratha
Multiple theories incept numerous chapters, yet the conclusion remains the same, this dish called Paratha is Indian in origin. Felling proud already? You should be definitely feeling proud of the fact that Paratha is Indian. Not like other foods which are much more celebrated but are having foreign origins. This is why Parathas are categorized as one of the most underrated food items.
So how old is the Paratha? Maybe older than the oldest things you know. The name Paratha is derived from two separate terms 'Parat' and 'Atta' which means layers and Dough respectively. As the reason being, most of the parathas on this planet have flaky layers. A Sanskrit text which was sort of an encyclopedia from the 12th century called the 'manasollasa' is the proof that Paratha is older than Taj Mahal, Eiffel Tower, and statue of Liberty and so on. Nonetheless it is one of the culinary wonders of the world.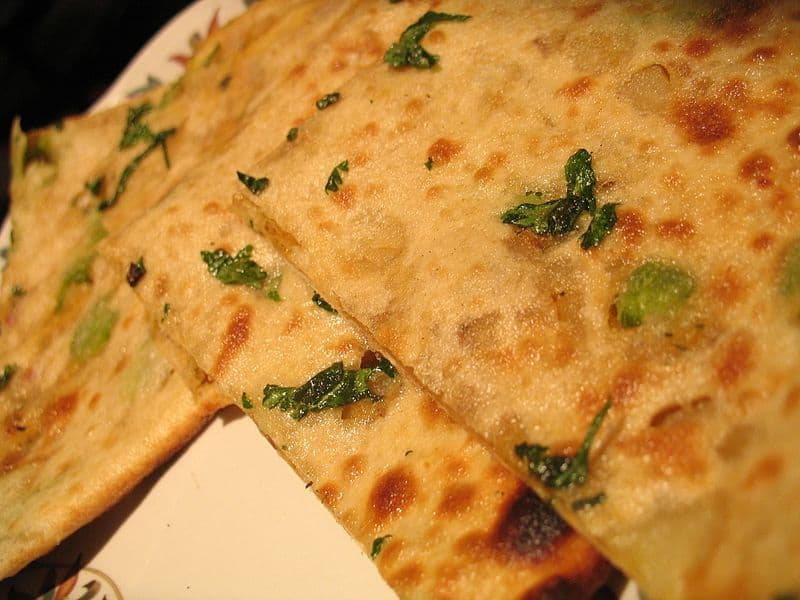 It would amaze you that the same book refers to a point which states that the Paratha has an ancestor which is most loved sweet dish of Maharashtra. The manasollasa has a culinary section which states that there existed a dish called 'purana' which was made of dough filled with jaggery and gram paste. The same concept through which Puran-Poli is made. This is the beginning chapter of the stuffed Paratha journey. This is how it all started.
The present form of Paratha that is eaten is mostly savory but initially this was not possible because going by the historical data, most of the veggies that go into a Paratha are not native to India. Potatoes came in 17th century, Chilies came in 16th century, Cabbage came in 18th century, and cauliflower came in 19th century. Probably onions were the only interesting veggies to make the Paratha journey larger than life in India. Hence, the precursor to present day Indian Parathas was Puran-Poli.
Apart from this it is said that during the Mughal rule, the Paratha became famous and travelled to various regions out of which, Pakistan, Nepal, Myanmar, Maldives and Sri Lanka are included. Once the Mughal Empire declined, the Mughlai cooks moved to different cities and propagated the love for Parathas especially the non-veg ones. It is said that the Bengal province got its famous Keema Paratha from these ex-Mughlai cooks.
Understanding the Paratha concept…
You must be thinking how dumb I am that I have to explain this as concept. So in my defense I say that we are a nation full of diversities and therefore a same dish has its own regional variations, this is why I want to tell you few things that are important. If you are a non-Indian reader then you should definitely read this.
Parathas are of 2 types, stuffed and the non-stuffed. Stuffed Parathas are those Paratha which are made after stuffing the dough with fillings of our choice and then rolling it to enlarge. The non-stuffed Parathas are made with the mixture of dough which is kneaded in the dough itself. The next classification lies in the way of cooking, it can either be stuck in tandoor or shallow fried in a wok or tawa. You can mix and match all these techniques, each time you will get a fantastic results.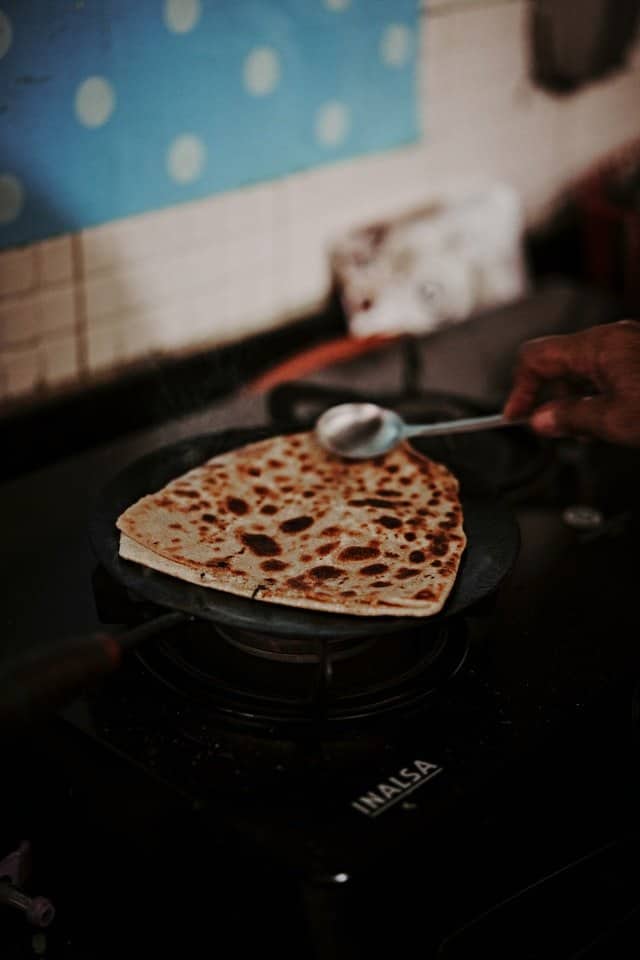 The only difference might be the heaviness of the Parathas. Tandoor Paratha are less laden with oil or ghee, and the fried ones are fried in ghee or oil and thus makes them heavier. Irrespective of the heaviness quotient, it is a food which is capable of satisfying your hunger pangs at any given time in the day.
So the non-stuffed Parathas include Lachha Paratha, Trikoni Paratha, the plain Paratha, Malabar parathas, and the Parathas which were made with the dough kneaded in the fillings. Out of these Lachha Paratha is my favourite. The intricately worked layers gives it flaky texture and it goes well with many gravy based dishes. The stuffed Paratha is the one where any stuffing can do the wonders. Aaloo (Spice potato), Gobhi (Cauliflower or cabbage), Pyaaz (Onions), Mooli (Radish), the list of stuffing is endless.
Now without wasting more time on theory let us focus on what are the top rated Parathas of India that are world famous.
Top 10 Parathas of India
1) Aaloo Paratha
Two words one soul, this is how I perceive it. You ask anyone randomly in India to fill in the blank about either aaloo or Paratha they will respond with aaloo Paratha. Such is the fame of this version of paratha, and this it is my favourite too. Is it your favourite too? Mashed and spiced potatoes are the soul of this dish. The powdered condiments and other spices play a vital role as aaloo itself is a blank canvas ready to get painted. Spices done right is the key to make some delicious aaloo Paratha.
2) Gobhi Paratha
Be it a cauliflower or a cabbage, these veggies can be cooked with green chili and some spices are added to make the gobhi Paratha, though anyone can make a simple one, but with gobhi, the stuffed Paratha turns out to be the best.
3) Mooli Paratha
The most dreadful Paratha to eat. Not because it tastes bad, in fact it taste even more interesting than any of the Paratha listed here. But it creates flatulence in your tummy which is not good for the environment and the people around you. So if you plan to eat it then do so at your own risk and don't get too ambitious. Little is enough.
4) Pyaaz Paratha
This one is not for you, only if you are a Jain person. If you aren't a Jain, then I know this one is already playing with your mind and you are craving about having the perfectly chopped onions fried in the oil along with some chilies and other spices and then mixed with the soft dough to make this dish. Each bite gives you tang and the crispiness of the onions surprises your tongue. So when are you making one?
5) Paneer Paratha
Of course this one is the royalty in the house of Paratha. For all the vegetarians paneer is the best reply to chicken or mutton. This is why when Keema Paratha was created, Paneer Paratha was invented out of necessity. I assume the cook who made this was pleaded a lot to make a vegetarian version of keema Paratha. What are your thoughts on this theory? I personally do not like paneer Paratha though, because it has no taste of its own, only spices bring some life to this variation of Paratha.
6) Keema Paratha
This heavy weight Paratha that is famous not only in north of India but also in the southern India. Keema Paratha is a magical variation of Paratha. The creator of this Paratha should be given an award or something. Lusciously greasy keema with oil laden in spices sneaked in the dough and then the dough is rolled to flatten it. Deep fried in Ghee, I am still feeling my tongue oozing drools. If you haven't tried this then do try it. If you are a vegetarian then refer to the earlier option.
7) Dal Paratha
Any leftover Dal at home? If you have one then this is the perfect thing to make. Fry that dal and reduce it till it thickens. Now add the flour of your choice in the dal and knead it. Add the condiments and make a Paratha out of it. The best way to recycle food without getting bored. You can do this daily, if your dal always ends up unfinished.
8) Methi Paratha
Out of all the leafy greens, methi has a distinct taste and this is why methi Paratha is very interestingly favored by many foodies. Just like methi theplas, methi Paratha is equally good, just heavier than the thepla. Be sure to use desi ghee and see some magic happen.
9) Palak Paratha
Palak Paratha will interest you if I tell you that there is no other fun way to eat this leafy veggie, than putting it in the Paratha. It tastes really yummy. I had few in last week, when my dad got palak that even our refrigerator refused to let it in. So my mom made Palak Parathas and I made Dal Palak, now next time when you have excess Pala at your home, you know what to do.
10) Sattu Paratha
Do you know what sattu is? It is a coarsely ground roasted grams. This sattu is mixed with other spices and condiments and filled as stuffing in the paratha dough. Then rolled over to make a paratha which is baked on a tawa with lots of ghee.
Craze of Parathas in India
I should be specific here, there are only 3 places in India that masks the consumption pattern of India overall. Punjab, Delhi and Haryana, you can find some world records of eating parathas and making parathas. These people do take immense pride in the paratha they make. So if you want to try the best ones then you have to visit these places.
You can see often that a delhite wakes up at 2 am and drives till Murthal for the late night paratha cravings, most of the youngster and bachelors do the same. Obsession with Paratha is just too much, if this is what you are thinking then just as a food for thought you need to think how good these parathas must be. They must be amazingly delicious that they inspire obsessions.
In Delhi you will see many eateries which offer challenges like finishing a large paratha in 30 or 40 minutes and if you do so then you get a cash prize in excess of 10000 bucks or free food for life. Such offers will work only at crazy places which are totally in love with paratha. So if you think you can take up this challenge, then you need to head out to Delhi soon. Or rather experience the craze over parathas.
Parathe wali gali is a place where you can actually experience what it feels to be in paratha heaven. This more than 100 years old lane is now one of the most famous tourist destination in Delhi. You get some 50 to 100 varieties of paratha on the menu at some place. Isn't it insane? My wish list includes going there and eat the Rabri Paratha.
If you are still not in love with paratha then this article from livemint might help.
Closure:
So this brings an end to the paratha journey with you. Do you know how to make a paratha? You can refer this list of paratha recipes if you want to experiment. I hope you liked this one. With this foodie_khiladi signs off for the day, in a hope to see you soon in my next post soon. If you have any queries or suggestions than you can write to me a [email protected]. Or else you can DM me on foodie_khiladi007.
In case you are new here then you can read my other blogs to explore more. See you soon in my next blog, till then keep smiling and spreading smiles.