When was the last time you had a samosa? I guess not more than a month ago, right!!! Indians can't live without Samosa. You give them hundreds of healthy eating options, but they will never ditch Samosa ever. Because you know the reason, 'Samosa too has fillings'. If this didn't crack you up then I am sure you are going through a rough phase in life. So go get a Samosa and cheer yourself up.
Samosa is one of those snacks which is the tastiest on the streets. The taste and the satisfaction you get from the street side Samosa is unmatched. Go to any restaurant or a posh eatery, you won't get that zing biting taste of Samosa that your palate is used to. No wonder that making a good drool worthy samosa is an art in itself. So here I am with a blog on the long impeding topic called Samosa. Let's dissect it and see how many layers of crunchiness is there in India's most sought after snack.
Warning alert, by the end of this post you might feel like eating a samosa out of nowhere. So either be ready to push off, go down and get some samosas from your favourite vendor or order it online from any of the food apps on your phone. Do anything you want to do, but do not blame me that I didn't warn you.
History of Samosa
Another warning alert for you, I have something to tell you that might break your heart. So read at your own risk. With a very heavy heart I am writing this, that Samosa is not Indian in origin. Sorry to bring this up, but yes Samosa is an immigrant and I doubt if it will be able to prove its citizenship according to the new amendments. So tell me how does that make you feel?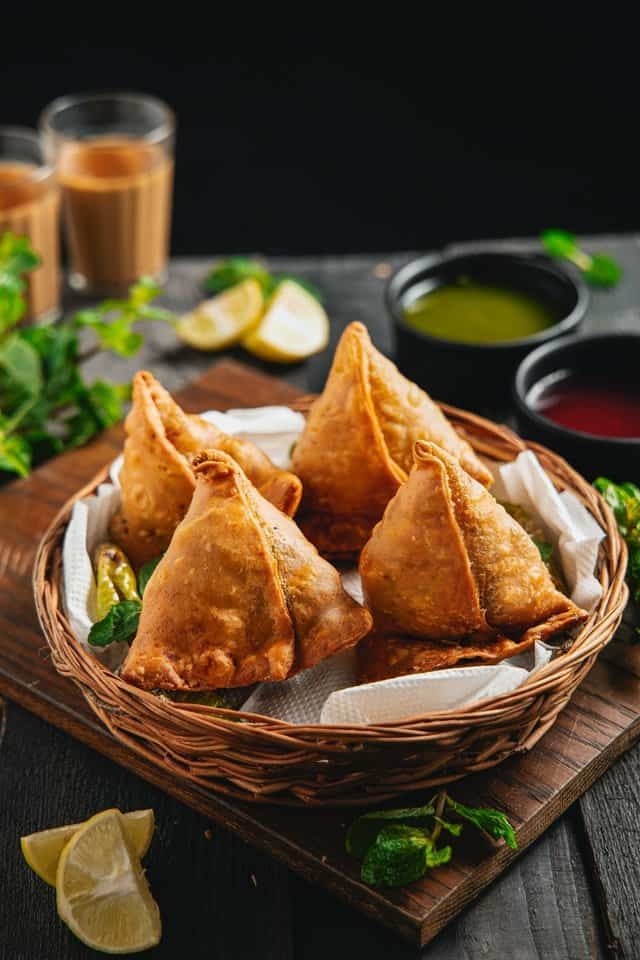 A truly global traveler is how you can label this snack. Samosa is the heartbeat of many and this is not an exaggeration. The oldest mentions of samosa is found in a poetic work of Ishaq al-Mawsili that is from 9th century. We write about things we love, Mr. Ishaq did that with his poem and I am doing this via my blog post. The love for Samosa remains a common factor. From this, you could visibly guess that the origins of Samosa lie in the Middle East.
An 11th century history book called Tarikh-i Bayhaqi written by Abul-Fazl Bayhaqi has mentioned samosa in it. The book is from Persia. This is the reason that it was called as Sanbosag which now is called Sambusak in the Arabic world. Essentially a Samosa is any dough based pastry filled with fillings of your choice and then deep fried. The Sambusak is filled with minced meat which is mildly spiced. Many cook books from 10th to 13th Century has records of sanbusak, sanbusaq, and sanbusaj which are all derived from Sanbosag from Persian.
So wait, does that mean it was not even vegetarian in origin? Are you also asking the same question in your mind? If yes, then I confirm that Samosa was originally a meat based dough pastry deep fried in oil. It changed and evolved as it reached India and even after that it had a transformation.
The traders and merchants who travel via central Asia and Afghanistan to India are credited to bring this savory snack to India. From the source bbc.com it is clear that once the samosa reached Tajikistan and Uzbekistan it became a peasant friendly food with more calories that could help the sheperds to meet their energy requirements throughout the day. The original dry fruits and finely minced meat were replaced with coarsely chopped goat or lamb and seasoned with onions and salt, though the shape was retained.
In India it became famous after the Mughal influence over cuisine became prevalent and started spreading across the Indian land. Famous writer and poet of Delhi Sultanate Amir Khusro wrote about Samosa in 1300 CE, which was prepared from ghee, onions and meat. Later when Ibn Battuta a famous traveler was treated with this dish in the royal court of Muhammad bin Tughluq in the 14th century he was also given Samosa and this also had a mention of the meat stuffing.
The samosa is also mentioned in Nimmatnama-i-Nasiruddin-Shahi an ancient cook book and the famous Ain-i-Akbari of 16th century, all of them says the Samosa had minced meat filling. So how the stuffing changed over the time? Don't you want to know? Then you will be surprised to know that it happened only after the potato reached India in 16th Century. This means that the modern avatar of samosa is roughly 400 years old approximately.
It was only after the 16th century that the shape of samosa met the soul of samosa called potato. Other ingredients like coriander, pepper, caraway seeds, turmeric, ginger and chilies made this match made in heaven possible. Till date it has stayed like that. Now you know quite a few things about samosa and I hope that deepens your bond with samosa because of this.
Samosa Variations in India
From Sweet to Savory a range of choices in samosa is huge. Right from the north to the south the subtle changes keep adding and over the distance travelled you are surprised to know how the minor variations lead up to a huge difference. Same thing applies for West to East. These variations make the samosa story more interesting. It is common to have more than one variation to be present in a single region.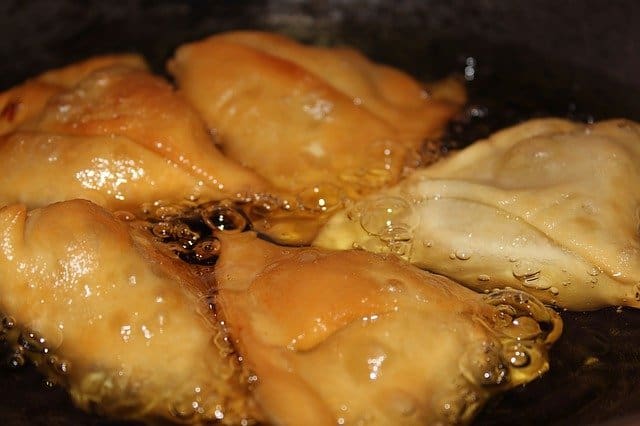 A general perception tells us that a spicy potato based filling is a central characteristic of Indian Samosa. But if we bite in the crisp layers of the pyramidal snack we find that the stuffing keeps changing region wise, and its shape is the only central characteristic that defines Samosa. From typical Punjabi Samosa to Hyderabadi Lukhmi, Samosa has many facets and it doesn't fails to impress in any of its variation.
The states of Odisha, West Bengal and Jharkhand call it Shingara which is a popular delicacy, it has boiled and spiced potato filling which is covered in a thin dough which becomes flaky after deep frying. The size is comparatively smaller but the taste is so good. In Bengal it has sub-variations called mangsher shingara (mutton shingara) and macher shingara (fish shingara). Sometime a sweet filling based in coconut is used and it makes the shingara a dessert called narkel er shingara.
The Hyderabadi Lukhmi is a samosa having a minced meat filling called kheema. Plus the shape is also not pyramidal but flat square. Maybe the nawabs had a problem with the shape that they ordered it to be changed.
In the Southern states of Andhra, Karnataka, Kerala and Tamil Nadu the filling of potato is accompanied with other stuffs such as fried onions, green peas, cabbage, carrot, green chilies and curry leaves. Apart from this some place serve the meatier version of Samosas.
In some regions of Punjab the Samosa has paneer in the stuffing, though not everyone would like it, but you tell me if you would be fine with few chunks of paneer in your samosa? If you are not up for it then you must have heard of Patti Samosa that had fillings of cabbage and onions or some also have a filling of Poha. These kind of samosa are claimed to be originated in many regions but lack of conclusive data keeps the debate ongoing.
Then finally many regions have a sweet variation of Samosa called Mawa samosa that has a filling of Khoya while frying and finally it is soaked in some sugar syrup. I don't know about you, but I just love Mawa Samosa. The flaky layers soaked in sugar syrup could remind you of the Turkish Baklava. If you haven't eaten one then do try it soon.
Samosa's World over
This is that one section which is surely going to startle you or rather stump you. Did you know that Kazakhstani Samosa has a horse meat filling in it? How does that sound to you? Tajikistan has their Sambusa baraki with ground beef that is spiced with onions, cumin seeds and other seasonings. Pakistan has many varieties from vegetarian to non-vegetarian and are similar to the Indian fare.
In Maldives the samosa is transformed into bajiyaa and has tuna and onions as the filling. Middle East has Samosas with fillings of meat, onion, pine nuts and cheese. In Portugal, Goa and some regions of Brazil Samosa is called chamuças which has the chicken, beef, and pork, lamb or vegetables fillings.
In UK and USA, and other English speaking nations it has been transpired from Britishers who have historically mined this dish from India and so these Samosas have vegetarian fillings.
By the technical definition of Samosa, it is a fried or baked pastry with a savory or sweet filling. The shapes may also vary which includes triangle, semi-circular, conical or squares. Thus don't be surprised further if you find a dish which breaks all the stereotypical perception of a typical Samosa that you get in India.
Best Samosa Combinations
I agree that it is a stand-alone snack that is complete package in its own special way, yet there are few items which complements the Samosa in more appealing ways. Does that make you think of any special Samosa combination that you had till date? Let's have a look at the most common ones that are famous.
Chai and Samosa
Be it a small reunion, or a family get together you know that samosa finds its place in these events always. No heated political debate at your nearest Chai tapri (tea stall) is complete without having samosa in the hand. The perfect hot and crisp snack with perfectly spiced filling does go down very well with a cup of hot and thick chai. I can bet on this that no foodie can say no to this combination. The exception would be only some coffee lovers who don't drink chai. What about you? Do you like Chai Samosa?
Chole-Samosa
When 2 tasty, yum and awesome foods meet, nobody on the earth could resist it. Chole and Samosa is one of the greatest street food combination. A dry samosa is complemented well with a moist and mildly spiced Chole curry. Adding some freshly chopped onion rings elevates this dish to another level. If you haven't tried this yet then do try it soon. I am sure this will become one of your favourite street food combination and you will thank me later for this.
Samosa Chaat
Who doesn't like Chaat? Who doesn't like Samosa? If you find a person who dislikes both then you should stay away from such person as they are not good for your gastronomic peace. Chaat is a blessing for the street food lovers and when Samosa plays a featuring role in your regular chaat then just imagine how your taste buds gonna tingle. The green and red chutney with whole ground spices, the creaminess of Dahi and the flaky layers of Samosa crumbling in the mixture plus the spicy filling is always there. Just heavenly treat for any foodie on this earth.
Samosa Economics
Be it a railway station a shopping mall, movie theatre or a tea stall, you will always find a samosa. The prices range from INR 5 to INR 50 per piece. I just hate it when people sell overpriced samosa. Any samosa exceeding INR 20 price tag is overrated for me. What are your thoughts on this? This is a point I purposely highlighted just to let you know that a samosa is a high profit margin commodity.
You must have heard stories of Samosa vendors who have become rich by selling Samosas. You will hear many rags to riches story that is woven around this deep fried snack that you and I love so much. If you weren't aware then let me tell you that if you have the skills then this dish can make you rich. It is reported that the famous samosa vendors earn in the range of 1 to 1.5 lakh Indian rupees per month. This is the profit after the raw material costing.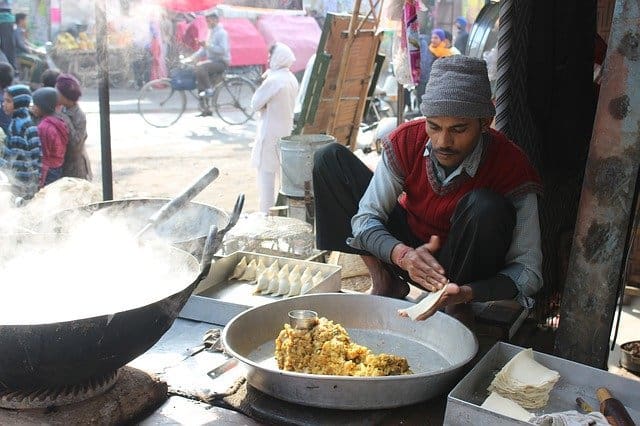 How cool right? This is only possible because there is a perception about Samosa in the crowd that holds truth in it. The perception which says you get the best samosa only in the streets. No one usually orders a samosa after going to a restaurant and thus the restaurants do not take much efforts in making the best samosas.
Thus this is one opportunity for any person with good skills to make a mark for himself/herself. The profit margin is huge and if you can pack the right taste and target the right customer you can easily become rich in few years. You must have seen such places in every corner of cities and towns where people do crowd up to lay their hand on this lip smacking snack called samosa. So you know that the demand is always there, you just need to provide quality and taste.
So in case your career needs a reimaging then now I have given you an option to explore. If you aren't a chef then find a samosa expert and start selling those damns small packets of happiness. Thank me later and for more such advice follow me on foodie_khiladi007.
Some Interesting Samosa Facts
There is a world Samosa day in place and it is celebrated on 5th September. Were you aware about this?
It was called Samsa initially because samsa means Pyramid and Samosa's shape resembles pyramid.
It is recognized by the world as the Indian delicacy. All thanks to Englishmen for this.
An average Samosa has just less than 300 Calorie. So next time you are on a diet you can keep a tab on how many samosas you can eat.
Closure:
This brings an end to the overview and history of India's most loved snack. I hope that brought you closer to the samosa. I still remember how I grew fond of the samosa, it was in my 5th standard that I used to go for swimming sessions. While returning I used to have one samosa at Surti Farsan mart at Dadar. Till date that is one of the best samosas that I have ever heard. If a samosa is made right then you form a bond with it which stands the test of time.
Tell me in the comments have you formed one such bond with any of the samosas you had till date? I hope you liked this blog post on Samosa, if you liked it or even if you didn't like it then do write to me at [email protected] or DM me at foodie_khiladi007. Please do share this with your friends and families who are also in love with Samosas.
With this I will take your leave for today. Hoping to see you in my next blog post soon. Till then keep smiling and spreading the smiles.