Hey foodie, as soon as the mercury rose and made everyone take a note of the soaring temperatures around you, I thought this was perfect time to revive some old memories. A memory which is soothing especially in the scorching heat. If you grew up in India, may it be any city any town, you must have grown up with one typical sound of bell which equated to sweet cooling sensation. As soon as you heard these rings of the bell, you knew that the Kulfi wala was around.
So today's blog is going to be about the Kulfi wala of Mumbai. The Kulfi wala of Mumbai which was pretty much an essence of the chaotic city in a welcoming way. Do you remember these Kulfi wala from of Mumbai? If you have ever been to Girgaon Chowpaty or to any of the Chowpaty of Mumbai for that matter, then I am sure you must have seen these Kulfi walas of Mumbai for sure. He was surely a head turner and crowd puller.
Kulfi wala of Mumbai the signature entry
Like Amitabh Bachhan made the role or porters famous via the movie 'coolie', I am sure a movie based on Kulfi wala of Mumbai would have been a hit in the 90s. At the Chowpaty you can easily spot this dude from his uniform, at least till 5 years ago it was the same. He always wore a white full sleeves shirt and a white pajama, the sleeves always folded till elbows and not to miss the majestic Gandhi topi on his head. Above that he had a thick ring made from a towel which was the base where he carried his treasure box.
Actually it was not his treasure box. It was a treasure for people like you and me. The cylindrical tub covered with maroon red cloth, all wet and cool with insulation that could put the modern refrigerators to shame. In the tub it was mostly the large mud pot holding chilled ice mixed with huge amount of salt to maintain the temperature in negative.
Having said that, it was all about the appearance of Kulfi wala of Mumbai, but what made his appearance unique was the unique way he shouted 'KulfiyO…KULFIIII…KulfiyO….'. Tell me frankly, how many times have you laughed at his voice? How many times have you tried to imitate him? Just like you did with the bhangar wala of your area. Hearing his roar of 'KulfiyO' was more fun and maybe it was a trigger that tricked our brain to buy the delicious Kulfi.
Spotting the Kulfi Wala of Mumbai
I deliberately used the word spotting here because, spotting a tiger in Jim Corbett National park has lesser odds than spotting a Kulfi wala of Mumbai. When I was a kid (which I still believe I am), the usual place to find this magician was at the beaches of Mumbai. Be it Girgaon Chowpaty, Dadar Chowpaty, or Juhu Chowpaty.     By the evening when the sunset was good couple of hours away, you would see these Kulfi walas of Mumbai making an uncanny appearance.
Yes uncanny in a sense that a person new to the scene would make out from Kulfi wala's costume that, he did not belong there. Which was partially true as these Kulfi wala's were not from Mumbai, I mean there native place was somewhere else, which I will be revealing in few moments. So apart from the Chowpaty areas, Kulfi wala was also spotted at the parks and sea faces. These were the common areas or areas of operation of these low profile entrepreneurs.
Eventually, they started strolling around the residential areas where the middle class families would reside. Going by the rumored hygienic reputations of these Kulfi walas the rich and upper middle class would certainly avoid them in the past. It was the middle class and low income group that would be fascinated by the product called matka Kulfi. So chawls were the common areas for them to operate followed by slums and other areas.
As I am typing this, let me remind you that these spotting of Kulfi wala of Mumbai is a thing of the past now. Since last few years the numbers have dwindled rapidly. You will hardly see the Kulfi wala at these places now. The only places to spot them is the beach, sea face, or famous park. It is not their fault, because as the standard of living increased, the common people started opting for packaged and well-presented stuff.
All of a sudden, the rustic matka Kulfi no longer felt relevant to people. So the profits started thinning out and the Kulfi wala of Mumbai stopped coming to Mumbai to make money for survival. I am not sure how you find this, but for me personally this is a sad state of progress. Somewhere consciously I am too responsible for this. We have collectively evolved to a level where the things that we enjoyed earlier are no longer appreciated just because we found something better.
Kulfi in the making
Though our tastes have changed, but the product they sold were consistent in quality for many years. It was in last few years when the inflation kept rising, the quality lowered a bit. The lowered quality was compensated by them when they chose to still sell the Kulfi at cheap prices as compared to packaged stuff. They weren't selling Kulfis to become rich, they were selling Kulfi to make the ends meet.
A proper Kulfi which they used to make a decade or two ago was made out of 10 to 15 liter of Buffalo milk. The milk was boiled in large cauldron to reduce it in half. All this had to be done with continuous stirring to avoid the milk from burning and sticking at the bottom. The semi-condensed milk was flavored with cardamom powder and adjusted for sweetness with sugar. Then poured in the steel cones to set them.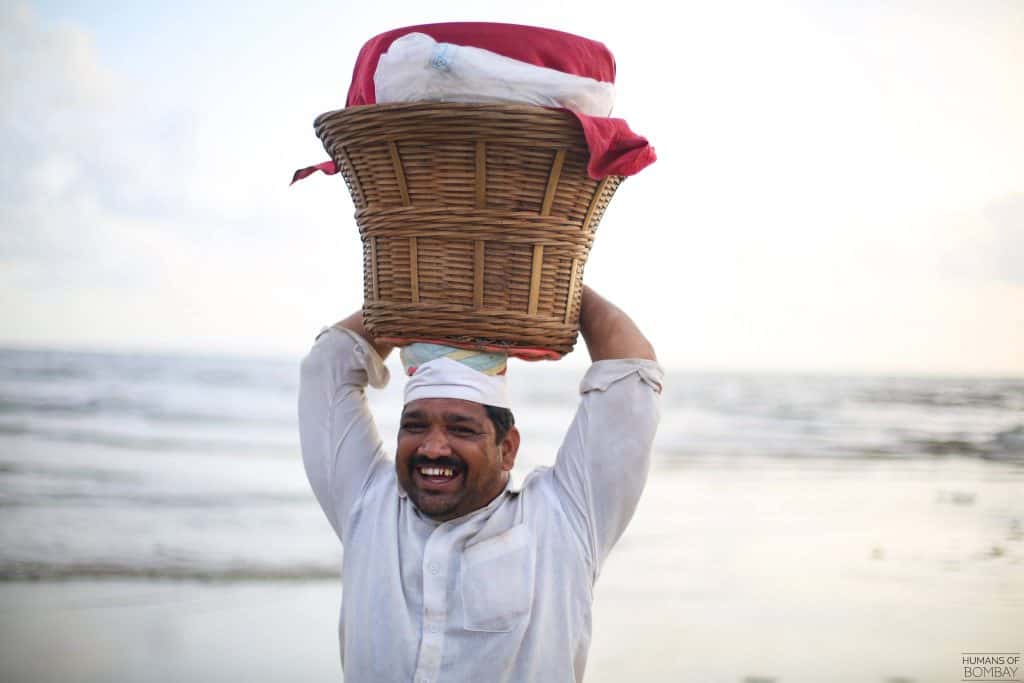 What started with just plain malai Kulfi, expanded into a range of flavours like Gulab (rose), Kesar, Pista and Mango. In recent years, the flavours like Sitaphal and Orange were added to the wings just to please the Mumbaikar's taste buds. The pricing changes a bit with the costing of ingredients. No matter how lavish they make it by adding the dry fruits, or other condiments but the price range is always decided considering the affordability factor. This is how they thrive in a non-conducive environment.
Once set it was all set it was dispatched. To ensure the dose of happiness reached the crowds to end their day on a good note. The skillful display of demoulding the cones and pulling the Kulfi sticks was always a sight to behold. As many Kulfis you saw being pulled out in front you, each Kulfi intensified your craving. Finally when you received your share, you would just get lost in its taste. Being very honest, I have eaten much better Kulfis in the north of India, especially in Rajasthan, but this experience made Kulfi wala of Mumbai unique.
The Magic and the Myths
Yes, it was nothing less of a magic. Being a child it fascinated me, that how can a guy roam in almost scorching heat with a load of frozen deliciousness without letting it melt. The refrigerators in our homes did the same job but also consumed tons of electricity and this dude managed to operate without electricity and with almost excellent efficiency. So I was always curious about the magic he weaved inside the treasure box he carried in cylindrical shape.
Magic didn't stop there as soon as he engaged the little customers,he would pull the steel cone out and rubbed between his palms to loosen the kulfi. Then he would start opening the steel cones and push the sticks in them. Gently with the same knife he used to slide it from the sides and release the Kulfi and hand it over to the drooling person. I must salute his handling skills, as repeating the same process at a rapid pace was no joke. Interestingly his mind was always in the game as he was well aware of the sold units and never missed to ask for appropriate payments.
The tub in which the large matka was placed always seemed half empty, but the steel cones would never exhaust and he kept searching them one after another and this seemed magical to me. A treasure trove which never emptied. Now when the magic is discussed, I will tell you the myths which were propagated to keep us away from the Kulfi. I am sure you will relate to this.
As the Kulfi wala of Mumbai had a shabby appearance, our elders told us to refrain from eating the Kulfi. The thing that was told to us would make you cringe. I was told that they make the Kulfi from the sewage water and thus it was unhygienic. Coincidentally one day we saw a Kulfi wala draining the water from the melted ice into a gutter nearby and someone from the gang approved the accusations that the Kulfi wala is using the dirty water.
The next myth was laughable but it scared the kids backs then. We were told that they mix something in the Kulfi that can make you unconscious. And when children like us go to buy them alone, they will kidnap us. After hearing this as a 7 year old, would you have dared to go there? At least I didn't dare. Who wants to get kidnapped when life was all set except for a creamy Kulfi? It wasn't a bad deal.
But like most of the myths, these myths never lasted enough. I guess I refrained from Kulfi for some months and started enjoying them again. I got the point of our elders that they wanted to limit our intake of Kulfi for health reasons and so I ate Kulfi in moderation after that.
The Story of origin
I knew that this guys do come to Mumbai from some other places. I was not sure about the place, till recently I read another blog written by Sameer who stated that these Kulfi walas hail from a place called Wadhane which is near Phaltan, Maharashtra. These Kulfi walas are basically farmers who travel to Mumbai in off season to sustain their families. They usually travel to Mumbai in a large group and rent a common place.
A place where they take turns for cooking, cleaning and other duties. But they ensure everyone is well fed and in good health. They decide the areas where each one of them will sell the Kulfi. The place where they stay is also used to make these creamy Kulfis and the knowledge of making this Kulfi is ancestral and is passed down through generations. They make the classic malai Kulfi and at times add dry-fruits for some variation.
Closure:
I wish that the legacy of Kulfi wala of Mumbai stays intact for a long time to come. If it takes a special person to organize this sector of business then be it. It would be a great opportunity for a budding entrepreneur to revive the heritage experience of Mumbai Kulfi wala. In returns the Kulfi wala clan can expect increase in footfall. Though the experience will be a bit different but it will not be lost completely.
I would like them to continue to lit up the scenes at the public places so the kids from next generation would have lots of memories just like we do. It is an effort to slow down the automation that is hindering the human touch from our day to day live. Packed ice-creams are those automations and these kulfi walas are the human touches that need to thrive.
What you think? Is this the right way to revive a dying model of business? Or do you have any better suggestions. Comment section is open for you to express your views. If you are shy of speaking publicly then do write to me at [email protected] or just DM me at foodie_khiladi007. I would be happy to hear from you.
With this your foodie_khiladi signs off for the day in a hope that you liked this nostalgic blog post and would share it with your childhood buddies and families. I keep writing such blogs which you can check out on this link. If you haven't subscribed by now then please do so and encourage others to subscribe please.