Welcome back to another history class on yumandawesome.com. What are the odds of me guessing that history was not your favourite subject! The odds are heavy but I came to know from the analytics that the blogs which I wrote and published in my food-history section have always got less interactions. So nothing is rocket science these days. So today's class is all about tomato history and how unIndian the tomato is.
Not that I want to create a stir in international politics by dragging tomato in the scene, but just want to discuss with you about the importance of tomato history in India's culinary journey so far. Only if you keep reading with the same intensity till the end. Which I believe you will, and will also share this with more people. As it is just a general dose of food knowledge. Having said all these things, I also hope you like tomatoes.
So just shake your head, embrace yourself and let's go on this adventure, which will be sweet and sour as the focus lies on something which has similar traits. Don't you think I would have been a wonderful history teacher? If your answer is no then keep reading and decide by the end of this blog post.
Tomato History by Origin
It is going to be very interesting to know that the place where it was grown first, is not the place where people ate it. Want to guess where it originated? If your guess was America then bingo! You are right. The Aztecs were the first guys to have the knowledge of growing tomatoes. The word tomato is derived from the Aztec word "xitomatl". This article on manyeats.com sheds a detailed light on this subject. Which says that by early 16th century, the Aztecs had more than 50 recipes made from tomatoes and it includes salsa sauce. And there are people who still think Nachos and Salsa is a recent recipe.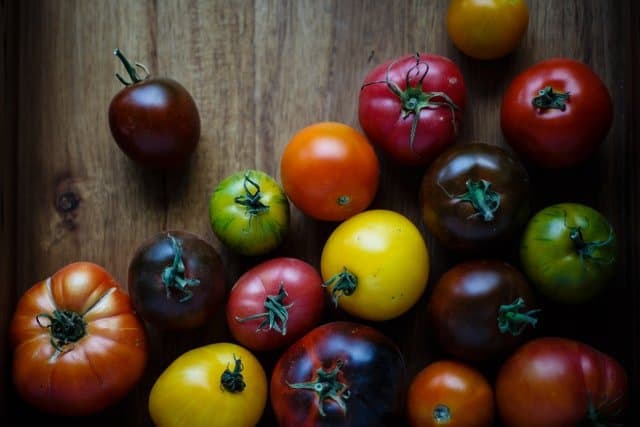 By the same time around it was introduced to Spain and Italy, it reached France as well but only to be used as an ornamental plant. The reason was not silly though, the tomato belongs to nightshade family which produces some poisonous fruits. On the other side, the Italians happily embraced it, they call it pomodoro which means "Golden Apple". It might be due to the reason that the earlier variant of tomato was yellowish in colour. The French called it pomme d'amour which means "love apple".
After making its presence felt in Europe, the tomato traveled back to United States in 1781 C.E. Thanks to Thomas Jefferson who removed the social stigma of it being poisonous. Then it slowly seeped throughout the United States. It became popular only in early 20th century, this highlights the time it took for Americans to embrace it and incorporate in their food. From Europe it came to Asia via Philippines. Considering the progressive influence of tomato in most of the world's cuisines, it is hard to believe that most of the acceptance came only few hundreds of years back. Tomato history is certainly very interesting, don't you think so?
How Tomato Traveled to India?
With the arrival of Portuguese traders, the Tomatoes traveled to India, much like Potatoes and Chilies. The tomato was brought in India around the 16th century and only some regions cultivated and used it in food. It was only after the British colonization around 18th Century, that the Britishers asked Indians to grow more tomatoes to take them back to Britain. India's climate being fairly suitable for growing tomatoes, the crop took off the shelves rapidly. Uttarakhand became the largest hub for their cultivation.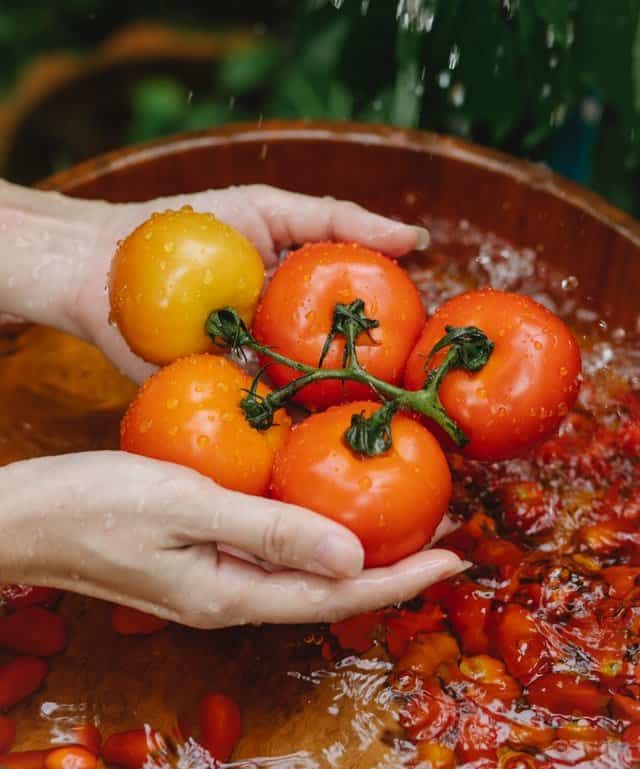 The variant which came to India is said to be sour and elongated which is as stated by Vir Sanghvi in his articles. It was only used as a taste enhancer in earlier days. Since then the progress is huge. As nowadays India produces 7500 varieties of tomatoes which can fit in all requirements. You just need to keep an open eye to the subtle changes. So how many of the varieties have you tasted? I bet less than 10 will be your standard answer.
It is not your fault that, that in India the tomato is generally used to add body to the gravies along with heavy spices. Eating raw tomato is rare feat. So the difference in taste and variant is often ignored unintentionally or perhaps instinctively. But that takes nothing away from the tomato history which decorates the Indian food scene.
Famous Dishes incomplete without tomato
As you know that tomato is all over the places in India. There must be barely some kitchens which won't be having tomato in it. I know you must be heartbroken to know that even tomato is not Indian. But if you see the impact of tomato on Indian cuisine then nobody else could make it out that it is an outsider. We eat tomato like it has been eaten by us since ages. So here are some famous dishes which makes to the Indian food map in culinary world.
I will try to explore with you the void that must have been left behind if these dishes were not invented. I have chosen the most famous dishes here, because apart from this if I include the dishes which uses tomatoes in them, then this blog won't remain a blog but turn into a never ending saga of tomato history.
Pav Bhaji
If there is any food item, which is worthy of being the face of Mumbai's culinary world then it is Vadapav, but the next best on this list is Pav Bhaji undoubtedly. A dish which has all the three core ingredients gifted to India by Portuguese. A heartfelt thanks to them, but the Pav Bhaji is on our food tables because of a little British contribution. Along with British, a little thanks should be given to the Americans as well. No I am not here to say thank you just like you do after winning awards. Just keep reading to know more about tomato history that shaped Pav Bhaaji.
So the Civil war in America (the real one, not the one with captain America) led to the slowed production of cotton. These led to shortage of cotton in Britain and thus India got the work of churning cotton. These is how mills were set and workers started to hustle hard. To keep these workers well fed during long working hours, there were food stalls outside the mills which sold the leftover vegetables cooked with more tomatoes and some potatoes with Pav.
Just a makeover dish invented to feed the hard working laborers, turned out to be a superhit across Mumbai and became one of the best street food dishes. The tang in Pav Bhaji cannot be missed, without the tanginess the dish will always remain incomplete. So tomatoes gave the normal bhaaji an interesting and yummy makeover. What you think how impactful this dish has been so far in food history of Mumbai?
Butter Chicken
I love butter chicken. Do you love butter chicken? Who doesn't love butter chicken!!! Apart from loving it, I love it so much that I make one heck of a butter chicken. Though Indian cuisine is often linked with the likes of Butter Chicken, but it is such an irony. Considering the fact that butter chicken is post partition dish. The partition which nobody wants to remember but nobody can forget either. Just like butter chicken. Nobody wants to make it, but nobody wants to skip eating it either.
It is well evident that Moti Mahal restaurant in Delhi invented the dish. It was their way of managing food wastage. The leftover chicken from tandoor used to dry up after long hours. To fix the problem, they invented a gravy which was tomato based and had lots of butter and cream in it. This used to make the charred chicken succulent to eat. This is how tomatoes contributed in inventing in one of the most ordered and most searched Indian dish online.
Without tomato, this would not have been possible. Though they would have invented something else like a malai chaap or something, but even now the malai chaap is already invented, it never beats a good butter chicken on any given day. Thus this is an interesting chapter from the books of tomato history.
Dal Makkhani
It traveled to India from Pakistan. Mokha Singh in Peshawar owned a dhaba called Mukhey da dhaba, where worked a simple yet genius man named Kundan Lal Gujral. Over a period of time Mokha Singh sold this place to Kundan Lal Gujral who named it Moti Mahal. After partition the Moti Mahal was brought to Delhi and re-invented the Dal that was cooked in Peshawar.
Taking notes from the super hit butter chicken, Mr. Gujral made a dal with lots of tomato puree in it and made it creamier and it was a proud substitute to butter chicken. One more ordinary dish was transformed into a best-selling dish, just because of tomato. As Dal Makkhani is also associated with Indian cuisine on global levels, tomato has played its part in doing so. Do you like Dal Makkhani? Let me know in the comments.
The vegetarians out there are thankful for this innovation and some of them are pure loyalist to this dish. My favorite comedian has tattooed the name of Dal Makkhani on his arm. Any guesses? Let me know in the comments. But this is just an example how good this dish is and how interesting this makes the tomato history.
Kadhai Dishes
Be it Paneer Kadhai or Chicken Kadhai, both the dishes cannot be made without tomatoes. As raw a preparation of this dish is, yet the end result is tempting and delicious. Another dish which is common in the north regions of India and Pakistan has so many spice mixes. But in origin it is a tribal dish which is cooked with meat and its fats and lots of tomatoes with minimal spices. This original Gosht Kadhai dish is the precursor to many modern day kadhai dishes.
Preparing kadhai recipe in traditional ways include cooking on high flame for all parts of the recipe. The tomatoes are supposed to be tossed in whole and then covered to get cooked in the steam. Once done the tomato skins are supposed to be separated and taken out and the inner mass is smashed into the gravy. The tomatoes balances out the spices and makes a perfect base. Have you ever tried authentic chicken kadhai?
Nowadays you have so many variations that are made using the kadhai gravy, this is a prime example of an ingredient being able to influence a vast section of cuisine. This proves that tomato history is much more influential than what meets the eyes.
Other Dishes which are regional favorites
Tomato chutney, is a dish which is often made in households. A tomato puree is sautéed with caramelized onions and cooked till you get a thick paste consistency. It goes well with rice and roti both. Tomato rassam is another famous dish omnipresent in the southern part of India. Next is the tomato curry which is made with red chilies, tomatoes, coconut and is served with fishes. Then a milder version is the tomato saar, which is a thinner version of the curry that is mostly eaten by Kokani people along with rice.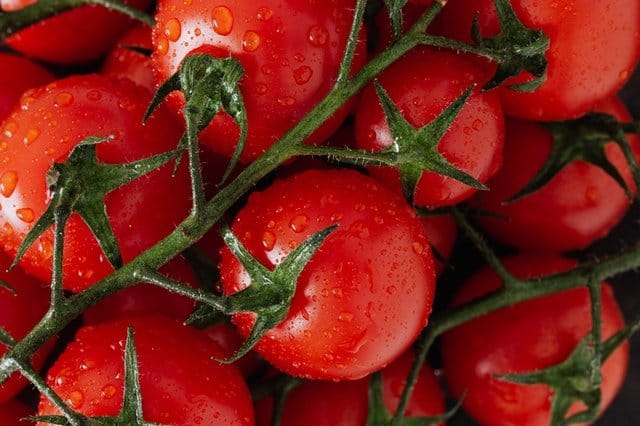 Barring all the traditional recipes of India, there are modern variations such as tomato omelet, tomato rice and so on. It seems like there are hardly any dishes in India where you do not add tomatoes to it. This speaks volumes about the importance of tomatoes in Indian cuisine. All these dishes adds the weightage to the book of tomato history.
Closure:
So don't you have any questions? Like, what Indians used before getting tomatoes in the diet. The answer is curd. As mentioned earlier in this blog, tomatoes were earlier used as a souring agent just like curd. Since the earlier variants of tomatoes were much sour and also provided the body to the dishes. This is how the entry of tomato changed the landscape of Indian cuisine. I hope the lecture was not very boring and it was informative enough that explained well about the tomato history.
If this added some value to your knowledge base then please share it with people you know. I keep bringing such informative posts on food history. In case you want me to cover any specific topics you can let me know on [email protected] or DM me at foodie_khiladi007. You can always drops in suggestions and feedback too.
With this, your foodie_khiladi signs off for the day. In a hope to see you soon in my next blog posting. Till then keep smiling and spreading the smiles.