Do you know how older is our beloved Vadapav? It doesn't matter how older it is, as the perception around the Vada Pav says it is centuries old. Can you guess how older it is? If you can't then relax, I will be revealing it in this blog. Apart from its age, what makes it such a legendary food? Perhaps the right balance of taste and affordability. Or maybe the ease to eat and a simple formula of the recipe makes it great.
Whatever makes it great or legendary but the fact that makes it fascinating is about its ingredients. Potatoes and Pav are the core of Vada Pav and both have been brought to India by Portuguese. This was about its ability to be great, legendary and fascinating but now again I dare to ask, what makes it special? And to this I would expect you to agree on the thing that it represents Mumbai's true spirit and is truly a Mumbaikar.
A street food that have changed fortunes of so many entrepreneurs. This is the simplest product that have set so many entrepreneurial dreams in motion, even in the times when the word entrepreneur was not even used this much. So let us see what this soft and crisp combination has to reveal in this blog.
History of Vada Pav
Probably this is the kind of history that should be taught to the children and I am serious about it. When I ask you, who invented Vada Pav, you won't be having an answer. Or did you have any answer? The name of the inventor is Mr. Ashok Vaidya. If you were aware about this then you are a living legend, but not many others would be knowing this. It has been written so many times that Mr. Ashok Vaidya's credit for inventing Vada Pav is long due.
People knew Vada before 1966, people knew the Pav too. It was Ashok Vaidya's experiment in that year which changed the scenario of Mumbai's street food. Not just that but the Vada Pav became the image of Mumbai in terms of famous foods that makes the food map of India. What started as an initiative by Shiv-Sena to encourage the son of soils to get into the business, has truly flourished in a mammoth journey of taste and success over five and an half decades.
When the Sena chief Shri. Balasaheb Thackeray asked the Marathi people to come forward and compete with the Udupi restaurants, the Vada Pav was the main weapon. Mr. Ashok Vaidya sold Vada and Poha in front of the platform no. 1 of Western railway's Dadar Station. One day he experimented with the Vada and Pav, he sliced the Pav added chutney and placed the Vada inside. As beautiful and tasty as a combination it is, the dish became an overnight success. People started pouring in to his stall from places.
It is said that the main idea behind the invention was to allow the mill working crowd a chance to have a nourishing quick bite. It was never about the rich and poor problem that something like Vada Pav was the answer to. It was always about meeting the demand of the fast life in Mumbai, a city which barely halts and never sleeps. A grand salute to the man who came up with this idea. Even Shri. Balasaheb Thackeray was a fan of Mr. Vaidya Vada Pav and used to visit his stall frequently.
Mr. Ashok Vaidya supplied Vada Pav to the Sena Bhavan so many times, that Shri. Balasaheb Thackeray instructed BMC officials to never trouble him. Mr. Ashok Vaidya passed away and his younger son took over the business and still runs the stall at same place. He sacrificed his wish of becoming a fashion designer, for his father's legacy and the love of Vada Pav. This story surely deserves attention. It is for Mr. Vaidya's family that the world got to know Vada Pav.
Eventually the following decade saw a lot of turbulence in forms of mill workers strikes and the mills shutting down. This was the point that many of the mill workers started selling Vada pav for generating income. It was not a means to become rich but to make the ends meet when the disaster struck. Fortunately it resulted in spread of love for Vada pav and some of these mill worker entrepreneurs earned much more than what they imagined and this is how Vada Pav stamped its authority all over Mumbai.
The Vada Pav experience
I have always been a fan of the visuals from the place where Vada Pav is made. You go to any place and you will see a mashed potato bhaaji is kept ready. A person is busy in making the balls or patty out of this potato bhaaji. Another one is busy mixing the besan (roasted gram flour) batter to perfection and then dips the balls in it to coat evenly. Finally theses cold coated balls are dipped in the hot kadhai of oil. Yummm!!! The oil sizzles as it engulfs any water content in the batter and in the process the atmosphere is filled with the aroma that is just on different level of satisfaction.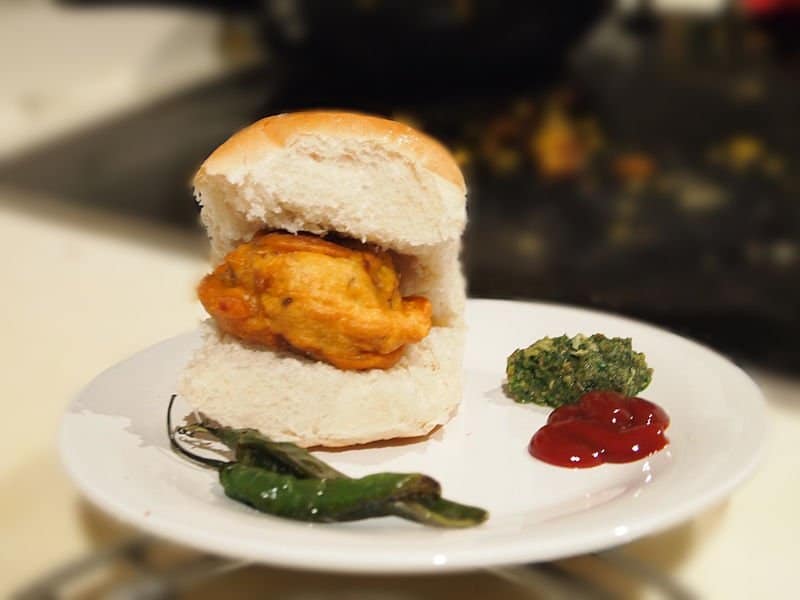 The people around you including yourself, are just so mesmerized at this point that the hunger and craving intensifies multifold. The Pav are cut with a long thin knife and kept ready with green and sweet chutney slathered on it. But these are not the key ingredients of the Vada Pav, the hero of the dish is the dry garlic chutney that lifts the Vada Pav and makes it immortal. Don't you agree? Finally the crisp fried batata-vada is out from the oil and rested for half a minute, just before it goes in the well-dressed Pav.
Out of nowhere a paper plate or a piece of newspaper comes into the scene and the Vada Pav is placed on it. A generous amount of garlic chutney is sided with the Vada pav and a couple of fried green chilies are placed on that small tiny platter. Till this time you are drooling and controlling that to your best of abilities. But finally all these torturous moments are worth it when you bite into this taste of Mumbai. You almost get tears in your eyes not because you are too emotional but because the fiery hot Vada Pav intensifies the spicy quotient which you love absolutely.
Famous places to eat Vada Pav in Mumbai
Being honest, 9 out of 10 places will serve you excellent vada pav in Mumbai so you don't have to travel miles to taste a nice vada pav. But if you are a food connoisseur then here are some very famous places which sell the best Vada Pav and are doing so since many years now.
Ashok Vaidya's Vada Pav
A place where the Vada Pav story started has maintained the taste in spite of the challenges that they have faced over so many decades. The birth place of Vada pav should be declared as a foodie pilgrimage and if eating food is declared as a religion then every foodies should visit this. At least as a token of appreciation, you should visit this place. Right outside Platform no. 1 in Dadar West. The legacy of original vada pav is still intact.
Aram Vada Pav
Right in front of the Chhatrapati Shivaji Maharaj Terminus, near Azad maidan you will find one of the oldest shop which sells absolutely stunning Vada Pav. The daily sales of around thousands of Vada pav is the credential that have earned them this tag of being the best in business. The Vada is quite above average in size and the garlic chutney is something you shouldn't miss ever.
Graduate Vada Pav
This one is right outside Byculla station east. The place which was the busiest junction of Mumbai around 2 decades ago has this stall called Graduate vada pav. Nobody has tried to dig in the reasons behind its unique name because the focus was always on its unique taste. Ramesh Pawar came here from Satara where these Vadas were a hit, and so he dared to start this business in Byculla. A family run business like most other Vada Pav stalls this place is surely going to rule longer.
Ashok Vada Pav
Don't confuse this one with the place of origin. Though it is also a brainchild of another Ashok but the surname is Thakur. Thank God the Vada Pav guys do not believe in IPR and brand protection or else this would have been a case of identity theft. The reason is that, this Ashok Vada Pav near Kirti College gathers huge crowd and is right on the bucks. The likes of Sachin Tendulkar, Shabana Azmi and Madhuri Dixit have frequented this place. So definitely you should visit this place. Plus the owner is very friendly and greets everyone with warm smile.
Khidki Vada Pav
I haven't tasted this personally but more than the taste what impressed me is the spirit. As the name goes, this vada pav is sold from the khidki (window) of the house. Mr. Yashawant Moreshwar Vaze and Mrs. Uma Vaze started this business without worrying about renting a place or finding a place, they utilized their home window which eventually became their USP. Visit to Tilak Chowk in Kalyan and ask anyone to reach this place.
Gajanan Vada Pav
A good vada pav can be identified by the chutney it is served with. At Gajanan Vada pav you are served with their unique chutney which is vital in making this vada pav more famous. It is served on a leaf and adds to the appeal. Chhatrapati Sambhaji Road, Thane West, is the place where you can try this vada pav.
Gupta's at Grant Road
This stall is right outside Grant Road station east exactly diagonally opposite to B. Merwan. Nobody knows it by this name only a loyal few know that it is famous as Gupta's Vada Pav. I am eating this for around 20 years now. If you like your vada Pav spicy then this is the best bet for you. Just try it and see if your palate can handle the zing. The Vada Pav is huge and the chutney blows your mind away.
This completes the list, there are few others which are also elite enough to be worthy of a mention. Shivaji Vada Pav near Mithibai College, Shri Swami Samarth Vada Pav near Sena Bhavan. Dada cha Vadapav behind Vitthal Mandir Virar which is among my personal favourite and last but not the least is the Mama's Vadapav near Vartak Tower at Nallasopara east.
I am lucky enough to have tried the Vada pav from most of these places. Have you tried them all?
The Vada Pav Success stories
Personally for me each Vada Pav business which has gained popularity is a success story in itself. A minimalistic food business is how I can define it at the best. A single product is made and marketed to the target audience. They cater to the taste buds of the hungry people and capture the essence of authenticity. While the people keep falling in love and the businesses rake in the moolah (slang for money). Here is video that shows how big the vada pav thing is from a business perspective.
Jumboking
First brand that actually comes to everyone's mind is the Jumboking Vada Pav which was the brainchild of Mr. Dheeraj Gupta who after completing his MBA, decided to organize the idea of selling vada pav in a customized and hygienic way. Back in the time when he told the world about it, he was left with no solid support and a heck lot of skepticism. So the first step was to convince people about this idea.
Eventually he managed to work around this idea along with his wife Reeta Gupta. She was responsible for marketing and brand positioning of the Jumboking. After a tough initial phase and overcoming lots of challenges the brand is finally a name to reckon. It is not only competing with the local taste but also fighting the likes of Mc Donald's and KFC. Yet the faith is immovable and Mr. Dheeraj Gupta is good to go further with his Vada Pav specialization.
Goli Vada Pav
Another successful name that pops in my mind is the Goli Vada Pav. Which is a huge success and work of Mr. Venkatesh Iyer. A brand which opened its first store in Kalyan in the year 2004 and today has a customer base of 20 crores all over India. It makes its presence felt in the form of case studies in the syllabus of Harvard Business School, IMD Switzerland, and ISB Hyderabad. This definitely deserves to be called as a success story.
The USP is constant taste throughout all the outlets, hygiene and packaging. Mr. Iyer started the brand with people who were school dropouts. He educated them, employed them and involved them as a vital part of his entrepreneurial journey. These 3 Es are the foundation base of Goli Vada Pav which was named after a slang phrase. "Kya goli de raha hai… (Why are you bluffing)", which Mr. Iyer heard a lot when he approached investors with his idea of making Vada Pav a corporate entity.
Traffic Vada Pav
This one is a wild card entry on this short list. Mr. Gaurav Londhe started this venture which may not be as big as the previous 2 start-ups, but has certainly hits the right nail in innovation category. Catering to the Mumbai's traffic which is a pain in all the wrong places, Mr. Londhe started selling Vada Pav in a box with a tissue and a small water bottle. All these for just INR 20. Sophistication of product and creating the demand.
He had given away the boxes for free in the initial days but after few days the idea was a superhit. Now his estimated revenue is 2 lacs per month and he has employed 8 boys to sell Vada pav in the traffic at traffic signals.
There might be many small entrepreneurs who have made fortunes by selling vada pav. I personally know a few of them. Perhaps whenever we are not doing well in life especially in academics or job then selling Vada Pav is the idea that strikes our mind. So for people with struggles, Vada Pav is a hope that makes them feel empowered, and increase their risk taking appetite.
Why it still rules the street?
It started its journey by competing with the Idli and Dosa, later the competition was with Chinese food. Then at some point the cheese fad came in. All the mentioned food items were soaring in fame, while Vada Pav was still competing with the same spirit that makes Mumbai. All the trends came in and went out of fashion but Vada Pav still remained a classic over all these years. In Mumbai, you will find Vada Pav on each and every street or corner. Each place serving the dish in a unique taste and style.
For some it is the breakfast, for some it becomes the lunch and for some it is their dinner. For the strugglers out there, it is the only food that they can survive on. For some it is a privilege. Irrespective of background stories, Vada pav makes a place in the hearts of almost all people. It not only rules the streets of Mumbai but also rules the hearts of Mumbaikars. We have a World Vada Pav day on 23rd August, which speaks a lot about the stature of this street food.
Conclusion:
So when are you eating your next Vada Pav. Do you want the recipe to one of the legendary Vada Pavs? If you want it, then go and ask at some of the places which sell best Vada Pav. They won't hold it back. 8 out of 10 guys will give you the recipe, as they are not afraid of competition or something like that. They know that a Vada Pav business thrives in such environment and they welcome everyone to try their luck. For me and you, the more the merrier.
Now if you loved this blog, then do comment in the section about the best vada pav you have ever had. If you liked it to some extent then do share with your friends and families. This is a tribute to the legendary street food which represents Mumbai at global level. With this your foodie_khiladi signs off for the day with another write up on food heritage. If you liked this then you would like to read more here.
If you have anything to say then you can mail me at [email protected] or DM me at foodie_khiladi007. I will see you soon in my next blog. Till then keep smiling and spreading the smiles. You might also like to read an article on vada pav covered by the BBC on this link here.