Pizza is a topic that you can accuse me of being obsessed with and I won't even mind it. History of pizza is quite interesting, just like the combination of its toppings. I intend to write an entire book based on pizzas. Wait! You know what, I would like to release a volume of books which will discuss pizza. Don't be so surprised, when you say obsession, I mean obsession!!! And this is how it looks. Coming back to the point, today I am going to share a list of most expensive pizzas from around the world.
Just a few days back I was surfing the tube and got a weird recommendation. A celebrity YouTuber shot a video of eating the most expensive pizza of the world. I was still fine with the title, but when I saw the video, it blew my mind. Especially the price of that pizza was so huge that you can easily take multiple trips around the globe, or buy a new home, or maybe a car or you can easily start your business. Last but not the least you can keep that amount in bank and live the rest of your life on the interest amount.
Did that raise your curiosity? It did raise mine. What perplexed me is the irony that a food like pizza was invented as an inexpensive food that could be consumed quickly. But here it is making a name for itself as one of the luxurious food items that could please the rich people out there. Nevertheless for everyone else it at least is working as a way of amusement. So let's quickly check out the progress of a pizza from humble beginnings to a hole burner of pockets. Here I present a list of most expensive pizzas from around the world.
List of Most expensive pizzas in the world
Usually a pizza in the United States cost on an average USD 7 to USD 15, and a medium pizza in Europe costs approximately 10 Euros.  In Indian currency it is approximately 1000 rupees. So anything that is 10 times these values will be considered as expensive and will be given a consideration.
The Magic Gold Pizza
Is gold vegan? I am asking this, because this pizza has gold in it and is a vegan friendly pizza. Hailing from Canada's, Magic Oven restaurant, it costs $108. Which makes it ten times expensive than the average pizzas sold around the world. Yet it is the cheapest one on the list. It is made from gluten free dough. The ingredients used for the toppings are vegan. One of the topping is that of the edible 24-karat golden leaves.
Indians love their gold, if you offer them a pizza worth $108, they would rather ask for the money and buy a gold out of it. So maybe this is the reason that in India you won't be able to see such gimmick filled places that try to sell exotic pizzas. Anyway, this is just the beginning of the list. Let's see what awaits ahead.
The Astice E Tartufo
To eat this pizza you will need to visit the land of gold. Yes you will need to visit Dubai. In Dubai mall there is a place called Third Avenue Café, which makes this most expensive pizza. The chef who makes the pizza imports the rare and exotic ingredients that goes in the pizza. Truffles from Italy and world's finest lobsters are a part of the topping of this pizza.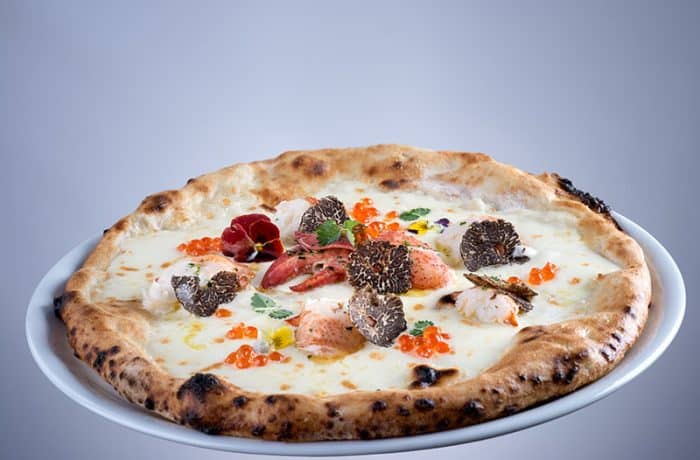 At $125, it is surely one of the most expensive pizzas, but if you consider the premium quality ingredients that are used, and if you are a pizza connoisseur then this one is definitely worth trying. Just a pro tip, take a friend along and split the bill. Take more than one friend on this adventure, the more the merrier.
Triple Mille-Feuille Pizza
Are you eligible to travel to Japan? Are you willing to travel to Japan? I have heard it is so beautiful country. Because the dominos franchises of Japan has this super hit pizza called Triple Mille-Feuille which has three layers to it and between each layer there is a generous amount of cheese. There are so many toppings which you can order with this pizza. With all the toppings intact it is one of the trickiest pizzas to grab. Even without all the toppings, I bet the cheese uplifts this pizza and places it in the league of the legends.
Priced at $140, it seems that it is an overpriced item. But hey if the cheese is worth it then I don't have anything else to say. So if you want to try this pizza, tag a friend along, share this post with him/her and fly to Japan right away. Mimicking the famous dessert called mille-feuille, this 3 cheese pizza is surely a must try. The diameter is smaller but the thickness is 5 times of the regular pizza and it weighs around 3 kilos at times.
Gordon Ramsay's Pizza
If you are talking about a famous food like pizza, then is it even possible to not have any association with the world famous chef? No chance! Gordon Ramsay's pizza is available in his Maze restaurant, located in London. The pizza has some exquisite ingredients from around the world. The signature of this pizza is an Italian onion puree. Truffles from Italy, Cep Mushrooms, Fontina cheese, mozzarella from buffalo milk, white truffle pasta, rare herbs and cured pork belly.
The pizza is prices at $250 that depends on how much of the truffle you want in the topping. This was from a long time in the Guinness book as a record holder for one of the most expensive pizzas. With passing time it lost that title to other pizzas on the list. If you are a Gordon Ramsay fan then this pizza should be on your bucket list.
C-6 Pizza
Do you have a thing for seafood? Do you like pizza? What if a place offers a combination of both these things? I am sure you won't mind paying a hefty sum just to enjoy this treat. It is available at Stevetson Pizza in Richmond, British Columbia. This place is known for best and fresh seafood availability and hence even at $450, this one of the most expensive pizzas served with seafood toppings.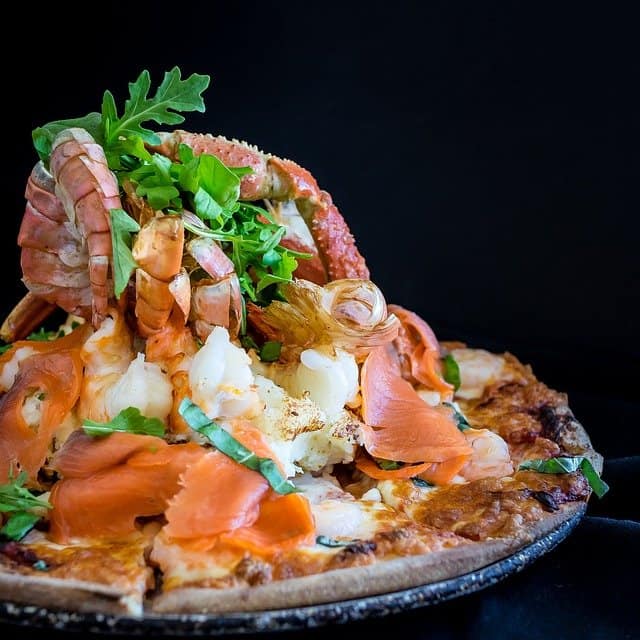 You need to inform and place order for 3 days in advance, because the dough takes 73 hours to be prepared. It is a family run restaurant. The ingredients used are smoked salmon, tiger prawns, black Alaskan cod, lobsters thermidor and Russian osetra caviar. Such a load of amazing seafood is surely going to add to the price as seafood is generally very expensive and they use the best of their catch in the pizza. Have you tried a seafood pizza ever?
Nino Bellissima Pizza
First pizza on this list of most expensive pizzas to cross the $1,000 mark. Priced at perfect thousand dollars this pizza was launched in 2012 by Chef Giovani Spatala. Available at the Gino's restaurant in upper Manhattan region. The making cost of the pizza is roughly around $820 and thus the profit is merely $180. Still it is a proud creation which was conceived after 33 years of work experience with pizzas from the owner Nino Salamache.
The ingredients comprise of thin lobster slices, salmon rolls, crème Fraiche, wasabi paste, chives and 4 to 6 different types of caviar. More than 50 of this pizzas are sold per year. The buyers are mostly top notch stock brokers or the rich politicians. I must say that this one is a hit pizza on the list by sheer number of orders per year.
The 24K Pizza
The Industry kitchen at New York is the home to this lavish looking pizza. At $2,000, it is a premium priced pizza which can be shared with 8 people contributing $250 each. So aren't you curious about what makes this pizza so expensive? First of all you need to inform the place 48 hours in advance so that they can get the ingredients in the place. Everything is ordered as per the requirement and so the freshness is unmatched. The dough has black squid ink and is blackish in colour.
They add a 24-carat gold foil and 24-carat gold dust as a topping. Apart from these, they add truffles from France region, some Foie grass, and Ossetia caviar from the Caspian Sea and shilton cheese from England. Of all the ingredients, the foie gras is one of the most hard to procure. It is a liver of a duck that is force fed, so that the liver grows large. I am not sure if after hearing this anybody would like to order this pizza. Or even if you do, try to avoid foie gras. Have a glance at it in the video below.
World's Most Expensive Pizza
It was inevitable to leave this one out, when the name of the pizza itself says the most expensive pizzas. It was in the Guinness book of world record in 2010. Hailing from Malta, it was created by expert chefs of Margo's chain of restaurants. The detailing done to this pizza is just marvelous. The flour procured is from one specific farm. The dough for the base is not more than 2 mm in thickness.
It has white truffles, some gold leaves and locally procured buffalo mozzarella cheese. Till 2019 only 12 of this pizzas were sold. Priced at $2,880, it certainly a dish that can burn a hole in your pocket.
Pizza Royale 007
Are you a fan of James Bond? Heck yeah right? Who isn't a fan of James Bond? The appearance, the style and the charisma, all makes a statement. So inspire by Mr. Bond, and made at The Domenico Crolla Restaurant in Haggis, Glasgow. It is priced at $4,200 and shortly you will know why it is priced so high. One part of it is the fact that it is a recipe from Chef Mr. Crolla. It is not generally sold for commercial reason and if you want to taste it then you need to get in touch with the chef.
The toppings have both white and black truffles, 24-carat gold dust, vintage of balsamic vinegar, lobster tails marinated in thousand year old cognac, the caviar is soaked in Dom Perignon champagne. It also has high quality prosciutto (cured pork meat), Scottish smoked salmon and venison medallions. Plus it is served with a glass of martini, shaken not stirred as per the James Bond style. This pizza was made in 2007 to raise funds for Fred Hollows Foundation.
The Miss Verdun Pizza
As you are still reading, why don't you guess the ingredients of this pizza by yourself? I mean most common edible things that are expensive are gold, caviar, truffles and lobsters. So by default they are a part of this pizza. But does that justify the tag of one of the most expensive pizzas or does it justify the price of $4,250? What if I tell you that you can order this from your home if you are in Canada? It is offered by Mizzou Pizza in Verdun, Montreal.
The offer with the pizza goes like this, you can order this pizza from your home and the chef will come to your home and make this pizza in front of you. The offer doesn't ends there, you will be given a fleet of musicians that will play an orchestra in the background while you enjoy your pizza. So here is an idea, why don't you order this when you plan your big parties or a wedding in Canada, you can save on orchestra cost. Let me know in the comments if you will do this.
Favitta's Pizza for Lovers
Does your better half like pizza? Does your better half like diamonds? It was the idea of Favitta's owners to sell a pizza in a heart shape along with a diamond ring and a glass of Dom Perignon champagne. The idea was to create an experience with pizza, so conducive that it aids in your plans of proposing someone. Sadly the response to this gimmick was not great. Though the intentions were pure. It was to save the tax that a buyer has to pay on jewelry and buy it for them and pass on the tax benefits.
The only pizza in the list which you can't order anymore. It was priced at $8,180 and the prices kept varying as per the prices of the diamonds. This pizzeria closed in 2008. I guess this was the fate of the pizzeria because most of the people are single these days and the ones in relationships will rarely go for this experience. Don't you agree with me? With the diamond rind, I am sure this is the most economical of the most expensive pizzas on this list.
Louis XIII
This is a pizza from the legendary pizza expert Chef Renato Viola. This is one of the most expensive pizzas on the list and is available in Salerno, Italy but only for special guests and on request. Are you bored on regular pizza brands? Then you can order this pizza for a change, it costs just $12,000. A pizza measuring 20 cm in diameter and is enough for 2. You need to order it 72 hours in advance. The flour used is Arabian flour and pink salt added is from Murray River, Australia. It needs 72 hours to develop the flavour.
Three caviars viz. Oscietra Royal Prestige, Kaspia Oscietra Royal Classic from the Iranian coast and Kaspia Beluga Caviar are used. The lobster is sourced from Norway and it has 7 different types of cheese on it. To enhance the taste you are served with Champagne Krug Clos du Mesnil 1995, Cardenal Mendoza Carta Real Sanches Romate Finos brandy and Louis XIII Remy Martin cognac a rarest cognac in the world.
The best thing is, you can order it from your home and the Chef will come to your home along with a wine sommelier to serve you the course. How lavish this experience sound? Certainly sounds like the best of most expensive pizzas.
$70,000 Golden pizza
This is the pizza that I was referring to in my introduction. A celebrity YouTuber called Mr. Beast ate a $70,000 Golden pizza with his friends and it was covered by Business Insider and Insider.com. The price tag seems insane, the location of offering is not revealed in this video which means this was a pizza made on request and is not commercially sold. It was made by a private chef who cooks for Billionaires.
With the base covered with an ounce of gold, and 10 years aged béchamel cheese spread on it, the foundation is pretty lit. The pizza toppings include Japanese beef marinated in $10,000 grape juice and Hudson Valley foie gras seared and flamed with a $6,000 bottle of apple juice. Truffle shavings worth $4,000 some Albino caviar which is rare to find. Finishing with golden leaves and smoked sea salt. It is just a baffling experience. One of the best most expensive pizzas of all time.
Pierchic Pizza
One of the most expensive pizzas and one more from the lands of Dubai. Pierchic restaurant is one of the premier fine dine places of Dubai. Around 2 years ago this place added a pizza to the menu which costs $180,000. Imagine what else you could buy with this amount of money. But till 2019 it already sold 3 pizzas already. The ingredients used are white Alba truffles from Italy, Black winter truffles from France. Saffron from Kashmir and Foie gras from Gascony and France, Iranian almonds.
The list goes on with beluga caviar soaked in Dom Perignon champagne, matsutake mushrooms from Japan and 2 ounces of gold leaves. All these ingredients are imported and prepared by Michelin starred chefs. So the experience is quite luxurious and is flashy enough for someone with rich appetite.
Closure:
So which one of the list is going to your bucket list? Personally I would prefer making them at home by sourcing all the ingredients myself, I can save a lot of fortune in that way. Plus it would feel very upsetting if I bought one of these pizzas and it does not match my expectations. So I would play safe here. You are free to make your own decision. I would like to know your views in the comments below. From these most expensive pizzas which one made you curious?
This marks an end to this crazy topic. If you liked it then you should also read about 8 most expensive Ice creams from around the world which I wrote few months ago. Please do not be harsh on this aspect of reality. As I have always said, rich people do their bit for charity and we should be less judgmental on how they choose to spend their money. This is a fun most so please don't take it in a wrong direction.
If you have any topic suggestions then write to me at [email protected] or DM me at foodie_khiladi007. With this I am ending this blog post. In a hope that you will like it and share it with your crazy friends who love pizza. I will see you soon in my next blog post. Till then keep smiling and spreading the smiles.