Today we are going to explore the most expensive ice creams from around the globe. Ice cream is hands down the best dessert across the world, children, teenagers, young adults, adults, and elderly all people love ice cream. You will hardly see someone who can refrain from this sweet and cold form of gluttony. Perhaps this is the only gluttony nobody minds about. Irrespective of the price tag, a good ice-cream is worth the cost and a bad ice-cream will always be overrated. Do you agree with this?
The best budget and best return on investment ice-cream that I ever had was the Mewad cone ice-cream that every corner in the Mumbai used to offer. So why am I writing about these costliest Ice-creams from around the world? Maybe to know what is this hype about the cost. Are they really worth it? If you are curious like me, I am here to accompany you on this journey called curiosity. Let just ride on and sample few of the most opulent ice-creams in the world.
Golden Opulence Sundae
The Serendipity 3 in New York serves this $1000 ice-cream sundae, which has to be ordered 48 hours in advance. The reason being, they source all the ingredients fresh from the sources across the globe. I mean this is mandatory to justify the price tag. Or else how are you going to believe that their ice cream sundae is really worth. It is not all about getting all expensive ingredients and stuffing it in a dessert, it is about balancing the flavours to bring out the perfect taste. This summarizes the ideology of the creative chef Joe Calderone.
This one of the most expensive ice cream is presented in a $300 baccarat crystal goblet, which is lined internally with edible gold foil of 23-carat. It is then placed with 3 scoops of Tahitian Vanilla Ice-cream with some Madagascar vanilla beans infused in it. It has 'Amedei Porcelana' and 'Chuao' chocolates which are some of the finest bean to bar chocolates in the world. It also contains some candied fruits worth $175 and a sugar flower costing $100. On the sides it has $65 dessert caviar with $25 truffles. To eat this you are given a $300 spoon made of 18-karat gold, which you can take away as a souvenir.
The Black Diamond
You were not born with a silver spoon but you can eat with one. The Scoopi café in Dubai serves one of the most expensive ice cream in a Versace bowl with a silver spoon. This single scoop is made up of black truffles and Iranian saffron. Let me mention that the black truffle is world's most expensive gourmet ingredient which costs around AED 450 for 10 grams. Also called the black diamonds of food, hence the name of this ice-cream is Black Diamond.
This single scoop of ice cream will make you poorer by AED 3000. It is a single scoop of Madagascar vanilla ice cream, freshly churned in front of you. Topped with 23-carat gold dust, a heavy pinch of Irani Saffron and the edible gold foil. Plus you get to keep the Versace bowl and the silver spoon once you finish this lavish dessert. I know for the city of gold this kind of stuff is pretty normal. You too must have seen and heard about their love for gold. Zubin Doshi the creator and owner took 5 weeks to develop this recipe.
Mauboussin Mega Sundae
Another place in the list which is at New York. Bagatelle serves a mega Sundae for $1000. Diamonds are the key to a woman's heart. If this quotes is believed to be true then, this ice cream is a permanent access key. Served in an over-sized martini glass, along with black steel or white gold diamond ring as per your preference. Designed by Mauboussin jewelers which you can take home after eating this rich dessert.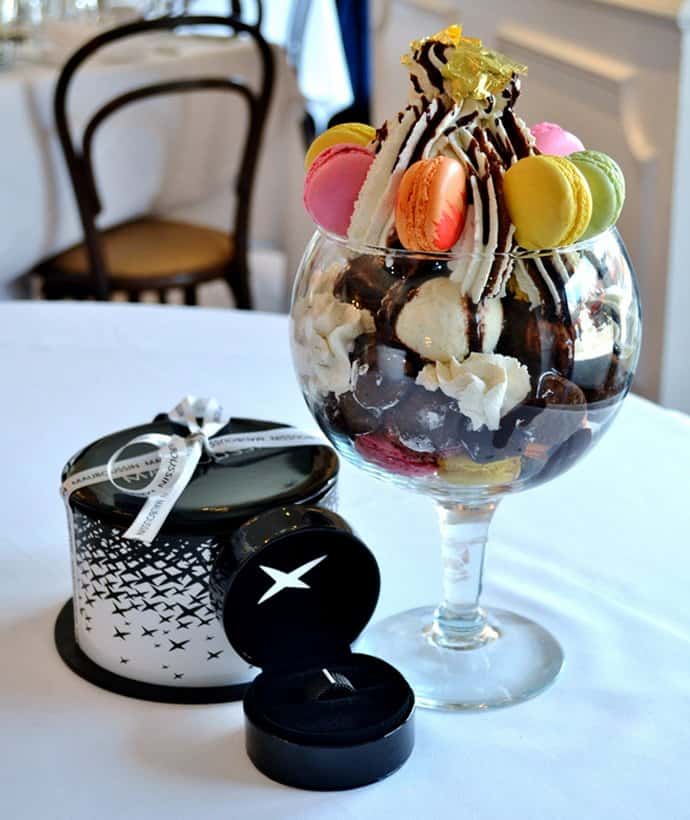 The executive chef 'Sebastien Chamaret' layers the glass with French macaroons and chocolate truffles. This is followed by generous scoops of vanilla ice-cream till the glass if leveled. Now comes the scoops of Dom Perignon rose sorbet with gold leaves. Mind you, Dom Perignon is in itself one of the costliest champagnes in the world. After the sorbet, comes a heavenly and heavy drizzle of chocolate vodka sauce. After this there is some whipped cream and to finish the presentation you have chocolate brownies gilded with gold foil and some more macaroons.
The Victoria Ice-cream Sundae
Another most expensive ice cream with a royal price tag of $1000. It is served at the Langham hotel, Chicago. Created by Chef 'Scott Green' and served along with a bottle of Dom Perignon in a Wedgewood crystal bowl which you can carry home. It is named in the honor of Queen Victoria who reigned in 1865 when this hotel opened.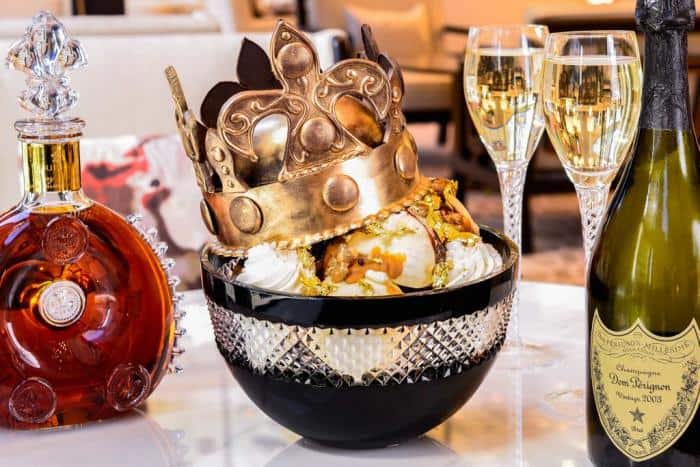 This expensive ice-cream sundae has both vanilla and chocolate ice-creams. Now comes the interesting part. The chocolate used is Guittard Complexite 70 percent chocolate which is the king of dark chocolates. The vanillas are fruity Tahitian vanilla, traditional Madagascar-Bourbon vanilla and peppery Mexican vanilla. This lifts up the flavor game of these scoops beyond imaginations. It also has caramelized golden peanuts and a chocolate fudge made with Louis XIII de Rémy Martin (a very costly cognac). Then it has some butterscotch and whipped cream with salted caramel. All these calories topped with a 24-carat gold leaf and a hand crafted edible chocolate crown.
Strawberries Arnaud the really Most Expensive Ice Cream
The most minimalist among the most expensive ice creams list. Minimalist in appearance but it is really expensive at 9 million dollars! Nothing fancy about the appearance but one thing which blows up the cost is the 10.06 carat blue diamond ring that comes along. Earlier this expensive ice-cream was priced at $1.04 million with a 4.7 carat pink diamond ring once belonging to the famous English financier Sir Ernest Cassel. The Arnaud's restaurant from New Orleans deals in this luxury ice-cream dessert.
The Strawberries are soaked in a wine that costs $25000. Then there is a rich Oporto sauce along with the finest port wine and red-burgundy wine to compliment the French vanilla ice-cream. The ice-cream scoops are topped with these wine based dessert sauces spiced with cinnamon and then soaked strawberries are sliced to be placed on the scoops. Then comes whipped cream which is sprinkled with 24-carat gold flakes and some mint leaves. If you order it then you get to drink a rare port from Charles X crystal cave liqueur collection with jazz music played live in the background. These additional offerings are complimentary. I can't thank them enough for being this generous.
Absurdity Sundae
As absurd as it may sound, this is more of an experience than a mere most expensive ice-cream. This $60000 ice cream sundae is offered by the Three Twins Ice Creams from California. It comes with a first class air fare to Tanzania with a five star hotel stay and a guided trip to Mount Kilimanjaro. This is where the owner of the brand will churn the fresh ice cream with the glacial ice available at the top of Mount Kilimanjaro. Post this you get a T-shirt as a souvenir to take home. Isn't it absurdly royal treatment?
A major chunk of this hefty profit goes to a NGO in Africa which helps in conserving environment. A less expensive version of this ice-cream is offered at $3333 called 'The Three Twins Ice Cream Sundae' which has a similar recipe without the travel part. Made out of 3 rarest dessert wines. Served atop split bananas. It is served with an antic spoon from 1850s and a cello performance to amuse you. A third of its profit goes to a land trust. Now these are the noble yet most expensive ice creams on the list.
Frrrozen Haute Chocolate
Long ago the Serendipity 3 went a notch higher and created an ice-cream called Frrrozen Haute Chocolate worth $25000. An expensive ice-cream served in their signature Baccarat Harcourt crystal goblet and needed to be ordered 2 weeks in advance. Which was laced with 18-carat gold bracelet having a 1-carat white diamond. Served along with a golden spoon encrusted with jewels. Yes you can have the bracelet and the spoon after you eat this insanely priced dessert. But the thing is this dessert is no longer sold now.
The recipe was made by using a hot chocolate mix which had 28 of the finest and rarest cocoas. Some of the cocoa are secretly sourced, the rest of them come from Africa and South America. It also had 23-carat edible gold mixed in the rich slush of chocolate. To this they added shavings of the most expensive truffle called the La Madeline au Truffle ($2,500 a pound). Finally this edible richness was topped with 5 grams of edible 24-carat gold. The profits coming from this over the top dessert used to be given to children's charities in New York.
Bear Extraordinaire
This is an ice cream worth $1500 offered at the Baccarat Hotel New York made by Chef 'Rosario Wakabayashi'. Served in the Baccarat crystal bear costing $1,200. Which you can carry home as a cute souvenir. The ice-cream is made from Madagascar vanilla beans. Thus it is the most expensive ice cream in the United States of America.
The ice cream is a vanilla slush filled in a white chocolate shell. It is painted with colored cocoa butter to make it attractive. This ball shaped shell rests on the mixture of crushed 3gms black truffle and high-end 64 percent Manjari dark chocolate plus the Valrhona Gold cocoa nibs. This set up is covered in a sauce made with hibiscus champagne and some citrus meringue. To complete the presentation they have butterflies made of fondant placed on sugar hairs made of caramel strands. Finally the gold and silver leaves adds grandeur to the rich appearance. You can have a glimpse of this treat in the following video.
For all the ice creams on the list, I would have to apply for a loan with no cost EMI. If Amazon and Flipkart people are reading this then please consider this scheme. To be honest, an average consumer thinks 10 times before spending even 10 bucks out of his pocket. Rich people just need to have ways to spend their money. These ice creams offer them a chance to spend which according to them might be worth it. Here again we see a delicious marketing ploy to sell something which the rich are happy to afford.
If you are thinking that the people eating this can consider donating the money to needy people out there. Then listen to me, and tell me if you agree. Rich people do not have a single source of income, they have enough money to spend, even after they donate. So I won't be judging them for spending their money on things they love. Plus it is ice cream dear, let's be less judgmental and enjoy this as a fun post.
With this your foodie_khiladi signs off for the day, hope to meet and greet you in my next post. If you liked this post then please share with your ice cream loving friends and fellows. If you want to read more such posts then you can read them here on this link.
Share this post on social media with the help of below social share buttons.