Did you know one seventh of the world's population has tasted Parle G that too in India alone? This is because the population of the world is 7.8 Billion and of India it is 1.33 Billion. Now the point to be noted is not the population, but the popularity of this magnificent biscuit. Can you imagine the reach of this famous biscuit? The name itself is filled with nostalgia for many. Most probably you have fairly good memories about the packaging, the aroma, the taste. But chances are bleak that you know this as a swadeshi brand that made wonders since pre-Independence era.
Let me tell you a story about the Parle G biscuit and the brand name that it has managed to create. A marvelous achievement which you can think of as an effort, which started with just 12 men and has now reached millions of households. A true swadeshi success story, which will evoke the right emotions of admiration.
The Inception
In the wake of Swadeshi movement a man called Mohanlal Dayal of Chauhan clan decided to produce a confectionary candy. The sole reason being, back in the pre-Independence era, such confectionary items were sold by British government at very high prices. Making it unaffordable for the common man and poor people who were oppressed by this government. He already had a well set Silk business, which he chose to ignore for sake of offering something to his people. This is why he went to Germany and bought the candy making industrial machinery worth INR 60000 to India.
He started a small factory in the village called Irla, Parla (modern day Vile Parle) in 1929 a year after the House of Parle was founded. This factory had only 12 people working, most of whom were from his family. They started making 'Orange Candies' which were sold at very cheaper rates. This is how Indians were able to greet candies. It is rumored that these candies were so good that even Britishers started enjoying it and thus the business announced itself to the world.
Almost a decade later they baked the first ever Parle G biscuit which was called Parle Gluco in 1938. This is where they planted the money bomb which would explode to open their fortunes in coming years. Did you know that Parle G was older than Indian Independence? A simple biscuit which captured the hearts of an entire nation. With just wheat flour, a dose of glucose, little milk powder, a hint of salt and the vanilla flavoring that had a distinct taste. Baked to perfection and packed in butter papers to be embraced by all people out there.
Memories with Parle G biscuit
What came first the egg or the chicken? This can yet be debated heavily, but what 90% of Indians ate with chai is undisputedly called Parle G biscuit. Were you one of those Indians? I was of course one of them. Not in the morning, but every evening chai was accompanied by 4 Parle G biscuits which I absolutely relished. It used to taste that good back in those days. In Mumbai half of the city's population passed by the factory which produced these biscuits. It was right beside the Vile Parle station. As soon as the train passed by, the authentic baking aroma of these super hit biscuits used to make everyone salivate.
The factory was shut down in 2016 to be converted into a corporate house. Now the train journey isn't the same anymore. It feels incomplete without the aroma that was a part of that train travel. As the saying goes, every good thing has an end. But the silver lining is Parle has emerged as the most selling biscuit brand in the world.
The Hiccups and Hurdles
As every great story is made great by the roadblocks, Parle G can't be an exception. The first challenge was coming up with a good name for the company. The owner was so busy in the process that it is rumored that he forgot to think of a name, eventually it was named after the location where this story started. It was named Parle.
The first major hurdle was during its launch when the major glucose biscuit market was under the holds of foreign brands. This included United Biscuits, Huntley & Palmers, Britannia and Glaxo as quoted on thebetterindia.com. The master key to address this was to compete with the price margins. Which really worked well, as reaching the people was the main motto. If not for Parle, it would have taken 2-3 decades more for the Indians to enjoy biscuits at affordable prices.
The second hurdle was even bigger. Can you imagine a profitable company closing production for one of its best product? It happened during the stressful times of the Indo-Pak partition of 1947. These were the years, when famine hit the country hard. This hampered the wheat supply which was a key ingredient for Parle G biscuits. The public was desperate to have them back. In a response the stakeholders issued a public notice that as soon as the famine situation improves, we will be back. For time being they started making barley biscuits to counter the demand.
The last but one of the most challenging hurdle was the increasing competition which was eating up their market share. As the biscuit was named 'Parle Gluco' they couldn't copyright the name and other companies started exploiting this term. The other biscuits were sold under names similar to glucose. People used to ask for Glucose biscuits and used to buy any glucose biscuit that the shopkeeper offered. This was brilliantly handled in 1982 by changing the name to Parle G where G meant the original gluco biscuit. This was supported by TV commercials and it worked wonders.
Most Famous Facts and Trivia
Just read and let me know in the comments that how many of these were you already aware.
If you line up all the Parle-G biscuits consumed annually, end to end, you can go around the Earth 192 times.
The amount of sugar used to make 13 billion Parle G biscuits 16100 tons which can cover the streets of the world's smallest country, the Vatican City.
400 million Parle G biscuits are produced daily, and if a month's production of the biscuit is stacked side by side, the distance between the Earth and the Moon can be covered.
As per the Nielsen report of 2011, Parle-G had become the largest-selling biscuit brand in the world.
Somewhere in 1946-50 they created India's longest oven which was 250 feet long.
In 2013 it became the first Indian FMCG brand to cross the 5000 Crores mark in retail sales.
The only biscuit which despite of increasing inflation didn't change its price for a decade from 1996 to 2006.
As you are reading this approximately 4551 or a little more than that people around the world are eating Parle-G biscuit.
A year ago, a post went viral claiming Neeru Deshpande to be the little girl on Parle Biscuit, which was busted as a false news by the Parle's product manager Mayank Shah who confirmed that the kid was an illustration which was made in the 60s by Maganlal Daiya of Everest Creative.
One out of every two Indian has over dipped a Parle G biscuit in the chai and have lost it in the chai cup and don't get me started on the rescue mission with second Parle G biscuit.
The Brand Portfolio with a strategy
Parle G biscuit is the signature product of this swadeshi and impactful brand but it also the product with the lowest profit margins. This works in both the ways, to reach each corner of the country and in every household plus making the consumers happy with the affordability. Now the next step is to utilize this popularity by sneaking other products with high profit margins to lure the existing customers.
The biscuit segment has 16 sub-brands which has famous names like Krackjack, Monaco and Hide & Seek. The total portfolio of biscuits has 64 brands with different varieties and flavours. Its major competitor Britannia has only 45 varieties to offer. This is called outrunning your competition.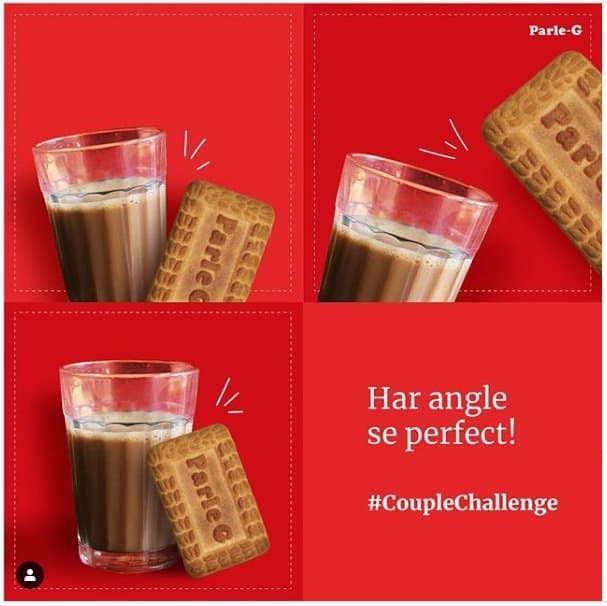 Another strong segment is the confectionary which has 12 sub-brands and includes some famous names like Mango bite, Melody, Poppins and Kismi. My favourite from this list is Kismi, which is yours? Like this there are 27 products for the offering. This is a segment with best profit margins.
The snacks segment has 4 sub-brands and 25 products. Which includes the Parle wafers range. The other famous sub-brands are Rusk and Happy Happy cakes. Which creates a diverse portfolio for this one of a kind FMCG brand.
Parle Recipes
I just know only 4 recipes for Parle G biscuit. One is to dip it in chai which I assume you too must have known for your entire life. The next one is to dip it in milk, this again was the staple of many as a toddler and even some adults who really like milk. After this comes the Parle G biscuit dipped in Coffee, which is a classy combination I must say. The last but not the least is dipping it in water when you are not having the luxury of having any of the previous three drinks.
Jokes apart, their official website has a recipe section. It has Parle G products based recipes. It covers recipes under 3 categories, Restaurant classic, Desserts and Drinks. I have heard that the almond choco fudge recipe is really worth making. Can you give it a go and let me know how it went. You can check their recipe section here on this link.
An Emotional Promotion stint with Parle G biscuit in focus
Parle G biscuit has become an inseparable part of our lives. It has been with us for our morning breakfast or evening snacks and many a times the savior of our midnight hunger pangs. Just like we either have our parents, friends or colleagues who back us in the times of crisis. Capturing this emotion correctly the company has added a page where you can send greeting to the person who is Parle G of your life. Where you can customize it and send to your loved and dear ones for free. Check that cool page here and send the greeting to someone who just crossed your mind while reading this.
In reality now the biscuit does not need promotion but the brand is identified on the basis of this divine biscuit. Not only in India, but across the world this biscuit is offered at low cost and has become the brand identity. Even some non-Indians are in love with this. Don't you believe me? Check this video out which is a fun effort by the famous Rickshawali.
Closure
The journey started with 12 people has now reached 27 countries and millions of homes. It has touched a billions of lives and has created zillions of memories. It has 8 production units in India and has multiple productions units in 7 other countries. Slowly yet steadily this swadeshi brand is making India proud. From 'Swad bhare Shakti Bhare' to 'G maane Genius' this biscuit has created enough nostalgia for us to cherish.
Irrespective of market figures, the Parle G biscuit will always be the heartbeat of this brand and of all the Indians too. What you think? Were you aware about these facts and information about India's most famous biscuit? Let me know in the comments below. If you liked this then you will like more such informative posts which I have written. You can read them on this link here.
This is time for me to sign off for the day with a hope and excitement to see you again in my next post. You can find me on Instagram for any complaints or suggestions my official handle is foodie_khiladi007. If you liked this post then do share with your friends, family and all the random people on your friend list. Just because we offer Parle G to even strangers and this is I am asking for the love of Parle G. Cheers!!!
Social share buttons for all social media platforms are given below.