So welcome back to the foodie_khiladi show on Yum & Awesome. Today your host has a very special guest on his show. A guest who has a celebrity status in India without being a person at all. I tell you, even for arranging this interview it took lots of pleading and requesting. But, just for you I did all that I could and managed to have our beloved Maggi Noodles on the show right here right now.
How many treasured memories you have with Maggi? If I would go and ask this question to anyone in India, then I am sure I will get a dozen answers from each person. Almost half of the modern India has cooked Maggi as their first meal in kitchen. No technicalities, no goof up, nothing complicated and yet you can make a snack which is almost equivalent to a decent meal. There is something extra in the recipe that makes Maggi more special. Maybe the nostalgia that outweighs our trust issues and skepticism for this celebrity food.
Then with a huge round of Applause let me introduce to you 'Maggi noodles' of the house Néstle, First of her name, the ultra-delicious, Queen of the taste and the wannabe chefs, USP of the great brand, breaker of the hungers, and mother of all good memories. Today Maggi will open up about her fictional life which is a reality for you and me since time immemorial. Let me interview this celebrity food so that your bond with Maggi strengthens and becomes dearer.
The Maggi Interview Begins…
ME: Thank you Maggi for your time and thank you again for all the times that you have filled our tummies and hearts with love and tasty calories. A warm welcome to this foodie_khiladi show.
MAGGI: You went a little overboard with the introduction and all, I don't think I can really be considered as a celebrity food. I mean come on!!! People still love Samosa, Vada Pav and Jalebi more than me.
ME: Now that is your modesty there that you still don't consider yourself as a celebrity. But ask a fan like me or any average Indian consumer and we will nod is unison on your celebrity status. Plus that introduction was totally legit. You deserve it.
MAGGI: Oh pleaseee!!! You are making me embarrassed! This is my first Interview ever and I haven't yet learnt how to react on such flattery.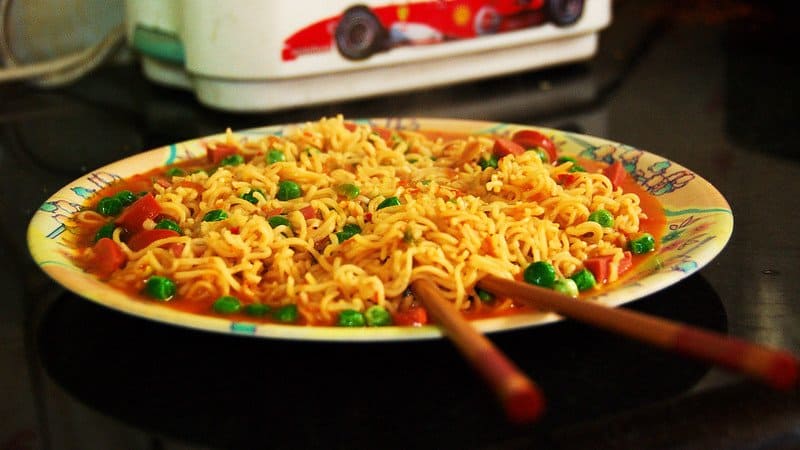 ME: Relax Maggi, Just calm down sit back and let's do it in a candid way. So if you are feeling comfortable then my first question to you is, why the name Maggi? What is so special in the name?
MAGGI: Thanks for making me feel comfortable. Now answering your question, I would like to highlight that I am not just a food, I am a brand too. A brand named on my father as I would prefer calling him, though not biological. Of course not biological but hysterical father 'Mr. Julius Michael Johannes Maggi' who was a visionary. I was named after him, so basically my name is a Surname.
ME: That is interesting. So would you like to share a little bit more about your father?
MAGGI: Why not? Mr. Julius Maggi was born to an Italian origin Mill owner in Switzerland. He was the first person to invent instant soups. He was asked by Swiss Public Welfare Society to make something nutritious and easy to make in foods, for the Swiss people who were near the peak of European Industrial revolution and had less time for long cooking stints.
ME: May I ask why the Swiss Public Welfare Society asked him to do that?
MAGGI: Ah! This was because by that time the women started working in factories and used to get very little time in kitchen to cook wholesome meals for their families. They wanted something which was cheap and yet nutritious enough that could really solve this problem of Swiss working women and their families.
ME: So you are saying that you were not always an instant noodle?
MAGGI: Ummm!!! No I wasn't. You will be surprised to know that I became famous as instant noodles only in 1983 after I came to India as an instant noodle.
ME: Maybe this is the reason people love you!!! You came to India in a year when we won our first Cricket World-Cup. Coming back to the same question again, please go ahead and complete.
MAGGI: Yes, Initially I was launched as instant powdered bean and pea's soup in 1885, then in 1886 I was introduced as Maggi's Bouillon-Extract which was famous for enhancing the flavour profile of any soup or weak bouillon at a very low cost. So you can figure out that low cost has always been a priority. A year later I was given a new identity called Maggi's Moreish Seasoning which could be added to any dishes to make them tasty and sumptuous.
ME: Oh I see! This means your journey is more than what meets the eyes. Could you tell me a little bit more about what happened after 1880s till 1983? This was almost a century.
MAGGI: My father's first attempt to launch me failed because I was introduced as a mere flour of different pulses. The Bouillon-Extract and the Moreish Seasoning made me famous in Europe. My father was well ahead of his time, he knew how to create a brand value. In fact, I was the first one to be advertised in public places. Various artists were invited to create creative advertisements to create curiosity and demand in the public. From the huge billboards to Maggi vans distributing Maggi soup samples for free, he did all he could to make me famous.
MAGGI: This really worked well and as a result, I became world famous. Then I was merged with Néstle who took over the firm that my father built and then my association with Néstle begun. This was another special year, 1947. When India won its freedom.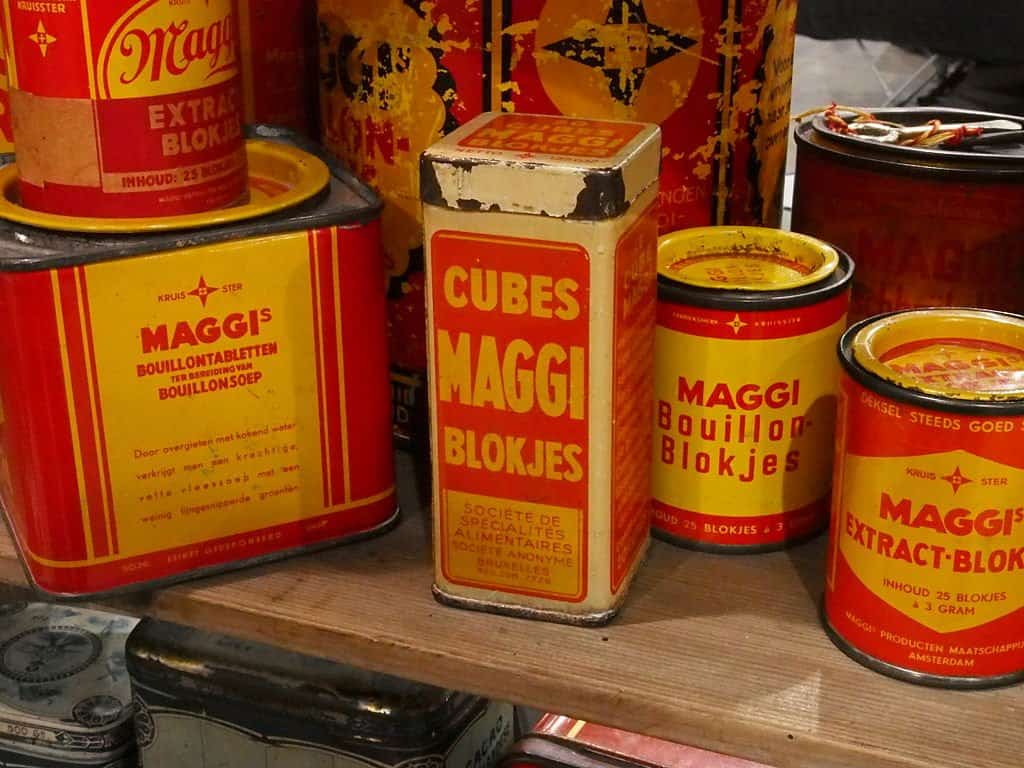 ME: Really great journey. I can't even imagine as it is beyond my living age to comprehend a journey as eventful as yours. So Maggi, how India happened to you?
MAGGI: My new bosses in Néstle were already having their presence in India via different other products, they saw an opportunity in serving instant noodles to kids as a healthy alternative to outside snacks like Samosa, Vada Pav, etc. This is where I came in the picture. Noodles which can be made at home and that too in 2 minutes. This is how Néstle re-branded me. The angle was to portray me as an outside food which can be home cooked.
ME: Do you want to name someone who deserves to be known for your makeover?
MAGGI: Yes why not. So all this credit goes to Ana Sinha ma'am, who developed the first recipe of the instant noodles with that truly slurp worthy masala taste. That was in 1983, and if not for that recipe I guess I would have still not been so famous.
ME: So you agree now that you are famous???
MAGGI: Ohh!!! Please stop stuffing words in my mouth. Are you going to behave like viral media now?
ME: So sorry Maggi! I was just trying to get a fun bite. So moving forward. How difficult it was to penetrate Indian market as an instant noodle?
MAGGI: As I said earlier, the first barrier was the image that Indians had about fun snacks. They preferred Samosa, Vada Pav and Jalebi etc. The next one was introducing it to the kids, that too after getting approval from all the mothers out there. Back then it was limited reach via Television and newspapers. Internet was not so big. It was all possible because of a team which had a mastermind like Sangeeta Talwar ma'am who ran successful ad campaigns to gain a market share and trust of consumers. She was one of the first women to enter the FMCG marketing sphere.
ME: Does that takes the credit away from Mr. Carlo Donati? Just asking for fun…
MAGGI: Absolutely not, Mr. Donati was very integral member of the team which introduced me to India in 1983, without him Indians would not have met me like this.
ME: See Maggi, I called you on this show, your fans will be reading this. So as a kind of return gift can you tell us the secret recipe to the Maggi Masala???
MAGGI: Hahahaha!!! That was witty enough. Let me tell you what all ingredients it has. Chilies from Andhra Pradesh, Cumin from Rajasthan, Turmeric from Maharashtra, Coriander from Kota, and similarly other 6 ingredients from different locations of the country. First the whole spices are roasted, then crushed and blended in measured amounts as per the secret formula. Then packed in equal quantities.
ME: That sounded like a half-baked bun to me. Thank you anyway for telling us everything and yet not telling us anything.
MAGGI: HaHaHaHaHa!!! Can we move on!!!
ME: Do you want to share some unknown or lesser known facts about you?
MAGGI: Yes I do. First of All Instant noodles are not always vegetarian. The vegetarian variant of Maggi instant noodles is only available in India. The other countries where I am often seen are Bangladesh, Pakistan, Singapore, Malaysia, Australia, New Zealand, Vietnam, Canada, U.S. and U.K. but all these have the non-vegetarian variations.
ME: That is very insightful about you. But what about other countries, does this mean you as a noodle are only famous in India?
MAGGI: Ah!!! To begin with, I am more famous as bouillon cubes in countries like Germany, Cameroon, Côte d'Ivoire, Bénin, Gambia, Sénégal, Guinea, Nigeria, Ghana, Burkina Faso, Togo, Sierra Leone, Liberia, Mali, Niger, and Mauritania and parts of the Middle East and also major parts of Latin America. I am famous as seasoning sauce in Romania, Mexico, German speaking countries, the Netherlands, the Czech Republic, Slovenia, Poland and France.
ME: That is really huge market presence. But still it must be a very dear fact to you that you had a 90% of instant noodle market to yourself in India.
MAGGI: I can just say, thank you to all the Maggi lovers out there who made this possible.
ME: Very humble of you. Now if you don't mind, may I ask you about the ban and the controversy? Was it the most embarrassing low for you?
MAGGI: I was really waiting for a question on this topic. Let me address the first point that was the packaging said "No MSG" but I had MSG traces which were due to the natural presence of MSG in ingredients like hydrolyzed peanut protein, onion powder, and wheat proteins. Now the packaging does not have a "No MSG label". Now coming to the Lead traces found in samples. It is a naturally occurring metal depending on the climate and surroundings of the grown ingredients.
ME: So you are denying all the allegations sharply?
MAGGI: Let me complete dear. So the lead levels were tested for the packed Maggi Masala before it being dissolved in water. It said 17.2 ppm which exceeds the permissible limit of 2.5 ppm. To which my managers challenged to test it again at 3 labs (Punjab, Hyderabad, and Jaipur) and these labs found that it was safe. Plus international laboratories gave us a safe go ahead. Which can only point out that the allegations & decisions were taken in a haste, nothing else.
ME: Okay! I will buy that for now. I don't know about others. Even then, I can say one thing for sure, the situation was very poorly handled by your spokespersons. This led to many brand related case studies to include this incident as a learning. Anyway hard times are gone and the lost grounds have recovered. Whom does the credit goes for this?
MAGGI: First of all I thank all the people who trusted us again. Then I would like to thank Mr. Suresh Narayanan who worked really hard and smart for 4 years to re-establish my brand image in India.
ME: Yes I agree, Mr. Narayanan is a living legend in times of brand crisis. Every management student should study him for more knowledge on managing brands and crisis.
MAGGI: Yes of course. Now one question from me to the interviewer. What is your fan moment about Maggi?
ME: So you basically want me to flatter you more! I will do that with pleasure. I have countless memories of cooking Maggi and eating it. One special memory was when I was alone at home and wanted to cook something special in very less time. I rarely cook for myself alone, so this time I really went a mile ahead and created this. You can check this out.
MAGGI: Now that was really a treat to see. I get to see myself almost everywhere in India but to see myself in this form really makes me feel good.
ME: I am very glad that you appreciated. Do you know how many recipes are out there which are focused on you?
MAGGI: I guess millions!!! But to be specific, I know Tarla Dalal's website has 31 recipes listed and there is one more recipe blog called Cookpad which has 81 vegetarian recipes listed. That is quiet a big deal.
ME: Yes it is a big deal. Plus you have so many small vendors who have made it big in the street food world all because of you.
MAGGI: This really makes me proud to touch more common lives in so many ways. Maybe this is a core vision of my father which I am glad that my present owners have maintained and taken care of.
ME: So we are in our final segment which is a fun round based on funny questions. Are you ready to tickle some funny bones?
MAGGI: I am always ready for fun stuff. Bring it on.
ME: Perfect answer. The world would be a better place with more?
MAGGI: I could say Maggi here but let's just say with more healthy instant cooking options.
ME: Your personal hell is?
MAGGI: People cooking me with milk and a sweetener. Imagine this torture to me as well as the foodie.
ME: Lolz!!! Your real life super power is?
MAGGI: Being an instant hit when anybody consumes me. It is empowering.
ME: Two Truths and a Lie.
MAGGI: Oh!!! I really can't be cooked under 2 minutes. I am already cooked before packaging. I have on an average lesser calories than samosa. Now keep guessing which the lie is.
ME: That is all for today dear Maggi or I would rather say dearest Maggi. It was an honour to host you and make you talk in this first ever food celebrity interview.
MAGGI: The pleasure was mine 'Mr. foodie_khiladi', your questions were really fun to answer and it never had me in a tricky spot. Thank you for a memorable interview. All the best for your magazine styled food blogging journey with Yum & Awesome.
ME: Thank you Miss. Food Celebrity. Time to bid adieu to a wonderful super snack of all time. I too had a fun time interviewing you. I wish you all the success in years to come and let the love for you keep growing in India and across the world.
Hey foodie, if you are still reading then let me know how well or how bad I was in the interview. The comment section welcomes you to be vocal. I hope I did a decent job to interview our food crush. Good or bad, Maggi will be there with us for years to come. Nothing can replace Maggi, it will always have a special place in our hearts.
If you are here for the first time then I do write such crazy blog posts, which you can read here on this link. With this your foodie_khiladi signs off for the day, with a hope that I made you smile today. Feel free to share with all the Maggi lovers you know. Cheers!!! And have you felt like subscribing yet? Go to the bottom of the page for doing that.
Use the below social share buttons to share this on social media with our friends and loved ones.