One thing which I personally feel about Golden temple and Golden Temple's kitchen is, that it should be on the bucket list of everyone in this world. This place is the epicenter of Sikhism, where the teachings of their Gurus are faithfully followed with clean heart. Did you know that Golden Temple's kitchen is famous for being the world's largest community kitchen. You will be surprised to know that the Golden temple's kitchen serves food 24×7 and is run by 90% of Volunteer task force.
As I will finish writing this post, I know you will be longing to visit this place for sure. There is something so magical about this place that you can't resist to grow in its awe. The locals who grew up here have visited this place as a kid for the sake of food. As food and the Prasad is something that motivates the kids to visit religious places. Then slowly the kids grows up and pick up the righteous teachings and food becomes an integral part of these learnings of life.
Golden Temple's kitchen is epitome of learnings, people travel here from all parts of the world to gain a new perspective on life. The founding principles of this place involved a very noble motive. That motive was to have a common place, where no person would remain hungry and everyone irrespective of the caste, creed, religion, societal status and economic background will be served equally. The idea of oneness which truly reflects at this place when you personally see it.
So let us step ahead and move into this divine experience and soak ourselves in positive vibes on this eve of Guru Nanak Jayanti, the person who started this idea of community serving who begun with this concept of community kitchen. Before discussing the Golden temple's kitchen let us know a little about the Golden Temple. These are mandatory etiquettes you know!!!
Golden Temple Brief Overview
You can call it Harmandir Sahib or Darbar Sahib or Golden temple, you will always refer to a place which was built around the Amrit Sarovar and completed in late 16th Century. Guru Arjan Singh requested Miyan Mir a Sufi saint to lay the foundation stone to set an example of brotherhood and equality. The Adi Granth was placed in the Harmandir Sahib by Guru Arjan Singh and since then the Sikhism has flourished over the years, despite of problems like invasion, wars and political upheaval.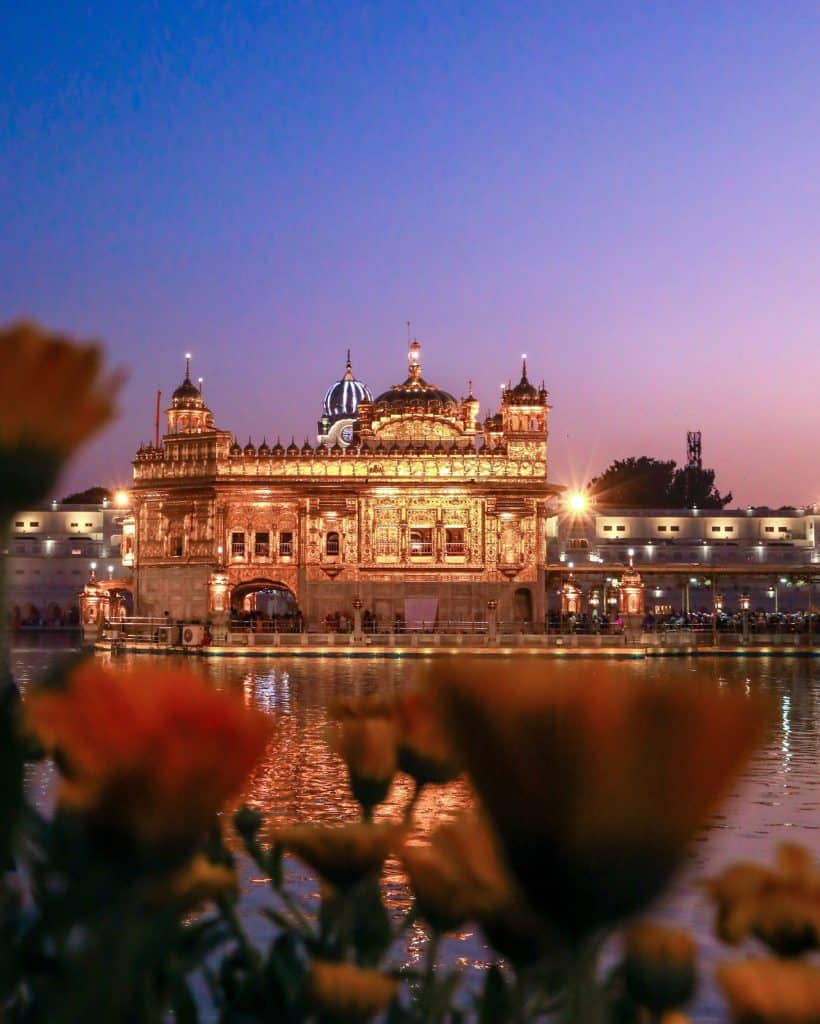 Maharaja Ranjit Singh renovated the Harmandir Sahib with copper and marble and the initial Golden layer over the sanctum was laid back in 1830. This is how it became more famous as the Golden temple. Built at a lower height than the surrounding city, it signifies the importance of humility. The water from river Ravi has filled the Amrit Sarovar and many believe that it has healing powers. In 90s it was renovated again with 500 kg of Gold and since then it is pending to get approval as UNESCO's world heritage site.
Golden Temple's Kitchen
Guru Ramdas Langar Hall is the real name of Golden Temple's kitchen, named after the fourth Guru who filled the Amrit Sarovar and from which the city of Amritsar derived its name. Once inside the periphery of the Harmandir Sahib, you will find an unassumingly old structure to the South-east gate where this hall lies. This is where the Seva (service) intensifies in the form of feeding the people with divine food. A practice which was started at this same place by Guru Nanak ji and it is still ongoing and will remain such till the end of time.
The kitchen is something very huge in itself as it is spread across an area of 50000 square feet. It has 2 halls which can seat 5000 devotees at a time. To the right there is section of mechanized Roti makers and parallel to the cooking area and langar hall lies a section where handmade rotis are cooked. On festive days there are spaces reserved where extra cooking arrangements can be done. This massive kitchen serves 100000 people daily on an average.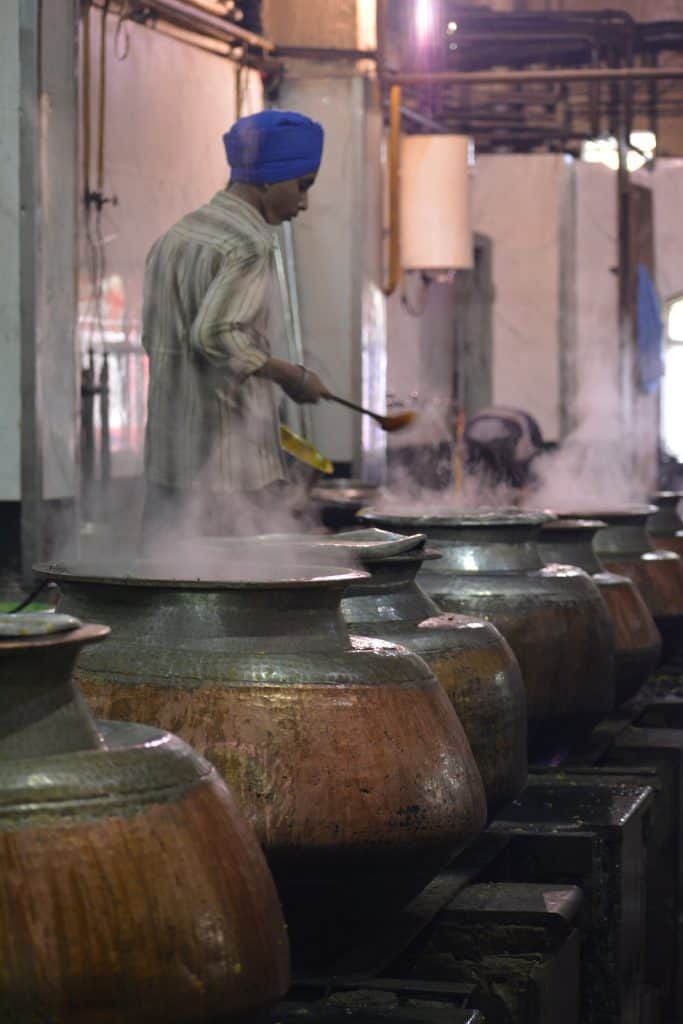 There is separate section for cooking Dal on a massive scale. Three mega cauldrons which are placed on wood fired ovens are cooking the lentil based lip smacking stews day and night. Each cauldron has a capacity to hold 6-7 quintals in volume. The mix vegetables are made in a different section where the smaller cauldrons are used and they are LPG gas powered. In the adjacent area the sweet section lies where Karha Prasad, Rice Kheer and other sweet items are made.
Hygiene is at par when it comes to the world's busiest kitchen. The plates, spoons and bowls after they have been used, are washed in a 5 phased manner. This ensures an absolute clean-up of the utensils used. All these tasks are managed by the staff with help of overwhelmingly enthusiastic volunteers who are keen on doing seva. It won't be an exaggeration to deem the Golden Temple's kitchen as the world's best kitchen due to sheer multitude of operations.
Golden Temple's Kitchen goes organic
Yes it is already a free meal coming from the divine power with noble intentions, and you can't ask for more. But you will be pleased to know how the Sikh people set a new benchmark when it comes to generosity. In 2015, which started as an experiment on 7 acres of land, has now turned into a success story of organic farming on 13 acres of land. Shiromani Gurdwara Parbandhak Committee looks after the cultivation of seasonal and regular vegetables. Of course on festive days, they need to buy additional stock from the market but that too will change soon. Don't you think so?
The speed with which the volunteers operate is of a lightening. Let it be cleaning of veggies, washing, chopping or cooking you will not see anything getting delayed. The serving volunteers carry loads of food in big vessels and serve the people without making them wait. You have to experience the vibes inside the Golden temple's kitchen for yourself. You will learn how nonchalantly organized the volunteers work. It is magical and satisfying.
Did you know this information already? Organic food cooked on such a large scale with devotion and love is sure to touch your heart and stay with you as a divine experience for lifetime. They want the devotees to have the best of the quality in terms of food.
Experiencing the Langar inside the Kitchen
If you have already read about the 'Dining Experience from Rashtrapati Bhavan' then let me add a disclaimer, that this one is nothing similar to that. Yet this experience is infinitely more satisfying. In royal kitchens you can only visit by invitation, but in the God's kitchen you are always welcome. So imagine, it is a year end and you decide to visit the Golden Temple, for some reason my blog inspires you to spend a whole day there and you start your day early.
You set afoot from your hotel room, outside you are greeted with a chilling breeze in the early morning. It is 6:30 am and still somewhat dark. Your hotel is at good walking distance of 30 minutes from the Harmandir Sahib, you decide to walk down the streets of Amritsar, where you witness the chai stalls serving hot tea and the other eateries ready to serve hot Chole Bhature and samosas. You are tempted to eat but convince yourself against it. Then you see some sweet shops where you see piping hot Jalebis being sold and you again control your temptations.
With all that urge of indulging in this food fare, you finally control and reach the Harmandir Sahib at 7 in the morning. You reach the Gurudwara and climb down the stairs, which are one of its kind as most religious places ask us to climb the stairs. The twilight is casting beautiful light on the Amrit sarovar. The artificial lights are slowly switched off and the transition is so serene that you already feel that waking up early was the best decision of your life.
You entered through the gate near to the Guru Ramdas Langar Hall and are greeted with the aroma of Chai. The chanting of hymns from Gurbani has filled the atmosphere where every inch of space is resonating positivity. You cover your hair with a scarf and remove your shoes as per the customs. Enter the Parikrama after passing through the water pool which cleanses your feet. Whether you take a dip near Darshani Deori is something I leave up to you to imagine.
Then as the sun rises, you complete a round of Parikrama and reach near the Sanctum Sanctorum. It takes a while to enter and then you are soaked in religious vibes which are like a refreshment to your soul. As you are done with the darshan, you are given the Karha Prasad which makes you go nuts by its richness of taste and the ghee is all over your hands which you are supposed to rub off to your hands as this is also a custom(Never wash it out, it is a blessing).
By the time you come out, it is already 8:30 am and you reach the Langar Hall where you are served with a bowl full of hot chai and some snacks, which you gulp down feeling the warmth of it. Now you think of volunteering for seva and you meet the kitchen in-charge who tells you the available opportunities of seva at present.
You start at the Roti making section and are allowed to showcase your talent. Then after a while you move to cooking section where you see how effortlessly the food is prepared and each time the dedication of volunteers remains the same. This makes you wonder, where the energy is coming from. Then you realize, it is the power of community when working in unison and for greater good the energy remains high naturally.
By the time you experience all the seva opportunities, it is noon and you are super hungry. From all the hard work plus the delicious aroma all around you has heightened your hunger. So now you freshen up and reach for the Langar. You get the plate, spoon, and bowl from the volunteers and you are waiting with other devotees to enter the hall. Inside the hall, cleaning and moping is going on as another Pangat (Batch of people eating) just finished their meal.
Now is your turn, you are seated with people from different caste, creed, and many other differences but sitting there in humbleness you feel that nobody is above or beneath. We are all equals, first comes the rice kheer which is poured in to one of the compartment of the plate. Then comes the mixed lentil Dal slowly cooked for 3 hours on wooden fire. The mix vegetable of carrot and potato is served and finally the volunteer with Prasad (Roti) arrives. You along with others wait with open palms to receive the blessings in form of Rotis.

You eat the meal with constant refills and eat till your heart is satisfied. This is the only place where you get a free lunch, free dinner and free meal. Now tell me how was the meal? I can blindly say in anticipation that it was one of the best of your life. As soon as you finish it, you decide that I will come here again and again and again. Not just because the food was awesome but because the entire experience was so moving that you just got hooked to it. Then you leave the place with memories of a lifetime.
The Diverse variety of food offered
On all 7 days of the week, you will find an array of dishes which will make the entire meal platter. Nothing is repeated. So to truly experience the variety of food, you need to stay there and do seva for 7 days minimum. This is the beauty of community living and cooking, each day is a different experience. So you will be able to taste some famous dishes like, Langar Wali Dal, Chole, Mutter Paneer as well as some rarely served food like Arbi masala. It depends on what comes in the form of offerings.
If highly perishable vegetables are offered in donation then the menu changes accordingly. But one thing which can be assured is that the food is cooked with utter devotion and love which adds that extra flavour to the food and makes it a satisfying meal.
Some Astonishing Facts of world's Largest Community kitchen
The cooking never stops at Golden Temple's Kitchen, you can visit anytime and still find a meal to eat. It is one of its kind Langar which seems like forever. It makes a statement, which says in the world where everything is temporary, the love of God in Form of food is permanent.
Daily average visitors are more than 1 lac and out of these people, 80 thousand to 1 lac people experience the Langar and on weekends the numbers rise steeply. So cooking for 1 lac people daily is surely a world record in itself.
It is said by the locals that even the Mughal Emperor Akbar used to come here to eat at the Langar. Till date numerous celebrities have paid a visit to Harmandir Sahib.
The tasty meals are not just fulfilling in taste, but have a close look and you will find that it packs all the nutrition required by the body. Proteins and Carbohydrates are well balanced on the plate.
More than 100 LPG cylinders are used daily for the entire kitchen operations. Along with this around 5000 kg of wood is burnt to power the stoves for cooking the Dal.
The original Langar started in 1481 when the first Sikh Guru Nanak Dev Ji committed to feed everyone. It is said that his father gave him 20 Rupees to make a profitable deal, he chose to feed the hungry and considered that no deal could have been better than this.
The Langar at Golden temple was started by Guru Ramdas the fourth Guru of Sikhs and in his honour the dining halls along with the Golden Temple's kitchen are given his name.
The cooking starts with a prayer and at every pangat (batch of people) the prayer is recited before the food is being served. The first freshly cooked meal is offered to Shri Guru Granth Sahib to be blessed and this is then mixed with the remaining food which will be served to the devotees.
7000 liters of milk, 7000 kg of wheat, 1800 kg of Dal, 1400 kg of rice, and as many quintals of vegetables with minimum 500 kg of desi ghee are used daily. The general scale of measurement is quintal as everything is cooked in multiples of the quintals.
On busiest days, around 25000 to 40000 rotis are made per hour with help of 6 automated machines and by the volunteers.
The donations cover up the expenses of the Langar and the Golden Temple's kitchen receives them in generous amount. 2 years of expenses are well covered in form of donations in advance.
Closure:
This was as close as I could take you to the experience. If you are a believer then Golden Temple will fulfil you with positivity and if by any chance you are an atheist then the Golden Temple's kitchen is for you to explore. In the house of God, you are welcome irrespective of your thoughts, beliefs and religions. You are expected to visit with a clean heart. Volunteering for Seva is optional but eating at langar is something every Sikh will insist you to do.
I am yet to visit this holy place and I believe that soon I will be there. What about you? Have you ever visited this place? Or are you planning to visit it now? Let me know in the comments. The world's largest community kitchen awaits you with open hearts and open mind. You won't be judged for anything there. Your intentions should be noble and that is the minimum expectations from you. I hope you experience the entire thing soon, the most spiritually nourishing food awaits you.
With this your foodie_khiladi signs off for the day. If you liked this post then do share with your friends and loved ones who are willing to visit Golden Temple. If you are here for the first time then you can know a bit more about me here. For any concerns or feedback you can either mail me at [email protected] or DM me at foodie_khiladi007. See you soon in the next post, till then keep smiling and spreading the smiles.