Hello dear foodie, today let me take you inside India's most coveted Kitchen, the kitchen of "Rashtrapati Bhavan". You must be thinking, why I chose "Rashtrapati Bhavan's Kitchen" as a topic? To answer this I would say, I am writing this today on 5th of September which marks the birthday of Dr. Sarvepalli Radhakrishnan the former President of India. Which is celebrated as teacher's day in honor of the late president. I hope you got the link, I just need a chance to connect occasions with food. Here I found one such occasion and I grabbed it.
Let the trip begin, where I will walk you through India's first kitchen. The Rashtrapati Bhavan's kitchen is more luxurious and has more grandeur than the five-star hotels of the country. A Kitchen which is famous to have served head of the states, kings, queens and many other respected dignitaries from all over the world. Certainly a sense of royalty encompasses, when you talk about it.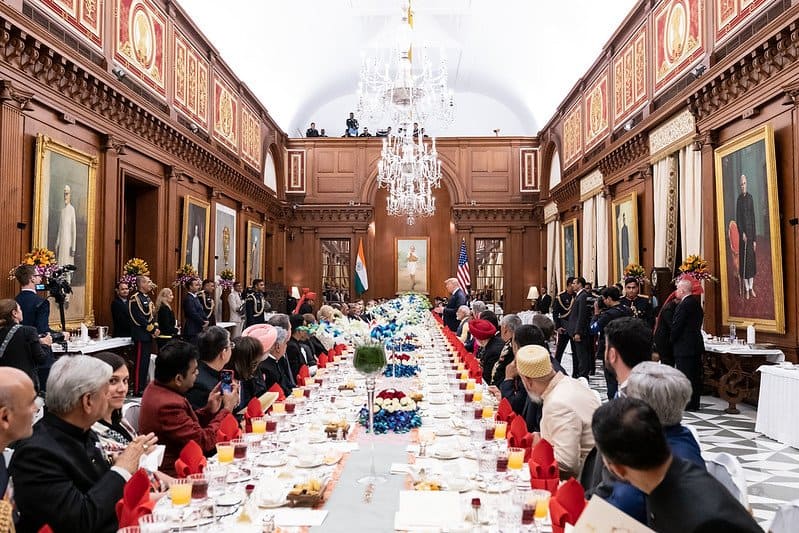 Whenever we visit as a guest at someone's place, it is considered an ill-manner to storm in their kitchens directly. Exactly for the same reason, I would start off with quick introduction on the Rashtrapati Bhavan, before you and I reach into the kitchen. I know you are an intelligent reader and for the same reason I won't tell you that this is a residence for Head of the State and all the related things. I will try to highlight the things that you may not know.
This is a massive architecture which took 17 years to complete which happened in 1929. Without a doubt it is one of the majestically brilliant homes among the world leaders. We can only gauge the vastness when we know that it is built with 700 million bricks and 3.5 million cubic feet of stones. This mega structure has 340 decorated rooms, spread on a floor area of 200,000 square feet across 4 floors. It includes multiple halls but 2 of them are very prominent, the Durbar Hall and the Ashoka Hall. It also has multiple reception halls, guest rooms and offices and a Museum. Let me highlight the dining hall which has the capacity to seat 104 people all at once.
Rashtrapati Bhavan's Kitchen
Now you are fairly aware about this royal home. You can proceed to have a sneak peak at the kitchen. To see the kitchen you will have to descend in the basement where the huge kitchen area is situated. There are 2 floors above the kitchen, one of it has the dining hall and the other floor has a banquet hall. The kitchen comes under the governance of household department. This department allocates duties and keeps a tab on the Presidential requirements. The kitchen is a state of the art facility, with all modern cooking equipment available.
The kitchen has 6-7 main areas, viz. the main kitchen, a bakery & confectionery section, a Halwai section to make the Indian sweets and a section dedicated to ovens and steamers. Then there are other sections like the training area and R&D area for the cooking staff, a grocery section and a cafeteria which serves the entire staff of the Rashtrapati Bhavan. There is a separate smaller kitchen which caters to daily dietary needs of the President and his family.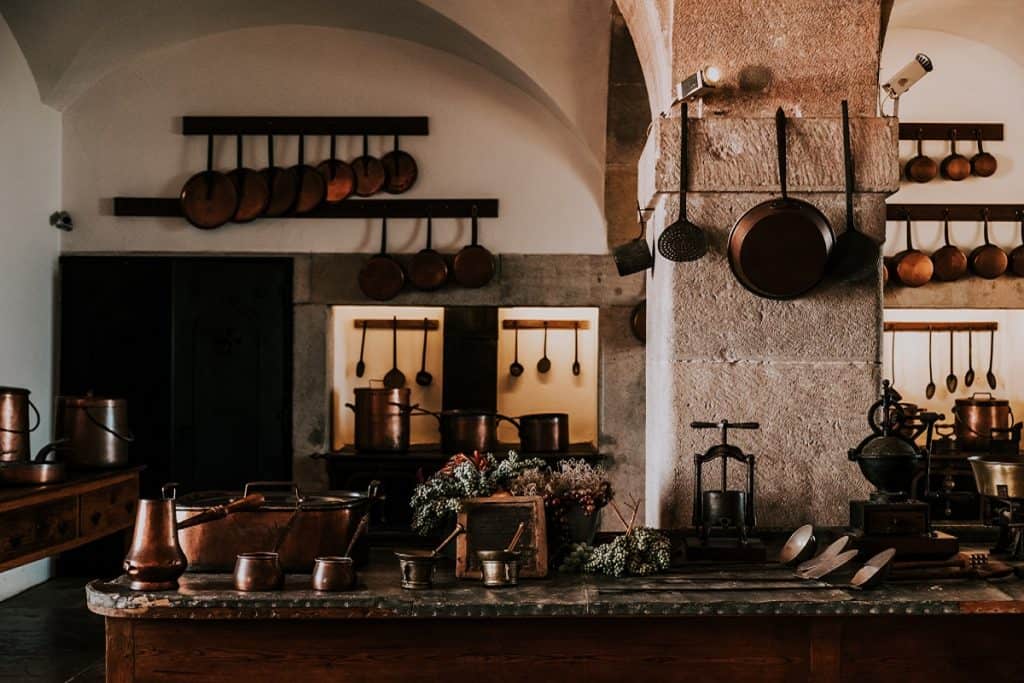 The entire kitchen is air-conditioned with a support staff ready to maintain the hygiene as per the international standards all the time. The kitchen uses technologically advanced gas stoves because they spread the heat evenly as opposed to the traditional stoves where the heat is high only at the centre. Smokeless, flameless stoves are powering Rashtrapati Bhavan's Kitchen. Believe me or not but this simple change in technique of cooking, gives a different dimension to every dish cooked.
The age old vessels weighing from 30-40 kilos with a copper bottom are hard to miss. Similarly the kitchen is the right mix of old and new kitchen essentials which mingle up nicely in the set up. Once you are inside this first kitchen of India, you notice that how meticulously the operations function. Everyone knows what they are doing as there is no scope of error. All the team of the kitchen has no pressure of achieving sales target like other commercial set-ups. So the onus falls on maintaining the taste and quality in whatever they cook and serve.
Total cooking staff in Rashtrapati Bhavan's Kitchen
In an RTI plea filed in 2017, it was revealed that the grand kitchen has 28 cooks which cater to the dining needs of the President and all the office bearers with the staff working there. You can check out in the table below, the entire culinary staff which works day in and day out to ensure that the kitchen operation runs unaffected.
| | | | |
| --- | --- | --- | --- |
| Chief Cook Grade-I | 1 | Head Halwai | 1 |
| Chief Cook Grade-II | 1 | Baker/Halwai | 2 |
| Head Cook | 3 | Assistant Halwai | 1 |
| Senior Cook | 4 | Baker's Mate | 1 |
| Cook | 3 | Head Butler | 4 |
| Head Cook's Mate | 1 | Senior Butler | 15 |
| Cook's Mate | 9 | Butler | 13 |
| Chief Baker | 1 | Silverman-cum-Masalchi | 10 |
The total cooking staff has 70 full time employees. Source: Rediff.com
Rashtrapati Bhavan's Kitchen Garden
To begin with, let me tell you about the source of vegetables, fruits and herbs. These nature's gifts are carefully chosen from their very own Dali-khana (Kitchen Garden) which lies behind the Rashtrapati Bhavan and is a part of this mega campus. Most of the veggies, fruits, herbs and stevia are home grown under the supervision of horticulturists. Which ensures the produce obtained is of best quality. To achieve this they have green houses and nurseries which aid in better growth of the plants. The Dali-khana is maintained by around 200 gardeners. This team also ensures the maintenance of Mughal Gardens which are a spectacle to explore.
Grocery, Meat and Poultry Supply
I hope you didn't assume they would go to D'mart for their grocery shopping. The grocery comes from the official stores of NAFED (National Agricultural Cooperative Marketing Federation of India). It is inevitable that the supply will come from a government body who regulates the groceries across the country. This supply tradition is also important from a security perspective. Sourcing supplies from a third party vendor might be looked upon as a security risk. Which is a strict no, for any head of the state.
The Chicken and other meats are tested, and approved by New Delhi Municipal Corporation doctors on a regular basis. This is in order to ensure that all the meats are safe for consumption. A veterinarian checks the quality before it enters the kitchen of Rashtrapati Bhavan. I again hope, you didn't assume that their cooks visit the local shops to buy meat. A royal kitchen is meant to be served royally. When I say royally, it includes delivery of almost all of the requirements like an unwritten mandate.
Dining Experience from Rashtrapati Bhavan
Welcome back to the imagination section or perhaps I should start calling it the khayali-Pulao section by now. Where I write the stuff, so that you can imagine and experience it with the power of your imaginations. So let me start. Imagine you somehow manage to have received an invitation for this perfect culinary experience.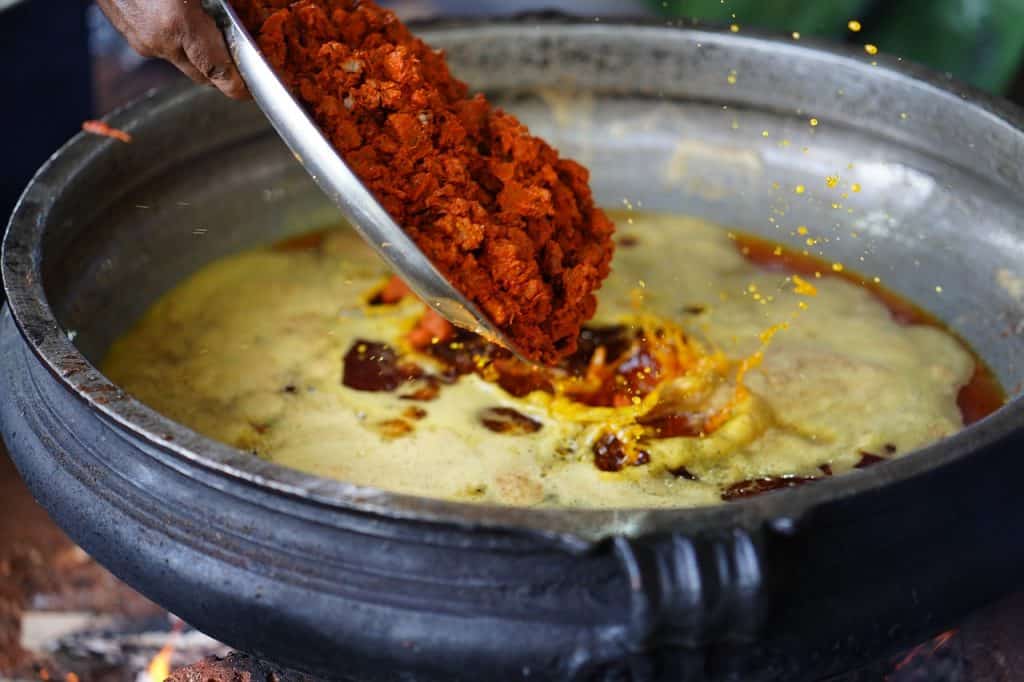 The preparation of the big day starts on both the ends in advance. You will be busy in donning the perfect look with a matching attire. While the Executive chef and the team will start the detailed preparations of what they will serve you on the big day. Generally the preparation starts a month in advance of the date fixed. If you are really a VIP then the foreign ministry ensures that all your details related to dietary habits and food allergies are handed over to the executive chef and the secretary of the President.
Once everything is approved, then the actual dishes are finalized and are fine-tuned over many tasting sessions held. It also includes quality and safety testing in the food laboratories. Chasing perfection is like reading between the lines when you are on this team of super chefs. The actual game starts 48 hours before. Where all the ingredients are cross checked to be sure nothing is missing. The menu to be served will be printed freshly for each dining session. It is printed with the national symbol in the own press of the Rashtrapati Bhavan. It is a two page souvenir which will be either sent to you or handed over to you in advance.
The day finally arrives, when you will eat at this historic place. Before the dining starts, 8 hours in advance the tables are prepared with appropriate set of crockery and cutlery. With all the crockery engraved with the national symbol. The table at which you will eat is well decorated, to suit the standards of being a dining table from house of the President.
The serving team is instructed to serve each dish at a specific interval. Just to ensure everything is served warm. Though it is a challenge for the butlers, who need to cover the distance of 10 minutes from kitchen to the table. If the envoy of guests is large then imagine the plight of these butlers. Few of them are busy in bringing the dishes, few are kept in standby to ensure all guests are well attended.
The first course tonight is the soup called Kundru Soup, which is sumptuous and wholesome. Only served in Rashtrapati Bhavan. At any given dinner or lunch the course of soup is always vegetarian, this is a kind of thumb rule. Now you finish your soup and wait eagerly for the next dish to be served.
Next comes the course of four hors d'oeuvres (appetizers in normal language). It serves 2 non-vegetarian varieties like yummy Chicken Malai Tikka and succulent Mutton Chaaps and 2 vegetarian varieties like umami Tandoori Mushroom and Dahi ke kebabs. Which you graciously savor with each bite. Once you finish these, you are tempted to ask for a repeat. But being at this prestigious table, you shy away from doing so.
Now comes the main course which has 4 vegetarian dishes and 2 non-vegetarian dishes. The vegetarian fare includes signature dishes like Dal Raisina, Sabz Baouli Handi, Kofta Aaloo Bukhara and Nilgiri Korma. The non-vegetarian dishes served to you are Lamb Durbari and Gosht Yakhni. These are all served with variety of Indian breads and choicest of rice dishes. You taste each and every dish, just to check if the hype matches up to the taste. You smile to yourself, and say it in your mind "How stupid of me, to doubt one of the best kitchens of the world."
The next course is famous in the entire world. The arrival of desserts which comprises of a continental dessert and an Indian dessert. The first one being a beautifully presented Cheesecake and the next one is piping hot Jalebis with cold and delicious Rabri. You thoroughly enjoy these desserts which are best you had till date.
Now the dinner is over but the ceremony is not yet over. The next thing after any meal at the Rashtrapati Bhavan is the high tea which is offered post the meal. This is an optional ritual which you can skip, but I know you will oblige to opt in. Just for sake of not missing out on any part of this priceless experience.
Finally when you realize that how well you were served and you are feeling very content with the experience, you will be offered the mouth fresheners and Paan. Which eventually will complete the culinary experience of your lifetime. Post this, you might be in luck to have a photo session with the President himself/herself.
If you are still reading, I wish someday soon you may experience this and live on to tell the tale of Rashtrapati Bhavan's Kitchen.
Dishes which are famous
Aren't you curious to know what else cooks in the kitchen? Or rather what are the most famous dishes which are signature of this kitchen? To begin with, we have a very exquisite dish called Dal Raisina, which is named in honor of the Raisina hills on which this entire palace is built. This is an exemplary dish which is slow cooked for 48 hours and not available anywhere else. Invented by previous executive chef Machindra Kasture. The other dishes are Sabz Baouli Handi and Lamb Durbari which are invented by current executive chef Montu Saini who is youngest executive chef in the Rashtrapati Bhavan's kitchen history.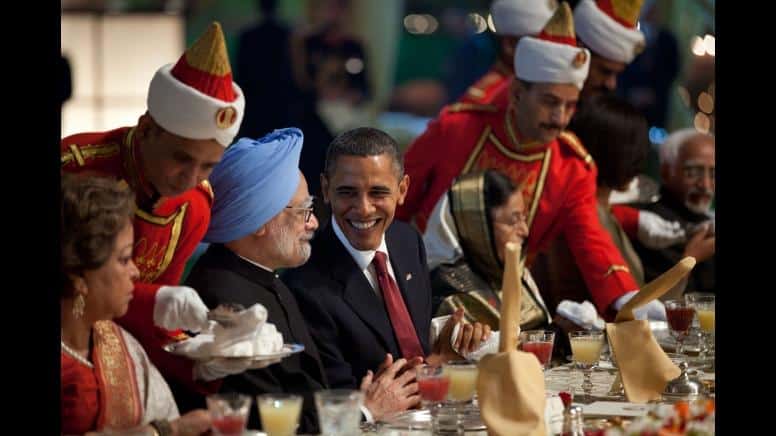 Then you have the Kundru soup (Ivy Gourd soup) which is favourite of ex-President Pratibha Patil. Anjeer ke Kofte, Moong dal pizza, Pineapple and Sitaphal Halwa, Raan-e-Ali Shaan are few of the other famous dishes which were invented by chef Kasture. Then the menu extends to Murgh Durbari, Gosht Yakhni, Kofta Aaloo Bukhara, Mustard Fish Curry, and Mutton Rogan Josh. The list might never end. Are you salivating just at the mention of these dishes? Imagine how you would feel if you were about to dine here.
The people who were very lucky enough to dine here, also recall that the Samosas, Kachori and Dhoklas are also very delicious. You never have to worry about the taste here, as each dish and delicacy is made by the specialist chefs. The pastry chef is the in-charge for cakes, pizzas, pastries and donuts. The Halwai-chef is in-charge for Jalebi, gulab-jamun, imarti and other Indian and Bengali sweets. So, do you want to be the guest of honor at this place? Let me know your comments below.
Rashtrapati Bhavan's Kitchen Museum
There is a kitchen museum inside, if you are a guest interested in history of the Rashtrapati Bhavan's kitchen this place is for you. This museum was incepted during the tenure of our beloved ex-President Dr. A.P.J. Abdul Kalam. It showcases some of the artifacts belonging to pre-independence era, like a dining table designed by Edwin Lutyens the architect of Rashtrapati Bhavan. Other notable items being cocktail shakers, grape scissors, butter knives ornamented with Chinese motifs. One of the most decorated piece is the 3 foot tall coffee maker with London WC on the hologram.
For common public, the exhibits include 'Star of India' crockery, silver cutlery, kitchenware, crystal glass wares, silver dishes, fruit stands and ceramic items. These items at display are carefully chosen from the available treasure of antics. This is in order to provide a glimpse of rich heritage this kitchen has experienced till date. You can visit this official site for few pictures from inside of the kitchen museum.
'Le Club des Chefs des Chefs' Connection
One of the most elite clubs of chefs from around the world who cook for presidents, prime ministers, kings and queens. All these chefs meet every year to exchange knowledge, share experiences, and discuss recipes and trends. They certainly work in the most influential kitchens of the world and have the responsibility of keeping the taste buds of most influential people happy. So that the world sees lesser conflicts and more friendships. Mr. Montu Saini is the youngest member of this elite club.
In the year 2016, the present day Executive chef Mr. Montu Saini organized this prestigious meet up in India. This was happening for the first time in 3 decades, since India became a member of this club. It was only possible after a long struggle for approvals and arrangements that Mr. Saini was successful in hosting this event. I really appreciate Mr. Montu Saini for taking this dedicated effort to put India in a better position on the world's culinary map.
You can watch the entire event in this video, it will give you an exact glimpse from inside the Rashtrapati Bhavan and the kitchen.
If you are still with me, I really thank you. Reading long posts, is an art which is losing its value in this modern age. I hope my write up made you curious about the Rashtrapati Bhavan's kitchen which serves around 250-300 people daily on a normal working day and on Independence and Republic day the number shoots to approximately 5000 people. If you think you should visit this marvelous place someday, you can check instructions on their official website and make your bookings here which is an official booking site.
Let me know in the comments, if you would like to dine in at the Rashtrapati Bhavan? This is your 'foodie_khiladi' your host signing off for the day. In a hope that you will keep reading and keep sharing. Kindly check all my blogs here if you are new to the site. Below are the social share buttons for all social platforms.