Have you heard about the story of Akshaya Patra? It is a mythological cauldron from Mahabharata. Which is believed to keep on making food and never gets emptied by any means. I so wish that it was present with us today. The biggest issue of world hunger would have been solved by help of it. On similar lines we have an NGO by the same name which is doing its bit to take on hunger and help in the noble cause of children's education.
The other day I was surfing on the internet and I found that Akshaya Patra foundation were facing some troubles, after 4 of its trustees resigned from their posts and some allegations started surfacing. I thought why not let my readers know, what this foundation is all about. Have you heard about the Akshaya Patra Foundation? I hope you must have but have ignored it like me. I came across the name in 2013 as it came across my mail box in one of those promotional mails. I chose to ignore, till recently I found out what a noble cause they are working on.
In this blog I will try to tell you in brief about how an NGO is single handedly working for a cause and is ensuring that the future of our country remains well fed at least one time in a day. I don't know what is it with the cooking on massive scale, but it really fascinates me and this is another reason I chose to cover Akshaya Patra. As I have previously covered the kitchen experience of Golden Temple, I thought of covering this one as well.
When this vision started?
This act of kindness had its seeds sown in Calcutta's Mayapur village, where Shri A. C. Bhaktivedanta Swami Prabhupada saw few kids fighting with stray dogs for some morsels of food. His heart ached and that was the day he told everyone from the centre that no child within a radius of ten miles from our centre should go hungry. I am confident that after reading this your hearts also ached a bit.
Following this incident the Akshaya Patra Foundation started functioning since June 2000. The journey from the beginning have been very humble. They started feeding 1500 people from 5 government schools in Bengaluru. Initially it was a struggle, but soon the like-minded people started coming forward and worked for the cause and took this initiative to new heights. The government tie-up happened, the well-known philanthropists started donating in huge volumes.
All these works made Akshaya Patra Foundation the largest mid-day meal programme in the world. The vision became clearer "No child in India shall be deprived of education because of hunger." And they are trying their best to meet the targets.
The Marvelous Kitchens of Akshaya Patra
It is not a joke to have 51 centralized and 2 decentralized kitchens which cater daily to around 1.8 million food portions. 1.8 million Meals prepared daily and distributed in 12 states and 2 union territories. Just imagine the scale at which the food needs to be prepared in each kitchen. Though the various kitchens vary in sizes and capacity of food preparation, but if counted on an average then each kitchen is at least making 30,000 meals which needs to be ready by 7 a.m. in the morning.
As the first rays of the Sun falls on the earth. These kitchen are abuzz with the sound of cutting, chopping, slicing and washing of vegetables and rice. Some of it is of course a manual work but the major chunk is taken care by the state of the art machineries. Have you seen those 'How it is made?' videos, where the inside detour of any food production is covered? The set-up of Akshaya Patra's kitchens are just similar. But what adds the feather to the hat of these Kitchens is the fact that they are better equipped to cook a full-fledged meals and not just one product.
The story of the kitchen starts with the huge quantities of vegetables and grains that are supplied to the locations. Vegetables need cleaning and chopping and a cold storage, so that they can be used within 2-3 days. Grains need to be cleaned and sanitized before storing them in huge 16-20 feet of silo pillars. These are nothing but giant air-tight containers so that no microbes affect the grains. To avoid any contamination, human interference is minimum, and everything is automated via a chain of conveyor belts.
You would be surprised to know that the rice and grains are transported from silo to the washing area on conveyor belts and is totally automatic. Washing area is a place where deaf employees work in perfection by using just sign languages. This is another aspect of the foundation which enables the less privileged people, to work and earn with dignity. After everything is thoroughly washed. It goes to the cooking area.
Cooking area is mostly 2 storeyed place where the bottom floor has all the cauldrons and the top floor is the area where the washed vegetables and grains are processed. Now you will be shocked to know that both the floors have pipelines which aid in depositing the ingredients from top floor to each cauldron on the bottom floor. This arrangement is specifically planned to save time and make the cooking operations easy.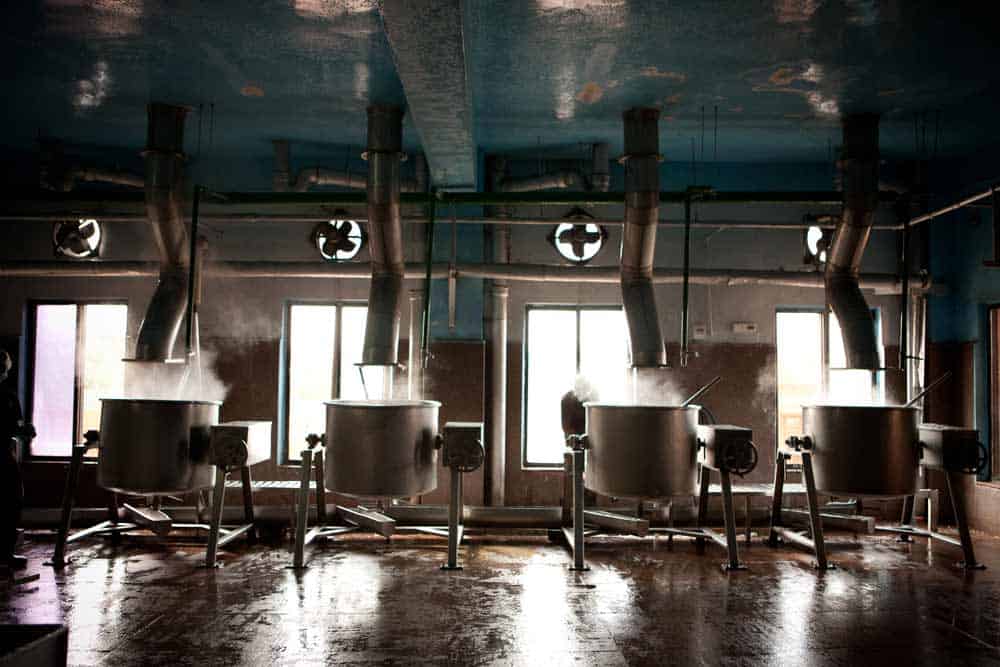 The cauldrons on the bottom floor has a vent on the top of each cauldrons. All the vegetables, grains and water is dropped directly from the top floor by the cooks who work very attentively to ensure all the cauldrons receive equal proportions of ingredients. The spices and condiments that needs to go in each cauldrons are pre-measured and kept packed already. This is done to save further time. Once the ingredients start cooking the spices and condiments are dropped in and cooked till ready.
All the kitchen machineries are made of 304 Stainless steel, as this is the steel that does not rust. No wonder that these kitchens might have costed a fortune, but this was necessary to ensure that the kids are well fed and the quality is not compromised.
The containers and cauldrons are heated with the use of steam, which is supplied with a network of sturdy pipelines. Steam is used as no other fuels can generate high temperature in such a short span of time. Hence, steam is used to cook all the food in a short time. Even this specialty surprised me. A well connected steam system which releases in the food and cooks it rapidly.
What is in the menu?
The meals are balanced diets, comprising of lentils, vegetables and rice or chapatis. It depends on the geography of the region, in southern states the rice is preferred but in northern states a little rice but more rotis are preferred. 3 days a week, milk is distributed and 3 days a week some sweets are given away. Curd is also give on 3 days of the week. This ensures that a minimum dietary requirement is met. Proteins, Carbohydrates, Fats, Vitamins and Minerals are all in the meals.
The menu is very diverse which is visible from the fact that the Bengaluru central kitchen makes 18 types of sambar. The variety is maintained so that the kids do not lose interest in the food. As the kids come to school for eating this yum food. Perhaps for the most of kids have just this one meal in the entire day. So the onus is on Akshaya Patra Foundation to keep the meals varied and interesting.

The menu keeps changing state wise and region wise too. Roti, Dal, Rice, Khichdi, Daliya, Kheer and Fruits and common in some places. Sambar, Rice, Chutney, Payasam is common in other regions. It is ensured that a single meal is not repeated in the entire month. This variety in the food options make students excited and for this delicious food made out of love, the kids turn up in the schools.
Recently the menu was under the scanner for being the typical Hindu Upper Caste in characteristic. And I was amused by the ranting. I mean the Akshaya Patra Foundation is already doing its best to try and feed all under privileged children then why some people are having issues with that. Why trying to politicize something that is so simple. I mean if I cook a certain food in my house then I will offer the same to someone who is in need, I won't give them something that I do not eat.
How hard it is to digest? If the people who are concerned about the food choices being forced on someone, then they should cook and start supplying the meals rather than creating controversies. What you think? Hunger knows no religion, it desires only food. If a menu which is Sattvik in nature bothers you then do supply what you eat to the people in need. This is my personal opinion, what are your thoughts on this?
Meals inching closer to set records…
1.8 million Meals are served daily. Can you guess which states receives the most of the free meals? It is Gujrat, which receives 414496 meals per day across 2169 schools. A state like Tripura is also covered and receives 527 meals across 2 schools. With a mission which aims at feeding 50 lac children by the year 2025, there is hope and scope for improvement. I personally wish that more of the sates from seven sisters should be covered.
The aim of serving 50 lac meals was supposed to be achieved in the year 2020, but due to multiple factors this was not possible. I wouldn't call it the failure of an organization here. Rather I would like to put this up as a lack of empathy, and shyness to donate. I take the blame on myself as well, having donated to the cause just once. It costs just 1100 INR roughly as a donation to feed a kid for an entire year.
We spend 1k in a single go when we go to a restaurant or buy stuff on e-commerce websites. Perhaps we should start spending wisely, save a little and start donating. Imagine your one simple donation will feed one kid for an entire year. Could you imagine how satisfying that would feel? I personally feel very much satisfied when I feed something to someone. For doing this you don't even have to travel or take much efforts.
Delivery model is one of the best
It has a fleet of 500+ trucks which are having stands that can hold the containers in leak proof manner. These trucks have an advanced GPS systems and smart sensors. The GPS ensures right tracking which comes to aid when a vehicle is busted or needs help. The sensors detect if the door is locked properly. These trucks travel nearly 140-150 kilometers daily to deliver food to as many as 5-10 schools.
The drivers of these trucks literally deliver happiness to millions of kids. It is said that the kids just run at the sight of these trucks and welcome the employees with smiles. Some of these trucks deliver to the remotest of the places where at certain point they need to lift and carry the food for certain miles. All this due diligence is maintained so that the food reaches the schools before 1-2 p.m. everyday.
Other initiatives
The recent COVID enforced pandemic was something that nobody experienced. In such times when people were jobless and in lockdown, the hunger was their main challenge. Akshaya Patra stepped up to the challenge and helped in providing 92 million meals which includes the grocery kits that were provided to the people in dire situations. It eased a major chunk of burden from government's shoulders.
The Anganwadi Feeding is another such initiative where children in early ages, say under 3 years of age and some lactating and expecting mothers are fed with nourishing food so that no child suffers from malnourishment. At present the expecting and lactating mothers are fed only in Jaipur but if donations sky-rocket then this is bound to change.
Awards and Recognition
From receiving an appreciation letter from Mr. Barack Obama to entering the Limca book of world records, the Akshaya Patra Foundation has achieved many milestones. They have received BBC's Global Food Champion award, Best NGO at Mother Teresa award, and these are just few as the actual list is very long. You can check the entire list here.
Even Harvard Business School has included Akshaya Patra's model in one of its courses. The London School of Business followed the suit. If such prestigious institutions are acknowledging the great social work model of Akshay Patra then it is a proud moment for every Indian and every global citizen. Many more organizations should walk on this path after taking inspiration from Akshaya Patra's foundation.
A true Noble cause…
Each and every employee takes pride and finds immense happiness in doing this job. They earn a decent income, but their job satisfaction is one hundred percent. Right from the employees who clean the veggies to the people who deliver, they work responsibly and with love. Love is that one secret ingredient along with faith that ensure that the gargantuan portions of food are cooked to perfections and to the taste liking of the kids.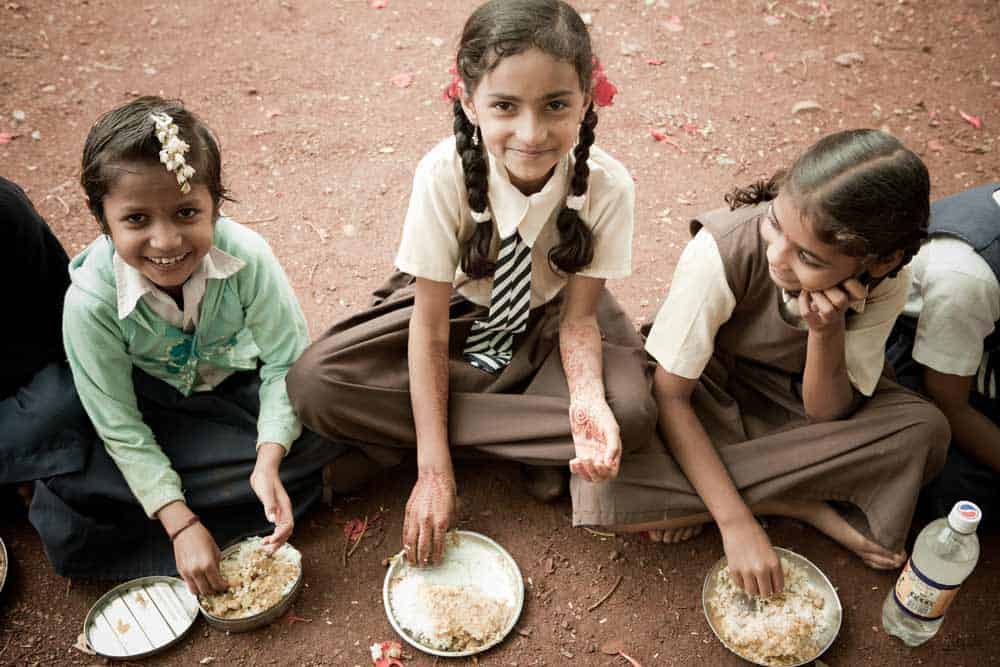 The management team is highly motivated and why it should be not! After all they are doing some real ground breaking work for the future of our nation. Education is so important, but nobody can learn on an empty stomach. This food is not just food but a blessing for all these children. Who come to the schools for the food but unknowingly start dreaming big as they are well fed and so they can sleep at night.
Staying true to its names, Akshaya Patra Foundation is that vessel which will never be empty. If after reading this you felt like contributing then please click on this link to visit their official site for donation. I am sure that you will do this. If you donate then please leave a comment below saying "I did it, and you should do it too…It feels good." Again this is not mandatory, I know everyone has their own struggles in life, so if you are not in a position to donate then inform others, it would still mean a lot.
Closure:
It saddens me to know that organizations like this, are also at times found in some or other controversies. I am not taking any sides here, but I wish whatever issues there are should be addressed and solved at the earliest as the work that is ongoing is incredible and should not stop at any cost. I would love to see their mission of serving 50 lac meals succeed soon. I would be on cloud 9 if my blog could help in the cause in any little way possible.
So share this blog with all the possible people you know. Let the goodness flow and the vision of Akshaya Patra Foundation gain momentum. With this you foodie_khiladi is signing off for the day. In a hope to see you soon in my next blog. Till then keep smiling and spreading the smiles.