Welcome foodie, today is the day you will be introduced to some of the world's largest vegetables and fruits of the world. Apart from being the largest, they are said to be the record breaking produces one have ever witnessed. This can be validated by the fact that, these gigantic produces have been recognized by the Guinness Book of World Records. We thrive on these foods for major part of our lives. Generally in the meat eating world, these vegetables and fruits are less ignored. So on one fine day these vegetables and fruits decided to create a buzz for themselves.
Maybe they wanted to hog a little limelight for themselves. They decided to grow more than their average sizes and be in the news. Why should Non-veg stuff have all the fun??? Are you thinking about the age old story from Marathi literature called 'Chal re Bhoplya Tunuk-Tunuk' which translates to 'Hey Pumpkin let's move' (Lamest translation ever). Please do not ask me to translate Tunuk Tunuk now. For non-Marathi speakers who are keen on knowing more about this short and sweet story, you can watch it in English here and watch it in Marathi here.
I have known about giant sized pumpkins since childhood all because of this famous story which my mother used to tell me. As I grew up and chose science based subjects to advance my academics I started learning why the sizes, shapes and colors appear in certain patterns. You must be saying constantly in your mind 'Genetics, Genetics and Genetics' I agree partially. But the vegetables mentioned in the list are not GMOs. They are carefully cultivated with passion by some expert farmers to become world's largest vegetables and fruits.
List of World's Largest Vegetables
World's largest Zucchini by weight
A cool vegetable doesn't need any records to be famous. A heart and soul of almost all the salads. Light in calories and easy to digest. Yet this one has a record which is now unbroken since 2 long decades. Our world has seen so many inventions, but not even genetic engineers have managed to break this record.
It was in the year 1990, that Bernanrd Lavery of Llanharry in United Kingdom set this record. He grew a zucchini weighing 29.25 Kilograms, heavier than a LPG cylinder that every household has in India. Can you feel the weight of this record???
World's largest Zucchini by length
When you just thought that this zucchini has managed to impress you, this lad goes a step further and flaunts another record in your face. This record was created on 28th August 2014.
The longest zucchini courgette measured 2.52 m (8 ft. 3.3 in) which was grown by Giovanni Batista Scozzafava in Niagara Falls, Ontario, Canada. Putting this in perspective, this is just few inches shorter than the record holder, world's tallest human Rovert Wadlow who was 8 ft. 11.1 inches tall.
World's largest Gourd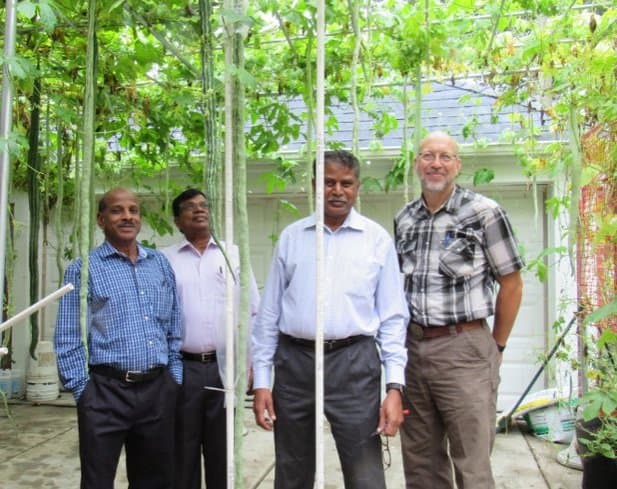 Before I write anything about this gourd, please remember that the veggies in this list have maximum contribution from the Gourd family. This is that one family which is full of over-achievers. So meet this giant from this family, Mr. Bushel Gourd.
The heaviest bushel gourd weighed 174.41 kilograms (384 pounds 8 ounces), grown by Jeremy Terry (USA) and authenticated by the Great Pumpkin Commonwealth (GPC) at the 'Allardt Pumpkin Festival', Tennessee, USA, on 6th October 2018.
World's largest Snake Gourd
This record is the work of a person having Indian origin. A hobby gardener who did some research and realized that his fresh produce can be world record holder. I know how big a task it is to digest this bland vegetable. But this record is bigger than what you can digest.
Thangamuthu Arumugam in New Hyde Park, New York, USA, on 18th September 2017 grew the longest snake gourd which was 2.63 m in length. That is roughly equal to the height of each floors in modern day residential buildings.
World's largest lemon
When life gives you lemons, you should make a lemonade. You and I have heard this often, but what if the lemons are so giant that we can make lemonade which will last for months. This lemon had a circumference of 74 cm (29 in.) and was 35 cm (13.7 in.) high which grew with another large lemon only slightly smaller than this.
On 8th January 2003 Aharon Shemoel (Israel) on his farm in Kefar Zeitim, Israel harvested the world's heaviest lemon which weighed 5.265 kg (11 lb. 9.7 oz.). That must have made many Spanish people jealous, because most of world's biggest lemons are grown in Spain.
World's largest Swede
A family member from the Turnip family, finally made it big in the world of fame. So that the entire family gains some reputation. Not only this created buzz but it also turned many eyeballs at UK National Giant Vegetable Championships.
Malvern Autumn Show Malvern, Worcestershire in September 2013 witnessed the heaviest swede weighing 54.0 kilograms (119 lb.) which was displayed by the grower Ian Neale. Tell me in the comments if you weigh less than this or more than this.
World's largest Pumpkin
Pumpkin is the one of the most discussed vegetable, especially in the western world. It is mainly in focus during the Halloween. But it makes quite appearances in Pumpkin pies and Pumpkin Spiced Lattes usually. So a normal over-sized record won't be enough for the stature of this kind of veggie.
Grown by Mathias Willemijns (Belgium) which was authenticated by the Great Pumpkin Commonwealth (GPC) in Ludwigsburg, Germany, on 9th October 2016. The heaviest pumpkin weighed 1,190.49 kilograms (2,624.6 lb.). Can you even fathom how large this big a pumpkin can be? Almost as big as a mini-car. "Chal re Bhoplya Tunuk Tunuk".
World's largest Tomato
Knowledge is knowing that tomato is a fruit and intelligence is not putting it in a fruit salad. If I found a tomato this huge I can play 'La Tomatina' festival by myself in my bathroom. If you found one you can also try. This tomato was of Domingo variety which was carefully grown on a plant where no other fruits were propagated. This is called selective propagation.
The heaviest tomato weighing 4.377 kilograms (9 lb. 10.4 oz.) was grown by Steve and Jeanne Marley (USA). It was assessed in Clinton, New York, USA, on 20th September 2019. The achievement was authenticated by the Great Pumpkin Commonwealth (GPC). This tomato can surely make the delicious 'Cream of Tomato Soup' for at least 20 people.
World's largest Beetroot
The veggie which is good for your blood. It has broken a record which has lasted for 18 bloody years (Pun intended). In India, veg sandwiches are incomplete without this veggie.
Jamie Courtney-Fortey, Gareth Fortey, Marjorie Fortey and Kevin Fortey, all collectively grew the heaviest beetroot weighing 23.995 kilograms (52 lb. 14 oz.),in Cwmbran, Gwent, UK, as verified on 23rd May 2019. Now that is approximately the size of a LPG cylinder. This is the Hulk of beetroots.
World's largest Carrot
If you are a westerner then the carrot cupcakes must be your favorite. If you are from India and sub-continent then Gajar ka Halwa must be your weakness. So for us this veggie is already a superstar. So this record just adds another feather in its hat.
Giant vegetable gardener Christopher Qualley of Otsego, Minnesota, USA keeps growing these giant carrots in his farm. He has decoded the secret to the size. He grew a carrot weighing 10.17 kilograms (22.44 lb.) which became a record holder. Imagine how much amount of dessert we can make out of this single piece of carrot.
World's largest Radish
The world's heaviest radish was grown by Manabu Oono which weighed 31.1 kilograms (68 lb. 9 oz.) and had a circumference of 119 cm (46.8 in). This was recorded on 9th February 2003 at the Sakurajima Radish Contest, Kagoshima, Japan.
I still wonder what they might have done with it. Do you have any idea or fun imaginations? Let me know in the comments. Please do not recommend making 'Mooli ke Paranthe', you know the after effects and the magnitude of it.
World's largest Celery
Not much famous in India and the sub-continent, the appearance might confuse you that this is similar to coriander. But I tell you, the flavor of celery is mild. So a mild herb creating a huge record is worth a buzz.
Grown by Gary Heeks and ratified at the 'Canna UK National Giant Vegetables Championships', Worcestershire, UK, on 29th September 2018. This heaviest celery weighed 42.0 kilograms (92 lb. 9 oz.). Not sure how they used it. Mostly they must have made a huge simple celery based soup.
World's largest Eggplant
Ian Neale is a giant grower of vegetables. It is well known that rapper Snoop Dogg takes tips for growing vegetables from him since 2011. His Eggplant won this record in 2018 when this category of plant was introduced for the first time.
It weighed 3.06 kilograms (6 lb. 11 oz.) in the same Canna UK National Giant Vegetables Championships, on the same date when his Celery won the award. That is 29th September 2018.
World's largest Truffle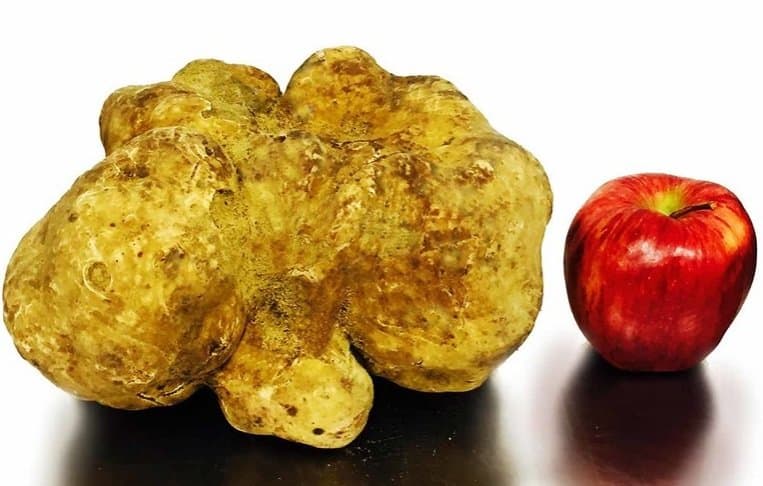 It is said that this record holder Truffle was sold at $61,250 on 6th December 2014. Imagine what you could buy with this amount of money. Of course when an unpredictable produce like truffle is found in this size then the price is surely going to skyrocket.
The largest truffle is a tuber Magnatum pico that weighed in at 1,786 grams (62.99 oz.) on 4th December 2014, when it was found a week earlier in Central Italy it weighed 1,890 g (66.66 oz.), but lost the weight due to water evaporation. It was grown by Sabatino Tartufi.
World's largest Corn Cob
Do you love roasted corn on a rainy day? Sprinkled with some red chili powder, salt and lime juice. This veggie is almost loved by everyone. From Pizzas to Salads, From Pasta to Sandwiches, it almost goes with every fast food dish as well as healthy dishes. Why it should lag behind when the records are being set and broken.
This Corn cob set a record in 1994. Grown by Bernard Lavery of Llanharry, Rhondda Cynon Taff, UK it measured 92 cm (36.25 in.) in length. Massive 3 foot long corn. That too without using any GMO seeds. It is quite a huge feat to achieve.
World's largest Cabbage
The grower of this record holder Cabbage is an expert in growing big vegetables, who is from Alaska U.S.A. Cabbage is mostly used in salads and burger and in India and sub-continent we prepare spiced vegetable dish here. But when its weight is 62.71 kg then what can you possibly make out of it?
The heaviest cabbage weighed 62.71 kg (138.25 lb.) which was presented at the Alaska State Fair by Scott A. Robb in Alaska, USA, on 31st August 2012. This can be imagined when I tell you that average Ganges Dolphin weighs from 65 to 70 kg.
World's largest Chili Pepper
On more champion vegetable unraveled at Canna UK National Giant Vegetables Championship held on 29th September 2018. It was grown by Dale Toten from Worcestershire, UK.
Who doesn't like spicy food? Everyone surely does, but can you handle this heavy weight chili? This is the heaviest chili pepper which weighed 420 grams (14.8 oz.). This chili pepper could be used to prepare chili sauce which could last a couple of months.
World's largest Bell Pepper
A veggie which lifts your average dishes to another level. It is inevitable that it has a record of its own. It was a cultivar of Capsicum annuum.
The heaviest bell pepper weighed 720 grams (1 lb. 9 oz.) and was grown by the famous Ian on 29th September 2018. This was at the same Canna UK National Giant Vegetables Championship.
World's largest Mushroom
King of Umami flavor. A tiny yet flavor packed fungi which is not an actual vegetable but we consider it a veggie. People go mad over mushroom, so this little fellow also contributed in the list of world records. It was Pleurotus eryngii.
This is by far the longest mushroom which measured 59 cm (1 ft. 11.22 in.) and was grown by Hokuto Corporation (Japan). The mushroom was measured at Mushroom Research Laboratory of the company, in Nagano, Japan, on 25th July 2014. I am sure it must have been sold for a very high price. Being a mushroom cultivator myself, I know how much high prices such mushrooms can fetch.
World's largest Onion
Possibly the only veggie which is the soul of famous dishes. We all love browned onions, be it in subs, gravies, etc. This veggie is a heart winner as well as a record holder now. Tony Glover is famous for specializing in growing big onions, his persistence made this record possible.
The heaviest onion weighed 8.5 kilograms (18 lb. 11.84 oz.). It was weighed on 12th September 2014. This would have been enough to make 8 kilo of Biriyani. Do you love Biriyani?
World's largest Sweet Potato
Another tuber on the list with a worthy title. The world's heaviest sweet potato (Ipomoea batatas) weighed 37 kilograms (81 lb. 9 oz.) on 8th March 2004 and was grown by Manuel Pérez in Spain.
Imagine the whopping calories it would have contained. It could have been a treat to challenge people to finish this giant tuber and create another world record.
World's largest Cauliflower
For me this is the most lucrative veggie of all time. I just love how it looks. Plus it tastes good too. The heaviest cauliflower weighed 27.4 kilograms (60 lb. or 9.3 oz.) on 21st April 2014.
Grown by Peter Glazebrook from UK. He is also known for growing giant vegetable. I would have made loads of Navratna Korma with this huge Cauliflower.
List of World's Largest Fruits
World's largest Water Melon
We all love water melon, maybe this is among those fruits which people can't refuse. When all veggies were creating world records, the water melon took an initiative to increase the count of record in the fruit category.
It was grown by Chris Kent of Sevierville, Tennessee, USA which was validated by GPC on 4th October 2013. The heaviest watermelon weighed 159 kilograms (350.5 lb.). Chris was awarded his prize at the 'Operation Pumpkin' festival, held in Hamilton, Ohio. Imagine the massive glasses of mocktail and cocktail that we could have made out of it.
World's largest Bunch of Grapes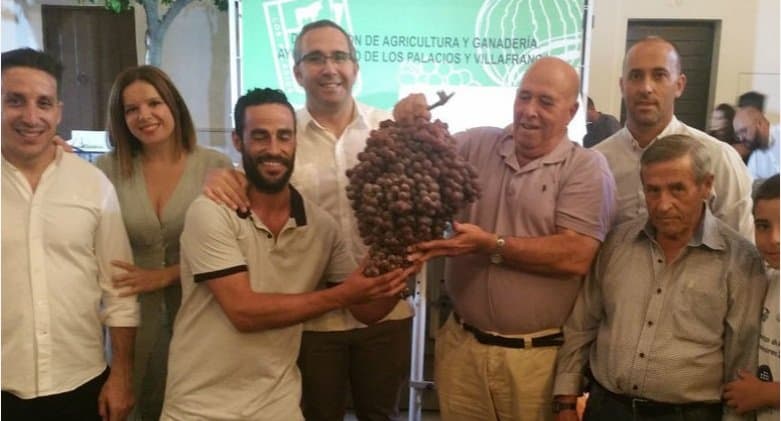 This fruit broke a record standing since 1984 and became a record holder. I mean personally, grapes are my favorite. I can eat any amount at a given time. What about you? Do you like grapes?
The largest bunch of grapes were 10.12 kilograms (22.31 lbs) and were achieved by Sebastián Gómez Falcón and Delegación de Agricultura del Ayuntamiento de Los Palacios y Villafranca in, Spain, as verified on 4 August 2018. The grapes were presented and weighed at a local agricultural competition before the viticulturists decided to apply for the Guinness World Records title. This is as quoted on the Guinness Book webpage.
World's largest Bunch of Bananas
This bunch of bananas were grown in a desert area which was converted into a tropical fruit farm. A project lasting more than 30 years in Spain.
This bunch of bananas, contained 473 individual bananas, and was grown by Kabana SA and Tecorone SL. It weighed whopping 130 kilograms (287 lb.) on 11th July 2001. Imagine how big banana cake could have been made out of this huge bunch of bananas? At least 4 mammoth elephants could have been fed for an entire day.
World's largest Grapefruit
A fruit on the list which won 2 world records at the same time. For being largest in circumference and for being heaviest in terms of weight.
The largest grapefruit had a circumference of 73.02 cm (28.75 in) and weighed 3.590 kilograms (7 lb. 14 oz.) which was achieved by Douglas & Mary Beth Meyer (both USA) in Slidell, Louisiana, USA, on 19th January 2019. It was produced on a 10 year old tree.
World's largest Mango
The king of all the fruits, it certainly can't be left out when we talk about world records set by the fruits. It was grown in Philippines on 27th August 2009. An average Mango grows just 100 to 150 grams.
The heaviest mango weighed 3.435 kilograms (7.57 lb.) and was 30.48 cm (12 in) in length, 49.53 cm (19.5 in) in circumference and 17.78 cm (7 in) in width. It was presented by Sergio and Maria Socorro Bodiongan at the Sundayag Celebration's Pinaka Contest in Cagayan de Oro City, Philippines.
World's largest Apple
An apple a day, keeps the doctor away. An apple this big will keep the doctors away for years. It would have made good 25 glasses of apple juice.
This heaviest apple weighed 1.849 kilograms (4 lb. 1 oz.) which was grown and picked by Chisato Iwasaki at his apple farm in Hirosaki City, Japan 24th October 2005.
World's largest Orange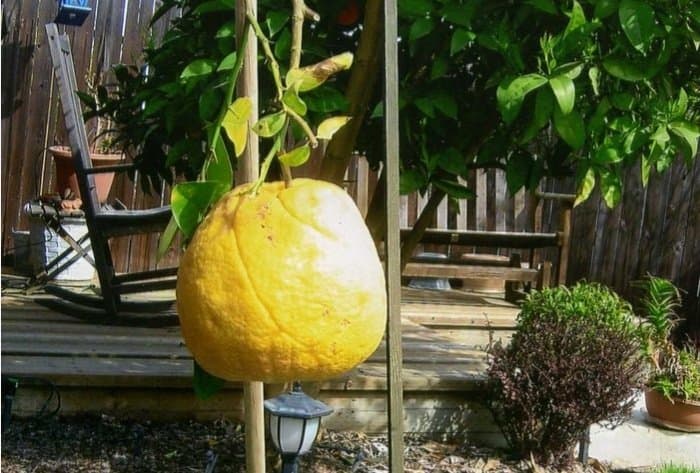 A common fruit with uncommon title. World record holder Orange.
The largest orange by circumference measured 63.5 cm (25 in.) around its widest point on 22nd January 2006. The orange grew in the garden of Patrick and Joanne Fiedler in Fresno, California, USA. This is as quoted on the Guinness Book webpage.
How to grow largest Vegetables and Fruits?
Seeds
It all starts with the right genetic material. So a good seed is a must for the starter. A professional giant vegetable and fruit grower invests a huge sum of money in good seeds. This increases the chances of getting a good produce.
Soil
The medium in which the plants are grown plays a massive role in nurturing them. Aerated soil with right organic content can give you far better results than rest of the soil samples.
Fertilizers
The right fertilizer nourishes the plant and keeps the growth rate steady. It has been proved that a specialized fertilizer is used at each stage of plant growth. For growing big organic produces, it is good to use natural fertilizers.
Water Supply
Adequate water supply is the most underrated tip to produce big sized plants. You need to strike a balance as per the requirement and the environment.
Pollination
In general the natural pollinators are birds or insects, but if you have an aim of achieving a particular size of fruits then hand pollination is the best possible way to achieve it. This way you can limit the number of fruits you want to grow per plant. This helps in channeling nutrients in ample quantities to the target produce.
Maturing Seeds
Initially the seeds should be grown in labs under controlled environment to increase the chances of getting a good plant. This helps in optimal maturation before growth.
Larger Surface Area
The plant needs space to grow its roots. So to maintain ample of spaces between each plant is a key to ensure proper growth. The big growers of veggies and fruits also give an elevation to each plants so as to allow their roots to grow more.
Pest Control
Insects and Pests should be kept at bay to preserve the produce from being contaminated. There are various ways to achieve this.
Green House
If your budget permits then go for a green house set up. It allows you to control the environment to a greater extent. This definitely makes ahuge difference.
Dedication
You need to have an undeterred focus to see good results. Growing plants and harvesting the produce is a time consuming and attention seeking task. You need to have dedication to achieve this.
Persistence
If you start afresh then the chances are high that you will not achieve the desired results. But you need to keep doing it and learn from the mistakes.
Love
It is scientifically proven than the plants respond to the feelings of the grower. They can sense your emotions. So if you love your work then you will see the results which will be your reward. Love your plants and the plants will love you back by giving you desired vegetables and fruits.
Closure
Are you fond of gardening or farming? Will you try to grow a vegetable or fruit in your garden just to create some of the world's largest vegetables and fruits? Just to break an already existing world record. Plant growing is an art which requires lots of patience and hard work. The records mentioned in this list are the results from years of hard work and passion which is often ignored. I hope these records inspire few people among us to take up this task professionally.
As the technology and times are changing, many people are moving away from agriculture. This is a tiny effort from my side to create a small ripple which will encourage somebody to consider becoming a professional plant grower. There is no shortcut in this field, but if you master the technique then sky is the limit. The revenue generated from agriculture is tax free, so you can think about it.
With this your foodie_khiladi signs off for the day. I hope this long list made your jaw drop at some point of time. Feel free to share with your botanist friends or someone who is interested in gardening or farming and agriculture. If you are new here then I write such informative posts which you can check out on this link. See you in my next post very soon. Take care and keep smiling dear foodie.