Khau Galli means a street full of tasty food, hygiene is sidelined in exchange of some great tasting stuff. Most of the customers won't complain about this exchange because true Mumbaikars have lot of bigger problems to deal than food hygiene. A Street where you are offered a variety of food options, from lunch to snacks, from mini bites to sweets, and from specialties to something unique. You get so many options to satiate your taste buds or hunger pangs, it depends on your situation.
Khau Galli is that one place where the barriers of caste, creed, customs, religions, social status and notions are neutralized. Only one thing rules there and that is 'tasty food'. So many people come here and search the food which their soul is calling out on that particular day. A good food can make your tough day a little better, and Khau Galli comes to the rescue here. Have you ever visited a Khau Galli? Which one is your favourite?
Let us explore some locations where these Khau Galli has created a micro-economical niche by serving lip smacking dishes. In Mumbai you can see such Khau Gallis in many places now but only few have managed to be famous. Let me take you on a ride where we will know more about some foodie heavens called Khau Gallis of Mumbai. Post this pandemic you will definitely go and eat at these places, I will try my level best to make you crave.
Mohammad Ali Road Khau Galli
From Minara Masjid and the area around it, there lies this food heaven. It is transformed into chaos of flavours during the holy month of Ramadan, but the main shops and stall are operational throughout the year. The non-veg items are the primary attraction of this place with the next attraction being the desserts. The chicken tikkas and kebabs are worth dying for, you just need to trust your smelling abilities to soak the perfect aroma of that worthy grill which whacks up some succulent meat treats.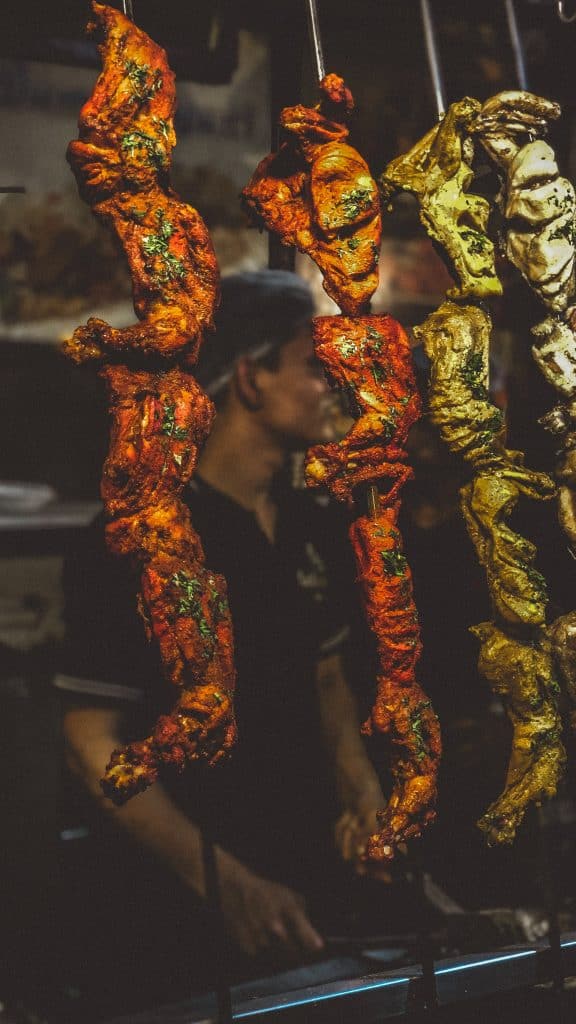 Nalli Nihari, Haleem, Bheja Fry, Keema Pav and Baida roti are some popular dishes of this place, but again if you are from Delhi then you can try it at your own risk. Now turning towards my favorite niche of gastronomy let's talk about guilty pleasures. The Rabri-Malpua, Phirni and Mawa Jalebi are the key desserts served here for your sweet tooth. Kulfi falooda served here is one of the best you will ever have. So whenever you get a chance, go ahead and experience this gluttonous trip of your life at Mohammad Ali Road's Khau Galli.
Address: Minara Masjid, Mohammed Ali Rd, opp. Bank of Baroda, Mumbai, 400003
SNDT to Cross Maidan Khau Galli
Also called as Churchgate Khau Galli, at this place your eyes will pop out at the variety this place offers you. So many tangy, spicy and mixed flavorful aromas that hit your nose and might confuse you to the core as in what to choose. At the same time you will be drooling right till you select and eat something yummy out there. In short it shows true essence of Mumbai's street food at one place.
The options you have there does include treats like Vadapav, Pav-Bhaaji, Bhajipav, Bombay Sandwich, Masala Dosa, Chocolate Sandwich, Medu Wada, Chinese food, Non-veg thali, rice plate, various fruits juices, ice-creams and I can't even be sure if I will be able to list everything down here. You seriously need to check this one out whenever you get a chance. It runs from around 10 am till late at night and so the people around never have to worry about their hunger pangs.
Address: 123, Dinshaw Vacha Rd, Churchgate, Mumbai, Maharashtra 400020
Princess Street Khau Galli
One of the twin sisters as what you can call this Khau Galli, which is the heart of Mangaldas Market in Princess Street. Shoppers who are having a hectic day with all the shopping choices have a lot to choose from in the food options. One of the very few areas in Mumbai that still has the old world charm left in it.
Lots of snacks and sweets are on the offering. From Samosa chat, Aaloo papdi, khicha papad, to badam barfi, badam halwa, ice-cream chaat and rabri-Jalebi. The juices and milkshakes completes the fare in an all-round fashion. The area here is full of vegetarian crowd and hence you won't get any non-veg options, but again the quality of street food is just superb. Some famous places include Chandu Halwai or Mohanlal Mithaiwala which serve unique dishes like ice halwa.
Address: New lane Mangaldas Market 3rd new lane, Lohar Chawl, Kalbadevi, Mumbai, Maharashtra 400002
Zaveri Bazaar Khau Galli
The other twin sister from the Khau Galli duo, is at this famous place called Zaveri Bazaar. It is a hub for jewelry and accessories shopping and is mostly frequented by female patrons. It is just a lane apart from Princess Street Khau Galli. After shopping to their satisfaction these lovely ladies and girls need something ultimate to satiate there hunger. At this point could there be a better alternative than mouthwatering street food items?
The food on the street includes, south Indian, pasta, paani-puri (warm ragda in it and cool paani), and chaat items like dahi bhalla, Kachori, Moong daal bhajiya and many more items. All this at a very cheap rate. So if you don't mind about the hygiene and are focused on taste then this place is your soul place to have an amazing street food trail. Along with the shoppers, the people working in this area are the regular foodies of this Khau Galli.
Address: Zaveri Bazaar, Kalbadevi, Mumbai, Maharashtra 400002
Mahim Khau Galli
Utterly delicious kebabs, baida roti, mutton pattice, salli boti, you name a non-veg dish and you will get it here. No need to have a proper address, you can reach at this place simply by following the aroma of the coal charred meat. The meat fats mingling with some seriously well ground spices and when they fall on the coal, aaahhh!!! This is called foodgasm.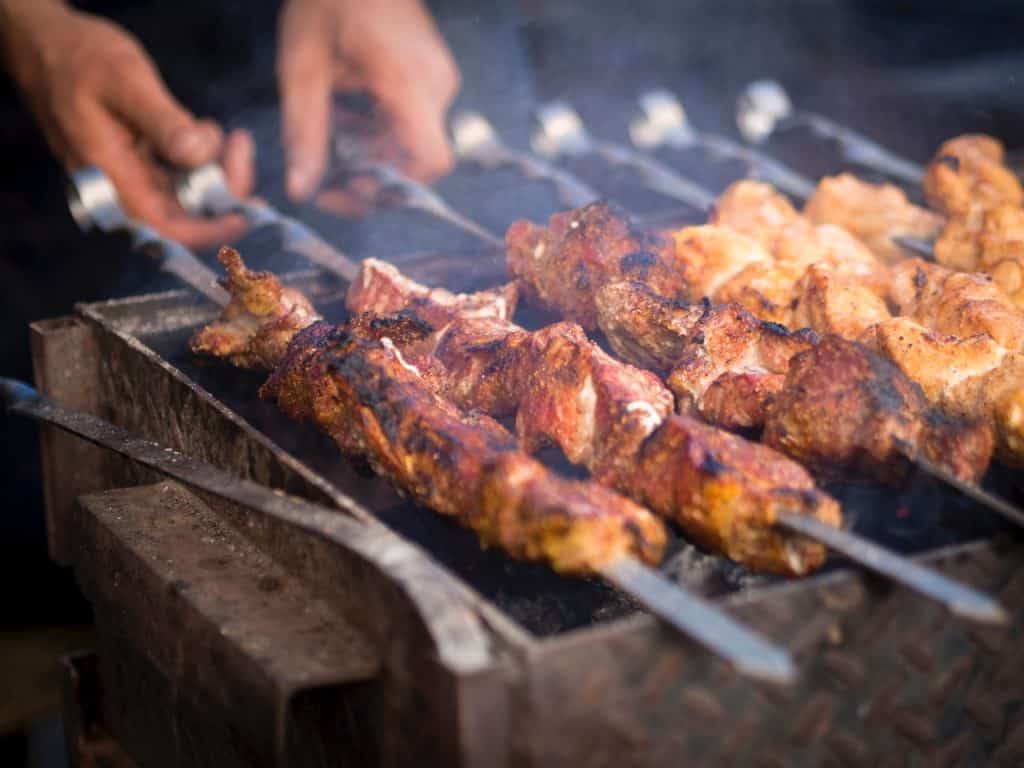 All this dose of tasty protein can be paired well with falooda which you can find at Baba Falooda. It is one of the best in Mumbai, very creamy Kulfi made out of full fat milk and all other ingredients of premium quality. Famous non-veg stuffs include khichda, Haleem, chicken tandoori, seekh kebabs and so on. The desserts include sheer korma, Phirni, Halwa Parantha and Kulfi. You can enjoy these meals after a hard day at work.
Address: Dargah Street, the Mahim Makarand CHS, Mahim West, Mahim, Mumbai, Maharashtra 400016
Carter Road Khau Galli
This Khau Galli is not the most economical option on this list, but rather a Khau Galli where Bollywood stars can be often spotted. In a plush locality like Carter road, you will obviously have to pay extra as the rent and operating cost of these eateries shoot up. Yet there are some of the places which offer amazing food. Let me tell you what they are and keep it short.
Lassi te Parrontthe offers you some delectable Parantha options, then you have Shawarma options at Carter's grill. There are options like wow momos, falafel and other foreign dishes so you have an international food fare in front of you to choose from. In desserts you will find waffles, frozen yogurts, mini cheesecakes and sweet cupcakes. It is common for young crowd to roam at bandstand and come here for the satiating their taste buds.
Address: Bandstand Promenade, Bandra West, Mumbai, Maharashtra 400050
Ghatkopar Khau Galli
This Khau Galli has shot to fame in the recent years. All because of some mind blowing street food and the places that specialize in it. At Sai Swad Dosa they have taken the dosa game to ultimate heights. With numerous fillings available on the menu you can choose from cheese burst dosa to thousand island dosa or remix dosa.
Some stalls have tasty crepes, only selective stalls offer egg delicacies but overall it is a mega food fair for the vegetarian foodies. Pastas, mini pizzas, paani-puri, pav Bhaaji the list is endless. It is very near to the Ghatkopar station and is always bustling more in the busy evenings of the city.
Address: Vallabh Baug Lane, Pant Nagar, Ghatkopar East, Mumbai, Maharashtra 400077
Chembur Khau Galli
If you want to experience Punjabi and Sindhi cuisine at a pocket friendly rates then this is your destination. Though it is a little distant from the chaos of the city, but if you make it till here then it is going to be worth your efforts. Sumptuous Dal pakwan, relishing ragda pattice, tasty koki, crispy kulchas, and much more.
Chole Bhature, Sainath Dhaba's Kulche Chole, Ultimate Chaas and Sweet Lassi. Sindh Paani Puri's Butter Papdi is to die for. Last but not the least Jhama Sweets Gulab Jamun and Sev Barfi is top notch. To explore it completely you will need at least 2 days as you will find some dishes which are not commonly found in Mumbai. So when are you visiting?
Address: Chembur Camp, Mumbai, Maharashtra, 400004
Mulund Khau Galli
Do you want to try Masala Vadapav? That is basically Pav smothered with masala gravy and the hot batata vada stuffed in the pav and served with coconut chutney. Have you tried ice bhel puri? Spicy, tangy mixture of goodies with ice-chilled chutneys to tingle your taste buds. These kind of food gems are found on this epic Khau Galli.
There are Frankies, there are sandwiches, and there are milkshakes and so much more. One standout dessert is the Oreo Blossom Milkshake which has Oreo biscuits, brownies and chocolates loaded in it. Do try this cosmopolitan food fare sometime for sure.
Address: Opposite Kalidas Hall, Mulund West, Mumbai, Maharashtra, 400080.
Borivali West Khau Galli
Loads of junk or rather let me correct myself, loads of irresistible junk food can be found here. The Malai gola, the bahubali sandwich, and many other fusion foods. This place is very crowded and is famous food spot for the foodies on the western line of Mumbai suburbs. It is becoming more identifiable as the fusion food hub of the city.
The dishes which stands apart are Pizza Punch at Shreeji's Fusion Kitchen, Bahubali Sandwich at Bipin Big Sandwich and Ice Gola pan at Ghantawala Pan Mandir (A Guinness record holder place). There are many other worthy dishes to try, I am just listing few of them to set a benchmark for you to start with.
Address: SVP Road, Borivali West, Mumbai, Maharashtra 400091
Closure:
I have listed only 10 of the buzz worthy Khau Gallis of Mumbai. Without a doubt, we have many more Khau Gallis in Mumbai which are slowly making their presence felt. So do you know any Khau Galli that should have been on this list? Please let me know either in the comments or if you are shy then DM me on foodie_khiladi007 and if you are aloof then you can mail me at [email protected]
These Khau Gallis are proud culinary marvels of the city that we call Mumbai. When you compare them to the restaurants then hands down the Khau Gallis offer the best return on investment. Many people come to this city and carve a niche for themselves by selling some delicious treats on this food stage where you have liberty and freedom to express your creativity via food. So how many of these Khau Gallis have you been to? Let me know in the comments.
With this I am signing off for the day, in a hope to see you soon in my next blog post. If you loved reading this post and want to read something similar then you can find my other blogs on this link here. If you want to appreciate me for this then kindly share it with all your buddies and fellows on your contact list. It would really mean a lot to me. And if you haven't subscribed yet then please subscribe. See you soon, keep smiling and spreading the smiles.