Hello buddy, welcome to a new season. I am referring to the IPL season here, which is now India's most loved season. Especially because, rest of the natural seasons are so unreliable these days. So I was wondering how to cover this topic and then I envisioned this distinctive idea of comparing Indian food with IPL teams. Have you ever imagined 'If IPL teams were like Indian 3 course meals'?
This post is inspired from a post on Quora published in 2018, called 'What if IPL teams were students?' I thought if IPL teams can be students then why they can't be Indian foods and dishes. It is all about imaginations you see. So here I am writing this fun post where I will talk to you about, what if IPL teams were 3 course meals? So basically each team will be compared to 3 courses of a meal. First a snack dish which sums up their start, then a main course with either vegetarian or non-vegetarian variant which will cover their mid tournament journey and last but not the least a dessert which is more likely to explain their end results.
I know my risk here. Do you think I will be biased? Please trust me, all the connections which I am going to conjoin will be based on true statistics and historical data. I understand some fans will not agree with what I am writing but I can only request that this is a fun post. This post is a space for creative liberty and I have no intentions to belittle or defame any franchise. So I hope you will read it from a fun perspective and take it sportingly.
I mean, stuff related to sports are supposed to be taken sportingly. So be a sport, come on!!! I know this post might prove to be a disaster. But I am a risk taker. I believe in trying new things for one reason. Those who have not failed haven't tried anything new in life. Now if I may start with your due permission then allow me to begin. I will connect the dishes with each team based on their historic performance across seasons till date.
Delhi Capitals
The only team which has not managed to reach any finals. A team with lots of potential and young talent. This team has always started the tournament with a blast. Then gives a tough fight in the middle of every season but at the end they turn very cold. This sums up the story so far for Delhi Capitals formerly called Delhi Daredevils.
Snacks: Because of their blasting start in each season, they are like Pani-Puri or Golgappa as they would prefer calling it. Like Pani-Puri blasts so many flavours in your mouth that you start craving more, which is similar in case of Delhi Capitals. They hype the expectations of their fans in the beginning of each season.
Main Course: For their mid tournament struggle they can be fairly compared to Palak Paneer. A leafy vegetable dish which is only liked because it has Paneer to keep you interested. This is just like their few wins which keep their fans interested in supporting with a hope that they can qualify for eliminators. Take the paneer (the wins) out and I am sure nobody will remember anything.
Dessert: Without any second thought, they are like Kulfi which is really cold and tasty. This is especially because the team turns cold in the last legs of the tournament and loses its zeal to win. Yet individual delicious performances from their few players make the matches interesting.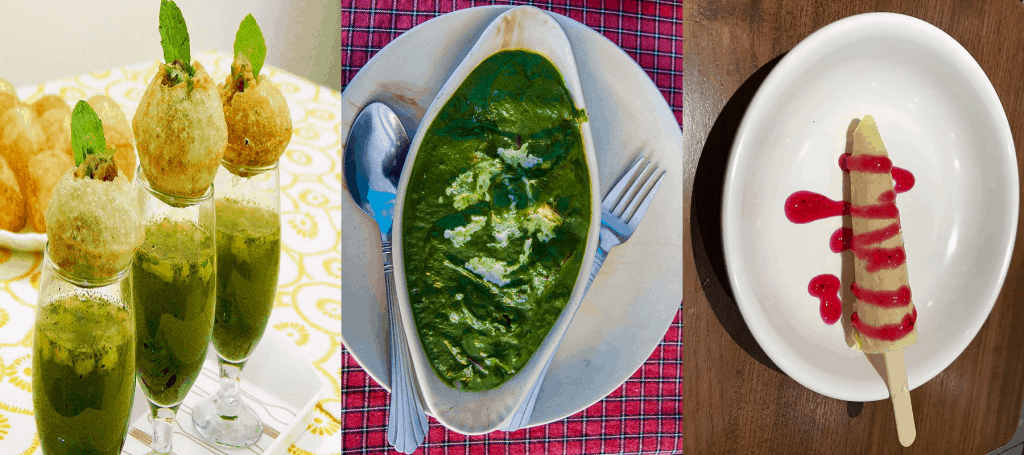 The good thing is everyone loves Pani-Puri and nobody hates Kulfi. This works well for DC as they might not have too many fans but they definitely do not have many haters. Let's hope that we get to see more Paneer than the Palak. Good luck Delhi Capitals!!!
Kings XI Punjab
The next team closer to DC in terms of performances and geography. This team is famous for having a hot performer in every season. Be it Shaun Marsh, Gilchrist, David Miller, Glen Maxwell, Sehwag or likes of Chris Gayle and KL Rahul. They always have one in-form player every season. In the middle of the tournament they fancy their chances to qualify based on some breathtaking performances of these heroes. Only to act much sweeter at the business end and exit before finals.
Snacks: This team is worthy of being the hot samosa freshly fried. Hot and crispy initially but after sometime it becomes cold and soggy. This exact thing happens with KXIP every season. They start hot but then turn cold.
Main Course: Their mid-season journey is like Keema Pav, so finely chopped that the main ingredients go unnoticed only to hit the strong spicy notes after a spoonful of bite. Similar to the magnanimous performances from their performing individuals which highlights their victories. The journey of entire season is masked by the performances of their individual players.
Dessert: Their end result is too sweet for others. As they go easy on their opponents. Just like Phirni which holds its shape till you dig in. Once you scoop and taste it, the Phirni melts in your mouth. A sweetness which can't be refused, especially when offered to the competition.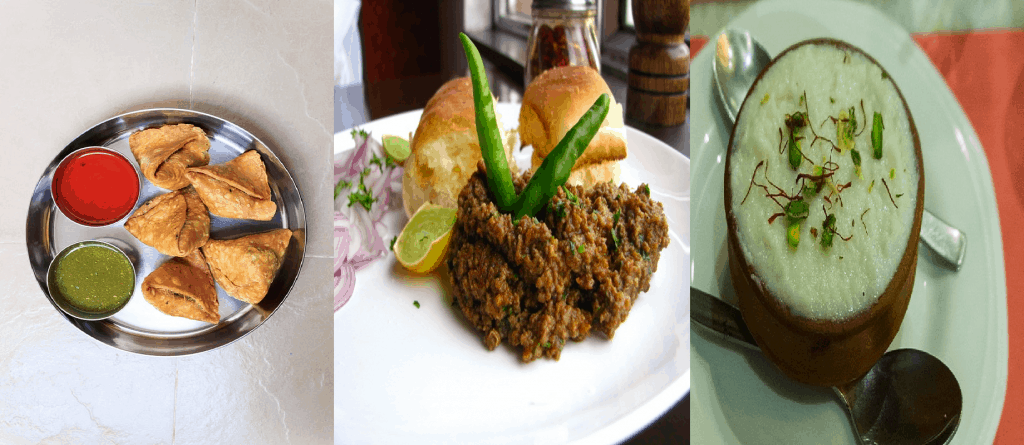 The best thing is that they have a hot performing match winners who can change the course of any game. With a little bit more Ingredients (Players performances) I hope they will find out a recipe for success soon. All the best Kings XI Punjab!!!
Royal Challengers Bangalore
This is the last team on the list without a trophy. Carried on by star players like AB de Villiers, Virat Kohli and Gayle in the past.They always start as hot favourites but either go to the top or at the bottom, there is no in between. They have reached the finals 3 times but couldn't cross the line on any of the occasions. Maybe because the chef of this meal had to leave the dishes for the lack of affordability of ingredients. You got the pun right?
Snacks: This team surely starts like the famous Vada Pav, a dish which tempts even a person on diet to eat. Their tournament starts with really tempting performances, enhanced by some spicy teamwork and covered by experienced display, enclosed with gentle team management. Just like a good Vada Pav, spiced up with the Aaloo and the masalas is covered with besan and enclosed in a soft Pav.
Main Course: Their mid-season performances can be compared to Nalli Nihari. Essentially because, the teamwork is in disarray when their bowlers are not able to support their star batsmen. Just like when the Nalli becomes irrelevant to the Nihari, once the meat on it is finished and the dish is left only with gravy and bones.
Dessert: Their end results are like Mysore Paak. It either holds its shape nicely or crumbles away easily. Only a Masterchef knows how to make a perfect Mysore Paak which can hold its shape and manages to crumble on your tongue. So far the recipe for RCB has been close to perfect on 3 occasions only to crumble before eating (winning the cup).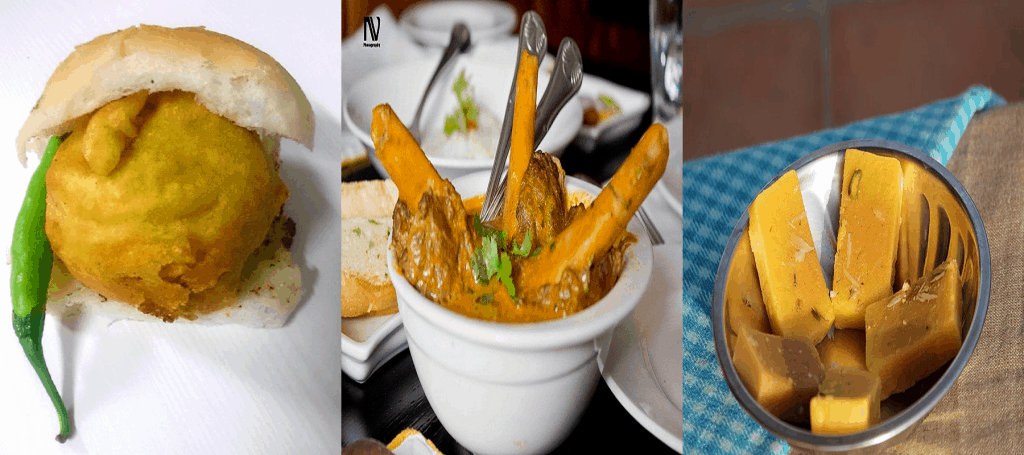 The thing that works for RCB is their loyal fan base despite losses or bad performances. Which is 3rd only behind MI and CSK. Just like Vada Pav which cannot lose its loyalists on any given day. I hope they balance their main course and perfect their recipe for that Mysore Paak soon. Just to experience a happy ending. Wish you luck for Ee Sala Cup Namde!!!
Rajasthan Royals
This team has reached the final once and won it at the same time. This team does a wonderful job without any major star players which are suited for T-20 games. They have been famous for utilizing local talents to the best of their potential and making the team relevant for contention towards qualifying. Overall a good team only to get barred for 2 years due to poor quality of ingredients used in the dishes.
Snacks: Medu Vada and Idli is what their start can be compared to. The safest options for a snack without worrying about balancing taste with nutrition. RR starts their tournament with similar caution and much of simplicity. This helps them to stay away from limelight irrespective of the results of the matches.
Main Course: This team is fairly consistent in the middle of their tournaments. It will be fair enough to say that they are like Chole Bhature. As simple and classic where you know the recipe and you follow it blindly just for your belief knows it is going to be worth eating. They rarely change plans and tactics and stick to classic way of playing games and staying on course.
Dessert: Their end game can be summarized by comparing it with Kheer. Just like from centuries, Kheer as a dessert was a delicious option. But with introduction of other sweets, the legacy of simple Kheer is long lost. This sounds similar to their IPL triumph in first season and the lost zest following the first season.
The low expectations and limited fanfare is a blessing in disguise for them. It helps them play without any extra pressure. Do you like RR? I hope they add more dry fruits (efforts on ground) to their Kheer (game) this season, so that they can double their trophy count. All the best Rajasthan Royals for your Halla Bol!!!
Sunrisers Hyderabad
The next team on the list is SRH with a bag of mixed results, yet has a trophy to prove their mettle. With some seriously gifted captaincy blending the right mix of players, their team stays afloat in the playoffs race in each season. Their opening batsmen are fairly setting the tone of each game and a bowling attack led by Bhuvaneshwar Kumar does pretty decent job each year. This team looks like they are hungry for more trophies.
Snacks: As they are famous for their blasting opening stands, they are well deserving to be compared to Mirchi Vada and Pakodas. Just like the Mirchi Vada and Pakoda blasts the flavours on your palate, the SRH manages to create that blast right from the beginning of each tournament.
Main Course: Their mid-season campaign can be correlated to a Malai Kofta. Like a good Kofta compliments the curry without bursting before being served. The Sunrisers have players who bind well and do not lose a track of their team goals to qualify. How good the Malai Kofta (team) is can only be determined on the serving table (in the playoffs).
Dessert: Their business end of the tournament can be summed up by matching it with a Gajar ka Halwa. Like any Gajar ka Halwa which can either go bad or turn out to be a wonder, this team also hangs in balance. So far out of their 2 finals they have managed to win one.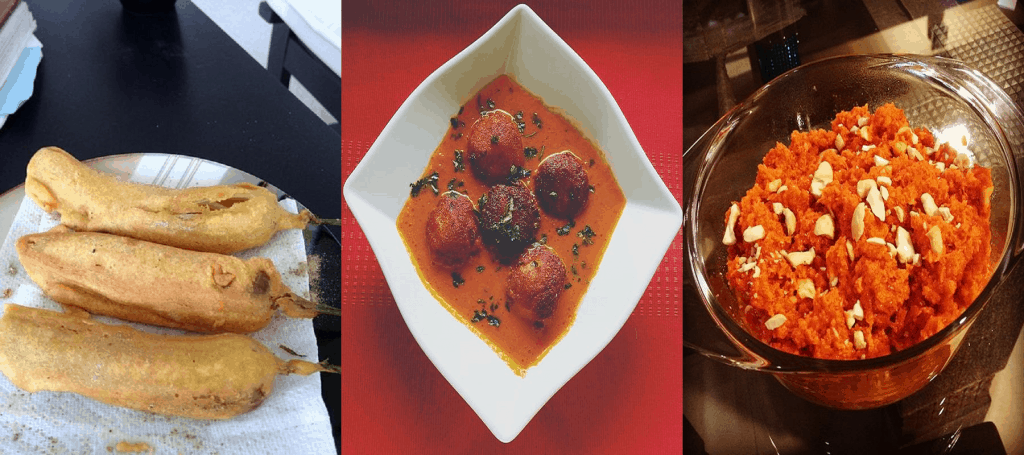 This team really knows how to balance their plans for each season. They continue to blend in good players like a chef blends good spices in a dish. Let's hope they master the recipe to their Gajar ka Halwa this year. Go Go Go Sunrisers Hyderabad!!!
Kolkata Knight Riders
This team is more famous because of a celebrity chef who can roam the whole world, except Wankhede stadium. Please don't laugh, they have won 2 trophies in the past and have produced matches worthy of a spectacle. Famous to pull one or two tricks in each season they have maintained the hunger for victory throughout.
Snacks: Their starting journey is worth comparing to a Dhokla. The appearance of the team looks very huge like Dhokla, and can scare the fiercest of opposition. But scrape a little and you know how soft it can become. The taste and display is value for money always.
Main Course: This team was dismissed as the least competitive in earlier seasons but off late have proven to be a complete package. This can be deemed to be the Murgh-Musallam where by the sole appearance you can gauge that it is a complete dish and enough for everyone on the table. Similarly KKR pounces on each opposition in the mid-season and gives them a tough competition for the points table.
Dessert: This is merely a co-incidence that I am comparing this team with Rasmalai, trust me. They really get going smooth in the business end of the season, just like a smooth Rasmalai. Even if they have won the trophy only twice. But at least they have given a good run for the money to any opponent. Watching any opponent playing KKR is a sweet and wholesome experience just like Rasmalai.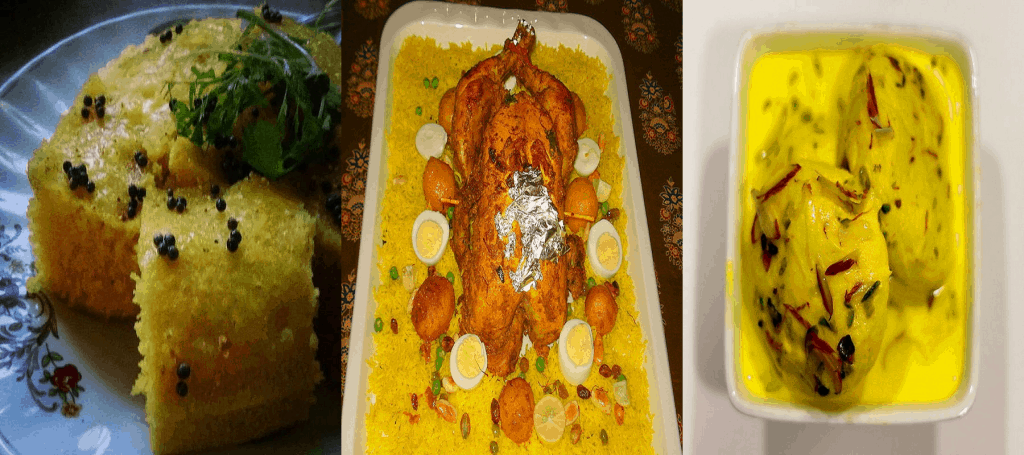 From being a Dhokla in the start and finishing like a Rasmalai. This team has garnered a good brand value, because of its celebrity chef. This year I hope their dishes (Players) manage to add on to their brand value (by earning a trophy). I guess their celebrity chef won't mind this. Śubhakāmanā for doing Korbo Lorbo Jeetbo re!!!
Chennai Super Kings
Arguably the best team in the format with 8 finals and 3 victories. All because of one key ingredient M.S. Dhoni. Always a champion in the making. This team is like a dish from a Masterchef who knows his job very well. Though this chef also was barred for 2 seasons, for using illegal ingredients in the cooking. But since his return the taste is back.
Snacks: The only team which starts performing right from the start. This is worthy of being compared to Misal Pav. Like Misal is absolute winner when it comes to flavours. This team is absolute winner for starting the tournament right.
Main Course: Do I say more? This team is like Butter Chicken, tangy, rich and flavorful. Just like its players who know how to balance performances, forms and class. They generally qualify without any hassle. Like a butter chicken qualifies for the menu of almost all restaurants.
Dessert: Reaching the finals on 8 occasions, speaks a lot about their end game. Winning or losing is a part of a game but to grab that chance is much sweeter experience for their supporters. So their end game is legitimately good enough like Gulab-Jamun. Nobody can hate a Gulab-Jamun even diabetic people often are tempted to eat it. Similarly like CSK rivals too appreciate their style of playing.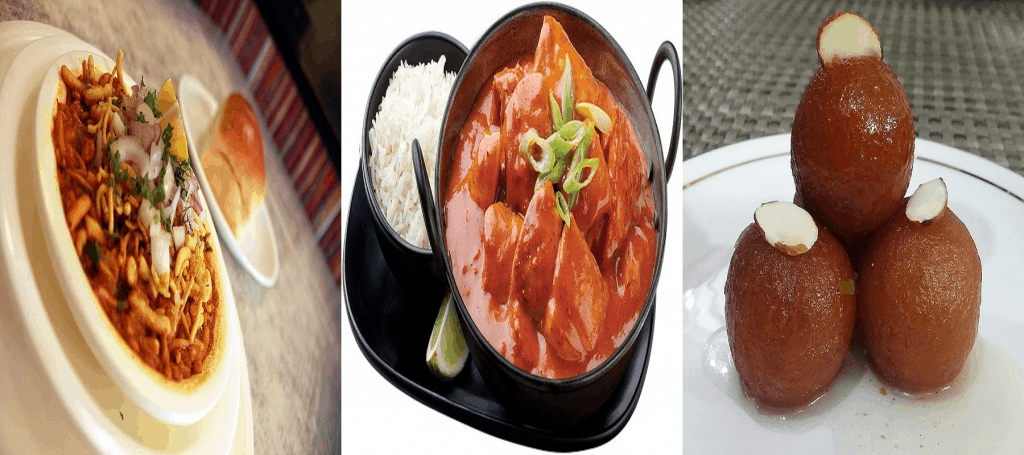 They have more experienced players which is their age old recipe for success. This year let us hope that they still remain highly competitive among the other younger squads. I hope the zing (vigour) of their key ingredients (star players) is intact to win one more trophy. Do your best, Whistle Podu!!!
Mumbai Indians
This 3 course meal is the most expensive on the menu today. They use finest of quality ingredients in their dishes. Winning the IPL 4 times and the only worthy competitor of CSK. Mumbai Indians have come to the party late but they are here to party hard. Famous for nurturing talents and giving them a big stage. This kitchen knows how to invest in their supplies for cooking.
Snacks: This is a no shocker that, they are a very disastrous starters of the tournament. For the sole reason I take the liberty here to call them a Kachori. It is hard, it is less appealing, because you only see the outer boring covering. It takes a bite to know the worth. Similarly MI needs a shake up to come in form at the beginning.
Main Course: Once the initial hiccups are gone, they start ticking the right boxes. Just like Dal Makkhani, which takes a lot of time to cook and simmer and the spices to blend. But once all the hassle is done and dusted then you get a sumptuous dish worth having. The only dish which can compete with non-veg dishes hands down. This summarizes the mid-season journey of Mumbai Indians.
Dessert: I am not sure, if you will agree. The business end of the tournament for MI is like a Jalebi. You can't think straight. They keep the points table interestingly active. They show some fierce competition like the crisp of a Jalebi and more often end up on a sweet note. This is why Mumbai Indians' end game is fit to be called as a Jalebi. Do you agree now???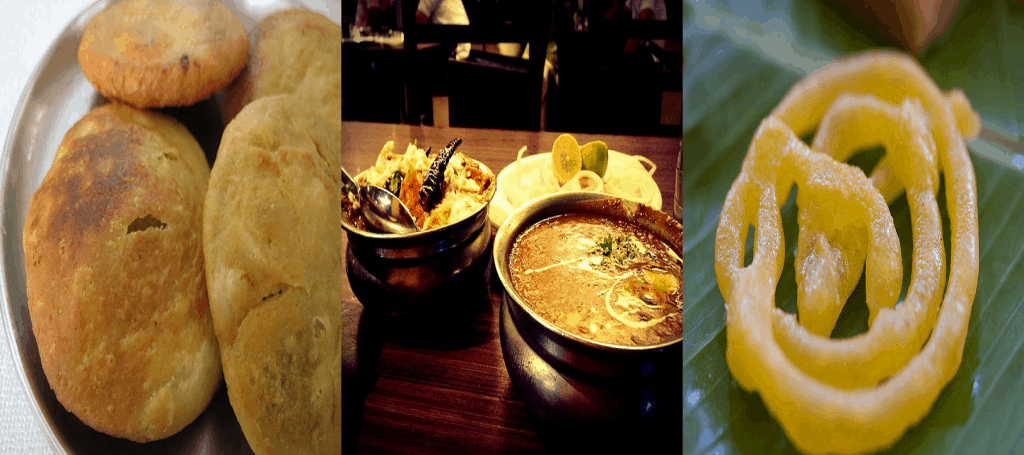 This team has a mega fan base and a huge performance pressure. This is like a fine dining kitchen of a posh restaurant where the stakes are so high that you can't afford to produce anything less than perfect. I hope this year they add on their trophy count with new recipe (ways of winning) and old ingredients (core players).
Did you like this post on 'If IPL teams were like food'?
If you have reached till here, then I feel I have done a decent job. Please remember the dishes are assigned on the basis of historic performances and not the regions of each team. So which team you support? Are you a Jalebi from MI or a Gulab Jamun from CSK? Would you liked to be called a Rasmalai from KKR or a Gajar ka Halwa from SRH? Do you prefer being a Kheer from RR or the Mysore Paak from RCB? Are you more fond of a Kulfi from DC or a Phirni from KXIP? Let the comments roll.
With this your foodie_khiladi is signing off for the day. In a hope that you will like this post and share with every IPL fan who is a foodie. A little longer read, but making you fall in love with reading has become more of a mission of mine. I hope you don't mind!!! If you are coming here for the first time then you can read more such crazy content on this link. See you in the next post. Till then take care and keep smiling. Click on the social share buttons below to share with your friends on social media platforms.