Have you ever seen a dish which appears to be something else but when you taste it, it turns out to be something else completely? The way your mind is boggled, you can only just grow in awe of the dish. If you have experienced it then my dear friend, you have witnessed the magic of a food niche called molecular gastronomy. According to the technical definition it is a branch of food science, but ask any aesthetic food enthusiast like me and we will tell you that it is more of a fine art.
Molecular Gastronomy is a satisfying experience in itself which every foodie must experience at least once in a lifetime. Though I came to know about this technical term recently, but I experienced this magic in 2016, when a friend of mine suggested that we have our lunch at SpiceKlub. This is when I was actually startled by the way of food being served and the tastes that stumps you.
Does that make you curious about this molecular gastronomy thing? I suggest that you better be curious because this is possibly the brightest future of the culinary industry. As eager as a chef is to showcase his plating skills, a patron is equally eager to keep looking for new dining experiences. 'Seek and ye shall receive' and this is how molecular gastronomy connects the foodies to the chefs in an unprecedented way.
So what is Molecular Gastronomy?
The Physical and Chemical transformations of the ingredients that goes on while cooking is investigated under molecular gastronomy. It is a branch of food science which is highly perceived as the next big thing in the restaurant business. The three main components of molecular gastronomy is social aspect, artistic angle and the technical fundamentals. It was in 1988 that a physicist from Oxford and an INRA chemist coined this term called "Molecular and Physical Gastronomy".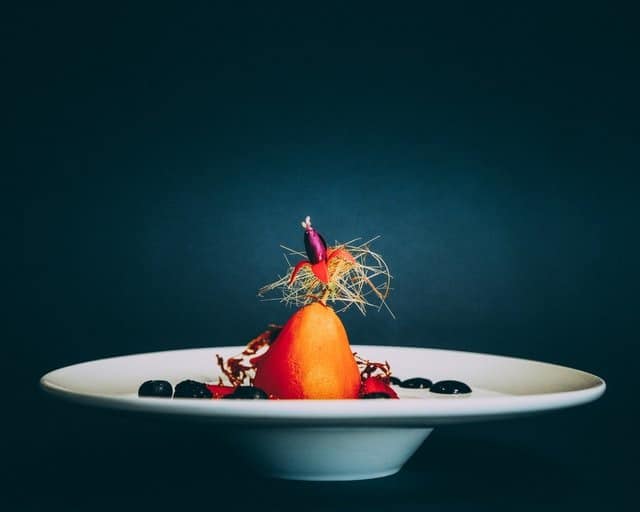 The legends who coined this term were "Nicholas Kurti and Hervé This". It was since 1992 that an event on molecular gastronomy is held in Italy where many research scientist and professional chefs gather around to know more about the science behind traditional cooking. So in traditional terms it is strictly a study of all the phenomena which are involved in cooking food. But off late the term is used to define an exclusive fine dine experience where food is at the center stage of experimentation and innovation.
The Techniques in Molecular Gastronomy
Molecular gastronomy redefines the way a dish is served in multiple ways. What makes this term more lucrative is the fact that there are techniques involved in this cuisine which adds elements of surprises. Each technique is a powerful tool that can drive the dish to next level and surprise the diner in unexpected ways.
Spherification
Just like the Jalebi Caviar that I mentioned in my Jalebi blog, you can make pearls or caviar of any flavour you want. All thanks to this technique of Spherification. This process takes places when calcium chloride and sodium alginate solution comes in contact with each other. So to see this magic happen you need to mix the calcium chloride in the substance that you want to be spherified. Once done this mixture is slowly dropped in sodium alginate bath and then you get those super cute and transparent beads.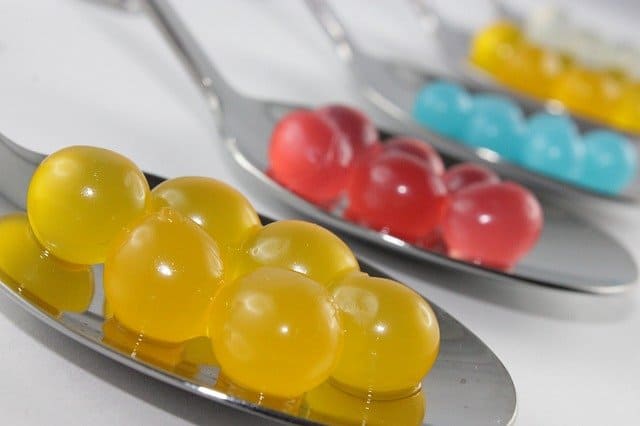 They either look like a caviar or tiny pearls. You need a little practice to master this technique and get the most amazingly round beads. In some cases the sodium alginate solution is mixed with the liquid of interest and then this mixture is thrown into calcium chloride solution, this process is called as reverse Spherification. So you need to work around the pH of your edible ingredient and choose either of the ways to achieve your desired results.
Emulsification
Love is in the air and for the same love to be incorporated in the dishes you can use this technique. You can create 'N' number of different foams by using a small quantity of soy lecithin with the desired ingredient and blend it with the use of hand blender. As the hand blender intensely infuses air the soy lecithin helps the emulsification of the ingredient and gives you a flavored foam.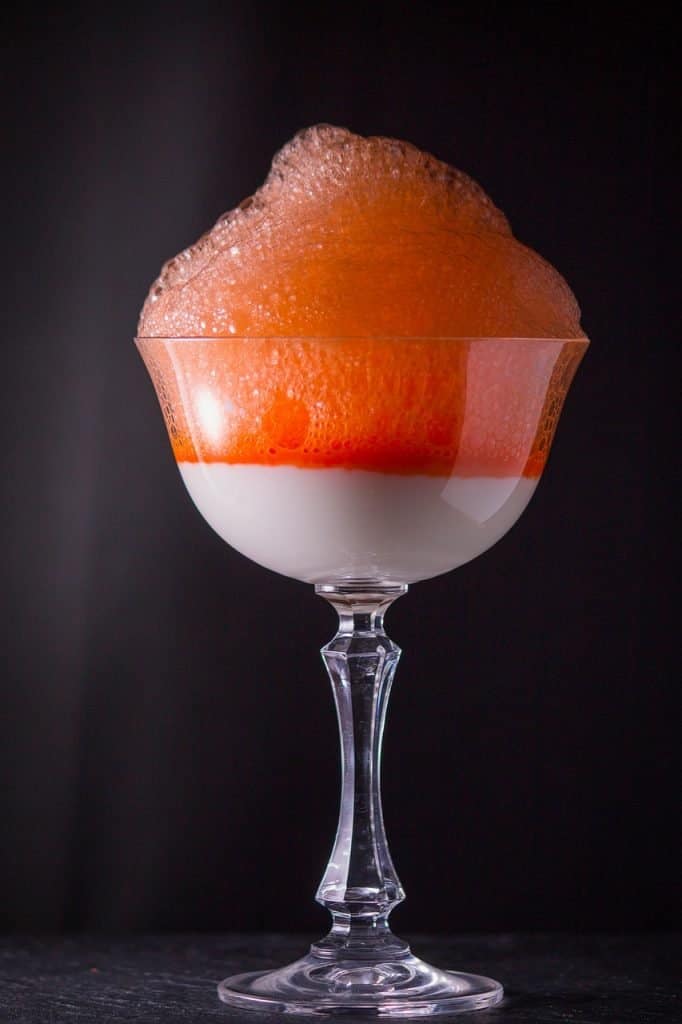 The foam is one of the subtle component in the molecular gastronomy preparations. When you want a strong flavour to hit the taste bud gently, you can stick to this technique of foam creation. As subtle as it can get, the foam doesn't interfere with the main flavour profile but gives your tongue enough to make its presence felt. You need to be a master of cooking to know the right balance.
Transformation with Transglutaminase
What if you get a piece of meat which is combination of your 2 favorite choices? Yes this technique allows the use of a meat glue called Transglutaminase which helps in gluing the different types of meats. Imagine chicken and fish glued and cooked together which you can bite into with all the flavours intact. I guess this is the ultimate foodgasm for the non-vegetarians, isn't it?
The Transglutaminase is an enzyme which creates a bond between glutamine from one part of meat and the lysine from other part of meat and binds them together. This is why lean meat cuts are easily stuck together with use of this. So if you lay your hands on this magic glue, then what will be your favorite combination? Let me know in the comments below.
Gelification
Who doesn't like Jellies? You must be kidding if you say that you don't like jellies. Even if you don't like to eat it, you are visually satisfied just by looking at them. In this technique, gelling agents like agar-agar, gelatin, carageenan, gellan gum, pectin and methylcellulose are used along with the flavours to create gels which becomes solid and wiggly after sometime.
Not only for taste, but this technique is also used to define texture of the dishes. As the flavors which need to be displayed on plate in a concrete manner can be served in a gel form. Different gelling materials have different temperatures for melting and then cooling for solidification.
Sous Vide
Again a technique which will interest the non-vegetarian foodie. If you are vegetarian then you can skip to the next point. So this technique involves cooking a portion of meat which is vacuum sealed in a bag and immersed in a water bath. The time and temperature is set to get the desired result.
The sous vide means 'under vacuum' in French. Using this technique the meat cooks in its own juices as the moisture lost in the air while open cooking is retained in the bag because of vacuum seal. This integrates more flavours and the meat is cooked to perfection. Once the sous vide treatment is done, final process of broiling, frying, grilling or searing can be done to get the desired texture of the outer layer.
Converting Liquids into Powder
A powerful technique in molecular gastronomy. Imagine your favorite food like caramel or full fat yogurt, being turned into powder. How would you react to a different texture of the same flavor? You will be definitely surprised as your brain expects a certain texture for each flavor and when something like this is served to you, you have a mind-boggling experience.
Maltodextrin is used to convert high fat liquid substances into powders. The powders do pack an intense punch of flavours.
Deconstruction
What do you conceive in your mind when you read this term? Don't you think that this is some form of breaking down of structure? If you thought of this then you are a genius my dear friend. Deconstruction is a technique where a famous dish is deconstructed in terms of ingredients. Each ingredient is served individually with a twist. Have a look at this deconstructed Vadapav.
The concept of deconstruction is to allow the diner to experience each flavor of the dish separately and appreciate the uniqueness of each ingredient. It certainly needs next level skills because separating the ingredients and yet keep the overall taste profile to optimum is a huge challenge.
Incorporating Edible Paper
This technique is used much for the decorative purposes. The starch from potatoes or rice is used to make thin layers which are colored with food dyes and are mildly flavored as per the requirement of the overall dish. The flowers or the greens that you see in most of the fine dine dishes are made from the edible paper.
Smoking
This molecular gastronomy technique helps in serving 2 purposes. One is to give a visual treat to the eyes and two is to infuse the smoked flavour in the food. A smoke gun and a covering glass is used to smoke the cocktails, mocktail, meats and any dishes that require an additional smoked flavour. Watch this interesting video on how this technique is applied.
Flash Freezing
The most risky substance is used in this technique. Yes you guessed it right, liquid nitrogen is used to flash freeze the food. This allows instant hardening of the soft foods. Mostly used to freeze berries and grapes which can add an element of subtle texture that is new to your palate.
Flash frozen foods are mostly used in the presentation of the dish and only rarely used in the main component of the dish.
The Indian restaurants specializing in Molecular Gastronomy
Farzi Café
The 'taste maker to the nation' also know by the title of 'Czar of Indian Cuisine', Mr. Jiggs Kalra along with trendsetting Zorawar Kalra, have opened this new concept restaurant. The Farzi Café has multiple locations in Mumbai and has its presence in most of the Indian metro cities. You can visit their official site for more details.
For a complete illusionary experience of dining, this place is highly recommended by all food connoisseurs and food critics alike. Each dish is curated to perfection before being put on the menu. One of the few Indian restaurants who is building a loyal fan base slowly yet steadily.
What to try? Dal Chawal Arancini, Wild Mushroom Risotto, and Ras Malai Tres Leches.
Cost for two: INR 1500 approximately for two.
Locations: Lower Parel. Kurla, Oberoi Mall, Connaught Palace, Cyber Hub, Aerocity, Hyderabad, Lucknow, Bengaluru, Chandigarh, Pune and Dubai.
Molecule Air Bar
Creating some buzz rapidly, is this new restaurant in Gurgaon which is being liked by the youth. The ambience is good and it has quite innovative dishes on the menu. Not very majestic in look as the other restaurants on this list, yet it has the potential in taking the molecular gastronomy to a defining level in India. Each dish is presented in a way that touches the aspect of molecular cuisine in an unique way.
What to try? Chicken Tikka Naan, Puchka Shots, Golgappe Shots, Candy Floss, Soya Keema, Chicken Kulcha
Cost for two: INR 1500 approximately for two.
Location: SCO 53, 4th Floor, Main Market, Sector 29, Gurgaon
Caperberry
A premium fine dine experience is how few patrons have summarized the review about this place. One more shining star in the world of molecular gastronomy. The food preparation is very delicately done and the presentation is bang on point. With a 9 page menu that has every fancy titled dish, this place does justice to each dish. So you ought to try this, even if just for the hype.
What to try? Pepitoria Chicken, Mango Ginger, Potato Bravas, Seafood Paella, Liquid Nitrogen Ice Cream, Strawberry Sorbet
Cost for two: INR 2200 approximately.
Location: 203, 2nd Floor, UB City, 24 Vittal Mallya Road, Lavelle Road, Bangalore
Indian Accent
Most exciting modern Indian chef in the world today Mr. Manish Mehrotra is the mastermind behind this inventive fine dining place called Indian Accent. The entire menu is curated by him to redefine the Indian cuisine with modern culinary innovations. Molecular gastronomy find a special place in most of the dishes here.
The prices are little to the north but going by the reviews and the reputation of Manish Mehrotra I personally feel that all the overall experience will be right on the money. Indian Accent has multiple tasting options along with 3 and 4 course meal packages.
What to try? Sweet Corn Shorba, Mushroom Kulcha, Doda Barfi, Butter Chicken Kulcha, Chur-Chur Parantha
Cost for two: INR 5000 approximately for two.
Location: The Lodhi, Lodhi Road, New Delhi
Masala Library
Another attempt by Jiggs Kalra to take Indian cuisine to new heights and give Indian patrons something more than a regular dining experience. With three pillars in focus, such as progressive Indian cuisine, Kebab trails and Iconic Curries of India which are at the core interest, Masala Library is a buzz worthy place that gives you memories for a lifetime.
Their four long decades of research surely brings the best of the molecular gastronomy experience to your table. It has two branches, one at Mumbai BKC and another one at 21A Janpath Delhi.
What to try? Bhindi Jaipuri, Maska Buns, Masala Chai Ice Cream, Crab Bhurji, Curry Leaf Martini, Aloor Dom, Jalebi Caviar and Pistachio Rabri
Cost for two: INR 3500 approximately for two.
Location: Ground Floor, First International Financial Centre, Bandra Kurla Complex, Mumbai
21A, Janpath, Delhi.
SpiceKlub
A very special place for experiencing molecular gastronomy at a very reasonable prices. The menu here is all vegetarian and yet pulls huge crowd because of the quality of food served. The dishes on the menu have a twist of their own and are presented in way that visually treat your eyes and make you feel even hungrier than you usually are.
I have personally tried the deconstructed form of Vadapav, the Pav Bhaji fondue, Nanzaa and the Bubbling Kulfi and damn I tell you that all of them were just truly fantabulous. I have been there twice till date and was never disappointed with the consistency. The prices are affordable and the ambience is very good. Right from the start till the end you will be surprised by the overall experience. With the ever increasing demand, the chain is bound to grow longer in numbers.
What to try? Test Tube Paani Puri, Roomali Cheese Papad, Masala Mojito, Aloo Bharwan, Flower Pot Dessert, Bubble Kulfi, Deconstructed Ghugra
Cost for two: INR 1500 approximately for two.
Locations: 8A, Janta Industrial Estate, Senapati Bapat Road, Opposite Phoenix Mills, Lower Parel
Indian Oil Petrol pump, Next to Noble Chemist, Bulabhai Desai Road, Mumbai-26 Mumbai
HM Centre No.29, Nungambakkam High Road, Chennai 600034 and No 18, Convent Road, Richmond Town Bangalore-560025
Is it safe to consume?
Molecular gastronomy is a dining experience that most of the people like you and I will have once in a while. So it is safe to say that gorging on these fancy delicacies will not cause any health hazards. In fact your daily consumption of junk and unhealthy food habits are likely to cause your health troubles. The chemicals used in this cuisine are safe for consumption and many of them have a plant based origin. So you need not worry about any ill-effect and you can enjoy the experience without any worry.
Sky is the limit…
As the molecular gastronomy is gaining pace as the time passes by, it is sure that the future of fine dining is very bright. The unique experience along with some delectable food is a deadly combination which you can't resist. Right from reinventing the existing dishes, to innovating the famous dishes, molecular gastronomy has the potential to rule the hearts of all foodies around the world.
Right now it is fair to assume that this new kind of cuisine is in its infancy but at the speed at which it is being liked by the patrons, I am very confident that soon a major chunk of the revenue in restaurant industry will come from this niche. Don't you think so? I mean everyone gets bored of routine at some point in time and at this time people seek something new or something different that will amaze them and create good memories.
Caution!!!
Often the scientific aspect of molecular gastronomy maligns its image of being an exquisite cuisine. So some famous chefs like Heston Blumenthal have avoided using this term and say that a more elegant term needs to be in place to define the molecular cooking and experimentation that is going on. I hope that they find a suitable term soon, but till then irrespective of the differences in opinion, molecular gastronomy will be used to lure food enthusiasts all the time.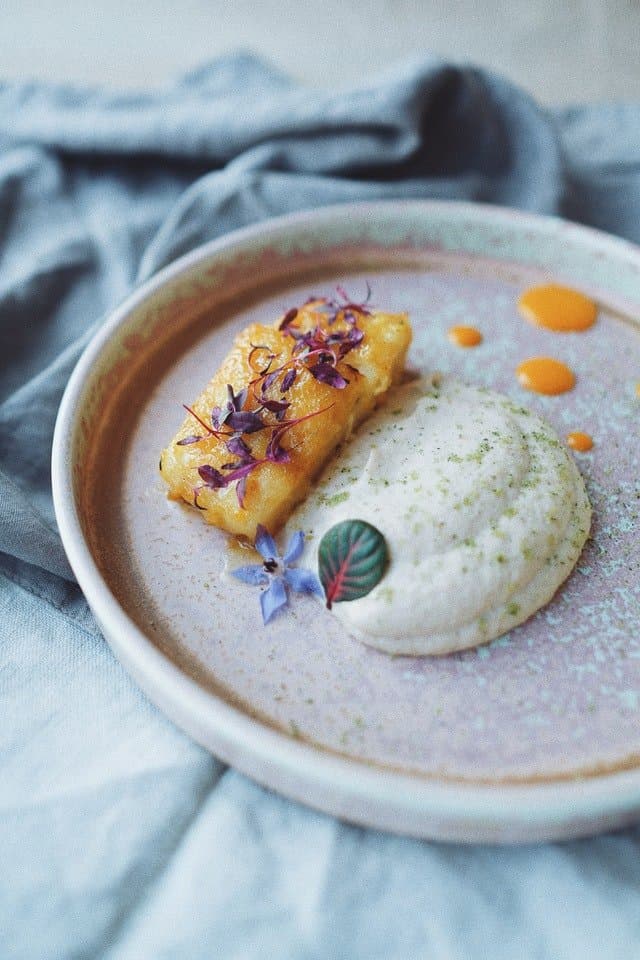 My only concern is that a trend that has the maximum potential should not be used only as the gimmick of marketing to attract the patrons. Because it is noted in the past that restaurateurs cash on the trends but do compromise with the quality and taste, thus ruining the experience of the diners. To help molecular gastronomy, along with the appealing presentation, the focus should be on taste and quality which can help build loyalty among the foodies towards this cuisine.
MolecularRecipes.com is one of a kind website that covers many aspects of molecular cuisine. With a treasure of resources and recipes on this website it should be bookmarked by foodies from all around the world. You can check it out in case your curiosity needs special attention.
Closure
I hope now you are well educated on this topic, that will take the internet by storm in few days. If it does then do remember that you read it first here and try to give credits. So have you ever had any molecular gastronomy experience yet? If not then do plan for one soon. I will try to keep updating the list in this blog and review all such places that serve molecular cuisine. Personally I believe that yes such experiences rejuvenate you and helps you to refresh from the routine.
With this your foodie_khiladi is signing off for the day in a hope to see you soon in my next blog post. If you are a shy person who don't like to comment openly in the section below, then do write to me at [email protected] or DM me at foodie_khiladi007. Please do share this wonderful blog with your friends who are always excited to try new stuff and are open for experimentation.