Jalebi a proper noun which is well understood even if you are not at all into English grammar in India. You hear about Jalebi or read about Jalebi or See a Jalebi and your brain instantly sends you happy signals. This is the kind of happiness this sweet or dessert is capable of bringing in your life. India's most loved dessert is in focus today. Let me take you on a journey of Jalebi and its roots. As good as its taste, the tale of this simply yummy sweet is worth digging into.
It would take a little extra effort to explain it to someone who is not familiar or not from India and the subcontinent. So let me try if I could do the job. Jalebi is a fried fermented batter poured in circular manner to form concentric circles in piping hot oil or ghee to form a spiral shape. Then eventually it is dipped in sugar syrup which needs to be perfect to get a dessert that hits you and gives you a high.
Some facts and figure in this post will take you by surprise but with each passing line you will crave Jalebi more and more. I will try to make this post as delicious as possible for you to visually savor the dessert and crave it in reality. Golden crisps or orange crisps the curves though not perfect yet gives it a lovely look. Soaked in syrup and capable of making anyone drool. This is Jalebi my friend you can either have it hot or eat it when cool. You just can't refuse a Jalebi.
Halwai Chef is a concept that developed through Indian business. To be one heck of a Halwai chef you need to be an expert in making Jalebi. So can you make one? Are you confident on your skills? I know your answer, who wants to be a Halwai Chef but!!! I can make some amazing ones. Here is the proof.
History of Jalebi
You might be surprised or shocked depends on how you take it to know that this famous dessert called Jalebi is not Indian in origin. Does that make you feel bad! Oh come on!!! Even if not Indian in origin but the love and pampering Jalebi got in India is unmatched by any other countries. Let food be the thing which goes beyond religion as a person with hunger doesn't seeks the religion in the food. Jalebi is a prime example of food being the liberal ambassador of goodwill.
The journey of Jalebi is really mind numbing. A dish which has its origin in the Middle East and which managed in conquering an entire nation's attraction is surely worth a read. Coming from a land where prophet's religion is practiced and then being served on every occasion on the land of a Hindu nation this is something makes India unique.
Jalebi was first mentioned in a 13th century cook book named 'Kitab al-Tabeekh' which had 160 recipes which were compiled by Muhammad bin Hasan al-Baghdadi. This book remains the culinary booking choice of the Turks till date. He described it was a sweet fried batter soaked in sugar syrup and distributed to the masses in the holy month of Ramadan. Another cook book by Ibn Sayyar al-Warraq published in the 10th century, too has the mention of Jalebi. As always there is no clarity on what exactly the books mention.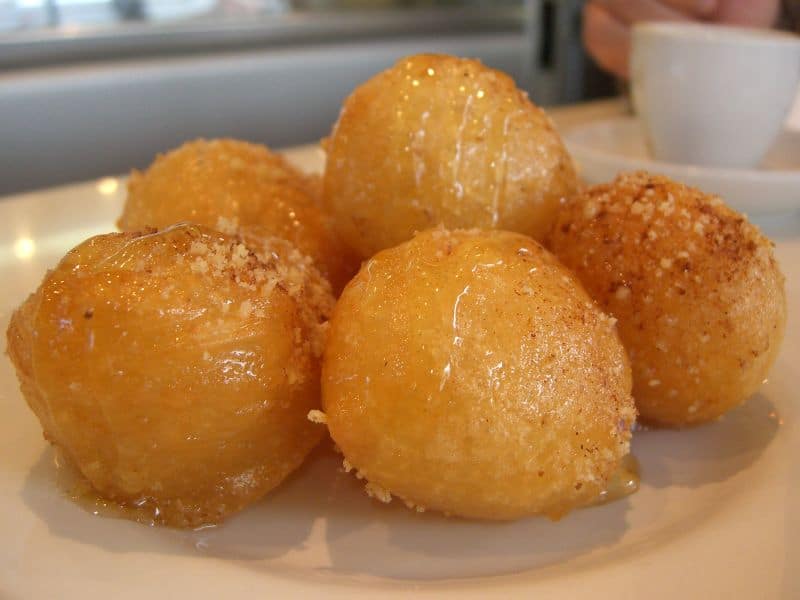 The reason being, Jalebi is referred as Zalabia or Luqmat al qadi in the Middle East and these items are nothing similar in shape of what we are used to perceive Jalebi as. The challenges of finding it roots starts with this thing. A similar tasting dish with different name and different shape miles apart gradually changing the names and the shapes is what we understand as Jalebi. It is really fascinating story and I hope someday soon I will join all the pieces of the puzzle.
'Priyamkarnrpakatha' a holy literature of 15th Century documents the fact that Jalebi was brought to India by the same people who invaded Indian land. It mentions the sweets called kundalika or jalavallika which were almost the precursors to the modern day Jalebi. The Persian Turkic invaders and traders introduced these sweets to India. This book is written by Jain author Jinasura.
Even the Hobson-Jobson Anglo Indian dictionary has an entry of Jalebi where it clearly states that the Indian word Jalebi is derived from the Arabic word zulabiya or the Persian zolbiya. Now you have a fair picture of how Jalebi was destined to reach India and make it big in the culinary literature.
If you would like a to read in brief about Jalebi's history then this post on the The Sunday Guardian will surely interest you.
My Early memories with Jalebi
As an adult I can't truly say where I have had the best Jalebi of my life. What I can surely tell you is a story in short which will underline how my love for Jalebi started as a kid. My grandpa used to take me along with him for his walks in the morning. I was around 3-4 years old and so as it happened I had this sweet tooth since childhood and I used to get attracted to the sweet aroma of sweet shops.
In the sweet shop that was on our way home, they used to make hot Jalebis and I used to believe that the sweet aroma must be of the Jalebi alone. Which was not entirely true as the aroma was from the preparations of others sweets as well. After learning about my curiosity my Grandpa asked me one day if I would like to eat Jalebi and I grabbed the offer with both hands.
So my grandpa started treating me with Jalebi and Doodh (Milk) frequently and I used to eat it happily. My Grandpa's love for me in the form of Jalebi made them taste even better. So Doodh Jalebi is something I still prefer to eat. Soaking the Jalebi in cold milk and let it rest for a minimum one hour and then devour it at leisure. This is how I started loving Jalebi.
Best Jalebi Combinations from India
As its stands right now, the Jalebi is undoubtedly one of the best sweets or dessert you will find in India. It is available in almost every snack shop that makes fried snacks like Samosa, Vada, Fafda and Kachori. Needless to say that it is amazingly yum and awesome on its own and certainly doesn't need anything else to accompany it. But there are some matches made in heaven and in the case of Jalebi the matches are multiple. This is how vibrant miss. Jalebi is.
If you are an Indian reading this post then you will agree to all the statements made by me. If you are reading this post as a foreigner then you ought to visit India soon and try all the below mentioned combinations to know why there is always a hype around Jalebi.
Jalebi and Rabri
Most commonly served in Indian weddings especially in the north and now famously in all the metropolitan cities. Jalebi and Rabri has a love story with a separate fan base. The slowly reduced milk forming layers and layers of luscious caramelized fats and addition of just a little sugar already makes Rabri so delicious. Add to it the crisp and yummy Jalebi and this duo is capable of bribing the most straight faced person into giving in the temptation of eating.
You must be knowing how many diet resolutions this duo has managed to break till date. It is irresistible combination when hot Jalebi meets the cold Rabri and the dance of sweetness happens. In short it is the moment when Ice meets fire and creates a song. No I am not referring to what you are thinking of right now.
Jalebi and Fafda
Salt and Sugar adds the much required essence in everyone's life. What could be a better symbolic way to fortify the fact? A salty namkeen Fafda (thick gram flour fritter fried till they get a brittle texture) and sweet sticky yet crispy Jalebi is the best combination of salt and sugar. If you don't have a sweet tooth then this is a perfect way to eat your Jalebi. The namkeen Fafda balances out the extra sweetness that your palate can't take.
Guess the place of origin and you will have a treat from me if and when we meet. A treat of Jalebi Fafda, only if you could comment the correct answer below. If you haven't guessed yet then it is Gujrat where this duo of Jalebi and Fafda is famous as being the most sought after breakfast.
Jalebi and Samosa
This one will sound to you like a typical love story. Two people meant for each other but couldn't unite for some obvious reasons and then later on got reunited with a nationwide celebration. How does that sound? Warm right!!! So these two hot items that are essentially originated from the Middle East and were not eaten together and hence they couldn't meet. They finally came to India and after centuries long wait they have been now met and are loved by millions of Indians.
I know you weren't aware of Samosa not being Indian. Now that is one topic for some another day. But for now Samosa is the perfect savory snack that goes along well with Jalebi. The potato stuffing spiced with various spices, wrapped in maida cones and fried till it becomes crisp is what a typical samosa is. The hot and crispy Jalebi compliments the spicy and savory flavours of the Samosa very well.
Jalebi and Poha
I am yet to find a person who doesn't like Poha. Are you the one? I hope not. Poha is sort of national breakfast in India only after Parantha. Poha is a simple and healthy option when it comes to breakfast. To complement the simple dish like Poha, what could have been a better choice than Jalebi? Jalebi Poha is subtle combination which is much tempting and relatively healthy from the above mentioned options.
You go to Madhya Pradesh and you can find this combination from INR 10 to INR 20 which is easily available everywhere, especially in Bhopal and Indore. Blending a subtle dish with a dish strongly driven by sweetness is a genius idea in itself. I highly recommend you to try this combination. The right way to have this combination is by adding a third element like Sev which doubles the crunch and binds the flavours more deliciously.
Jalebi with Poori-Sabji
A wholesome breakfast which will keep you filled for hours. Most famous in the rustic land of Bihar but has its own connoisseurs all over India. The roughly mashed potatoes are cooked with spices to make a lightly spiced gravy that is supposed to be eaten with deep fried wheat bread called Poori. This combinations is accompanied by some heavenly sweet Jalebis to complete the platter.
Jalebi and Doodh
This might not be one of the most famous combinations but in Northern India it is one of the healthiest breakfast options. Just to be clear, you need unpasteurized milk fresh from the cow to get the even creamier layer at the top while the milk keeps boiling in a larger Kadhai. A glass or small earthen pot called kullhad is used to serve the milk. Jalebi given on the sides are supposed to be immersed in the milk.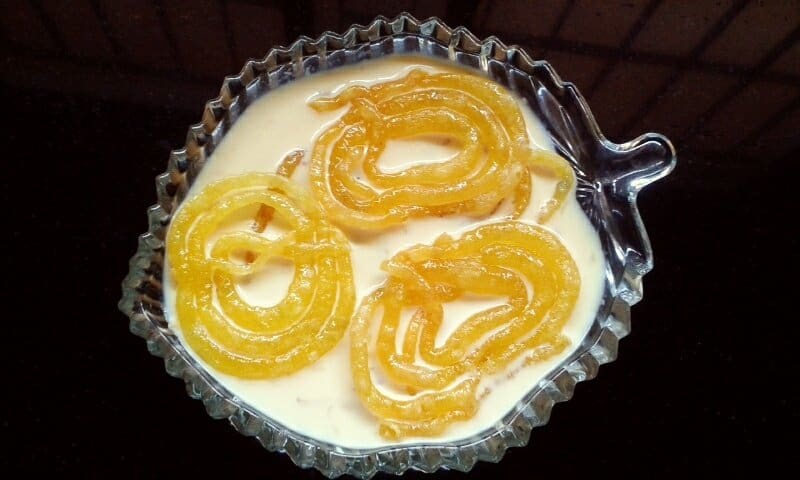 The milk becomes sweet due to the sugar syrup from the Jalebi and the Jalebi becomes subtly sweet and soft which you can spoon out to devour later. It is said that this combination is very healthy as it is beneficial for problems like migraine, sexual life, itching of skin, stress, respiratory diseases and improves concentration. Though you will need more clinical evidence to prove these benefits. But for the love of Jalebi such inaccuracies are acceptable as an exception.
Jalebi and Dahi
One of the lesser heard combinations hailing from Uttar Pradesh, especially Kanpur. This is the best way to make it healthier. Curd as such is known for many good health benefits. In combination with Dahi the duo becomes more beneficial. Migraines, stress and any form of anxiety issues are said to have healed after eating this combination. Maybe the hysteria of these two foods that they carry has done this kind of wonders but yes many people have reported these benefits.
Apart from a perspective of health the curd mellows down the sugary sweetness of the Jalebi and in doing so it enables the people to bite in couple of more Jalebi than their usual capacity. After all who doesn't like some sour creaminess with crispier sweetness? Do try this at home.
Now tell me how many of these combinations you have already tried? Or how many of these you are going to try. These are some classic Jalebi combinations which are going to stay forever with all the heritage and history they carry. What should fascinate you is the way the new innovations are taking Jalebi to new heights.
Special Mention: Jalebi Caviar
Getting good Jalebi which has the all-purpose flour well fermented with Yeast and then using the batter to make concentric circles over hot oil or ghee and then dipping them in the perfect sugar syrup. This process is special in its own way but when the same taste is given to you but in a totally different visual and physical format, it blows your mind away.
Masala Library has 2 famous restaurants one at BKC Mumbai and another one adjacent to Le Meridian, 21A Janpath, Delhi. They have one more at Dubai. They are taking molecular gastronomy to a different level and I will someday cover their whole menu in a separate blog. Today it has been included in special mentions for serving Jalebi Caviar. It is a complete 360 degree transformation of traditional Jalebi-Rabri.
You can check this special video by Netflix on Jalebis and at exact 8:49 you can see what exactly Jalebi Caviar is.
Closure:
This brings an end to a 'Jalebi ki tarah sidha' (straight like Jalebi) post from me. From the skills required to perfect the art of making the Jalebi to the ability of combining it with other foods to enhance the culinary experience, Jalebi is truly the most loved India dessert. It is served on almost all occasions like weddings, Puja, National Holiday celebrations, and so on in India and neighboring countries. Jalebi has a celebrity status in India as this is the land where it shot to fame.
With all the words that I wrote as an ode to the mouthwatering Jalebi, it is evident how much this dessert means to me as an Indian. Let just hope that the love for Jalebi prevails till eternity. A recipe which can be enjoyed by all classes, rich and poor alike. Jalebi is truly symbolic dish that came from a different land and chose to spread love in India. With this your foodie_khiladi takes your leave. If you liked this post then do share with you friend and fellows who are in love with Jalebi.
If you have any suggestions or queries then feel free to write to me at [email protected] or DM me at foodie_khiladi007. I keep writing such informative food blogs which you can read here. I hope you liked this one. I will see you soon in my next post and till then you keep smiling and spreading the smiles.