In the times where the preferred mode of transport is air travel, it was not in the distant past that people had just one choice. Railways were the best option to travel in India, especially if you are an Indian. It was pocket friendly, less intimidating and a journey worth remembering. I am not saying that the people do not travel in trains anymore, but the numbers have slightly dwindled. Apart from the captivating sceneries that made the journey beautiful, the Indian Railway station foods just made the journey worth cherishing.
If you have ever travelled by train on a long distance journey then you will remember how at the remote railways stations they used to sell Chai in the earthen cups. The local specialties were sold by the street smart vendors in the coaches on each railway station. Even if that particular station had a late night halt, you would still wake up to taste the special food it offered. Some railway stations had these famous stalls which sold the best of foods and you or your parents or relatives got down from the train to buy the stuff under 3 minutes or so. That was some thrill.
As a kid, I travelled a lot in the train. Indian railways always fascinated me. So the love for Indian Railway Station foods started early for me. In India where the largest and the most complicated rail network operates, the opportunity to capture the requirement of food is huge. Over millions of food vendors and thousands of food businesses have thrived by catering to this need. No wonder that one of the least explored culinary journey has been of the Indian Railway Station Foods. If any food expert is reading this then this challenge is up for the taking.
So in this blog, I will try to highlight the most famous Indian railway station foods from all the famous places. Some of them, I have tried myself and I know that these foods are not even a bit overrated. Right on the money and forever on the taste buds this is how you can define them.
Famous Indian Railway Station Foods
As I belong to Mumbai, I will try to start from Mumbai and then try to explore away. I maybe or may not be able to cover all the famous places due to lack of resourceful information available. So I would encourage you to lit up the comments section for the details of some delicious foods you have had at the Railway stations. I would be more than glad to add those to the list.
I have tried to cover stations which are not local but where the long distance trains halt. If I get 20 comments on this blog and a page view of 1000 then I will surely make a detailed blog on the foods to be tasted on Mumbai local stations.
Perfect Vadapav at Karjat Station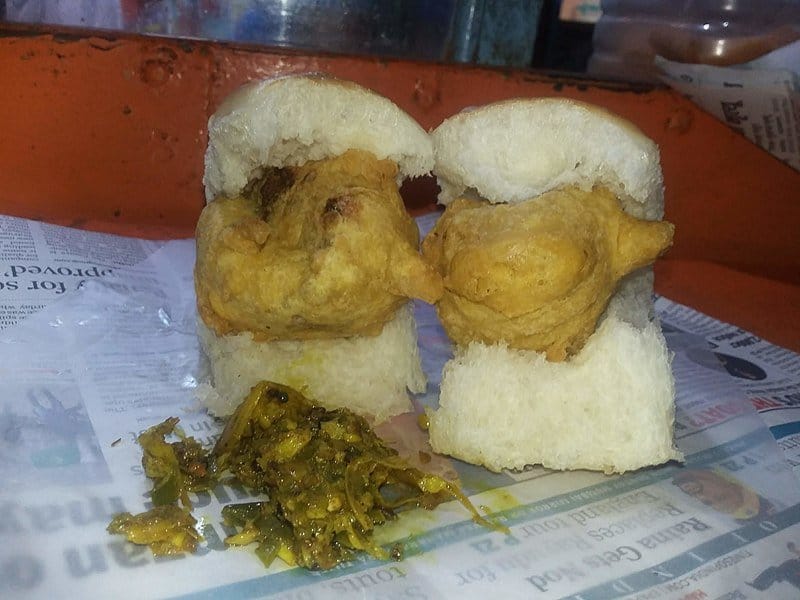 For Mumbaikars, two of the most nearest weekend getaways are Matheran and Lonavla. Karjat railway station lies en-route to these places. Ask anybody who has travelled on this route about the Vadapav they sell at the Karjat Station. It is just paisa vasool (right on the bucks). I personally do not like monsoons, but many people say that eating this Vadapav in monsoons is a different level of satisfaction.
Fresh Flavored milk at Anand Station
When my dad was posted at Jodhpur, we used to travel many times on this route. Mumbai to Rajasthan via Gujrat. Anand railway station served some ultra-delicious flavored milk. I haven't been via that route in so many years now, but I know that Anand station is the place for the best flavored milk. My favorite was the Kesar elaichi one. My parents used to wake me up from my sleep to treat me with this wholesome goodness.
Poha from Ratlam Station
I had no doubt that one or more than one stations would be serving this dish. Poha is the best breakfast according to me. Easy to make, easy to digest, healthy in comparison and pocket friendly. So what makes Poha from Ratlam different? The Poha served here is topped with freshly chopped onions, Ratlam sev which is spiced with black pepper and then garnished with some pomegranate seeds and coriander. I am sure you must have visualized a colorful plate of aromatic poha in front of you.
Amritsari Lassi on Amritsar station
Before the use of plastic glasses increased, they used to serve this fulfilling Lassi in the earthen pots call kullhad. Amritsari Lassi is world famous in India. So how can anyone miss this while travelling via this railway station? As far as I remember that people keep bragging about the serving size. So if you drink a glass of this goodness in the morning then you won't get those hunger pangs till the evening. Only exception is if your next destination is a foodie heaven.
Moong daal ke Pakode, Bareilly
After Kaanda Bhaji (Onion fritters), I guess moong dal bhaji is by far the most liked fritters out there. Bareilly station serves some mouthwatering moong daal ke pakode with mint chutney that nobody wants to miss. No matter how good moong daal ke pakode you must have tried but you need to simply try this.
Aloo Tikki, Tundla Junction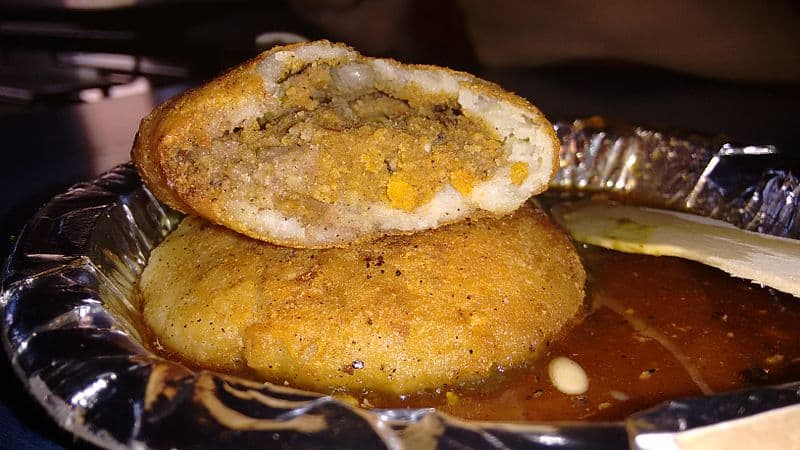 A further journey of approximately 10 hours will take you to this Tundla junction where you will be greeted with one of the best Indian Railway station foods. Do you like Aloo Tikki? Even if you don't, you will just fall in love with the Aloo Tikki from this place. You know what makes this special? The small towns like this do not sell to become rich they sell this stuff to make you happy and then think about the profit. So the taste is guaranteed.
Biryani at Charbagh, Secunderabad and Shoranur Railway Station
Biryani is also subjected to multiple debates in India. Each place has its own version and claims to either be the best or be the place where it originated. So we do not have 1 or 2 but 3 railway stations that serve some authentic Biryani that the passengers do lay their hands on. Charbagh station at Lucknow is famous for Shahi Biryani. The Secunderabad station is famous for delicious and spicy Hyderabadi Biryani and then the Shoranur station at Kerala is famous for the Kerala's special Biryani.
When it comes to Biryani it was mandatory for me to include all three stations that sell some excellent Biryanis. Every Biryani is special, don't you agree?
Rabri at Abu Road Station
A good Rabri is my weakness, and this place serves one of the best Rabri. It is not made out of the pasteurized milk, but from the raw milk that fetches more cream and the fatty layers that are caramelized on slow heat. You know the best part about this one? They serve it inside the train. The vendors bring the supply in the railway coaches and sell this upfront. Chilled in the earthen pots and set to perfection.
Aloor Dum at Kharagpur Junction
First of all you tell me that have you ever tried Dum Aloo? Aloor Dum is nothing but the Dum Aloo served with some Pooris or Parathas. Dum Aloo is made from tiny potatoes that are stir fried in oil then pierced deeply so that the gravy is soaked inside. Then cooked on a slow flame most probably on a coal fired stove. The gravilicious potatoes are just top notch. If you haven't tried it, then you need to book your tickets soon.
Kadhi Kachori at Ajmer Railways Station
People love Kadhi and People also love Kachori. So some genius person clubbed them together at the Ajmer junction and it was sold within minutes. Kachori is a spicy deep fried food that is mellowed down with the creamy and sour Curd based Kadhi. This is unique combination and as mild as a foodie you are, but you won't be able to resist yourself if you see someone eating this in front of you.
Maddur Vada at Maddur Railway Station
Probably the only Indian Railway station food that is famous by the name of railway station. Maddur vada is a deep fried fritter made from multiple ingredients. It has onions added to it which imparts a very unique taste to this good food. So if you are visiting Bengaluru or Mysore via this route then you will get an opportunity to try this fried food.
Pazham Pori at Palakkad Station
Bananas from Kerala are unique in themselves, so a fritter made out of these fruits is definitely going to be worth a try. Pazham Pori is a Keralite specialty. It is sold in Banana leaves that adds to the flavour of the deeply fried fritters. Do not confuse it with the banana chips. This food is slightly sweet and is perfect for a snack time with filter coffee.
Chole Bhature at Jalandhar station
The second station on the list with best of Indian Railway station food from Punjab. If you talk about Punjab you ought to discuss Chole Bhature. If you don't then you are a sinner. So if by any chance your trains is passing via this route then you need to gorge on some sumptuous Chole Bhature that will make your journey meaningful.
Lal Sah at Guwahati Railway Station
Are you a fan of the tea? By tea I am referring here to the special delicate brew without the milk. The Assam tea, is brewed to perfection so that you get a reddish concoction which is mildly sweetened with sugar and served to you. I have heard tales of coffee lovers falling in love with this version of tea. This speaks a lot about the Lal Sah. You should definitely add this to your bucket list.
Chicken cutlets at Howrah
The only thing famous after Howrah Bridge are these lip smacking chicken cutlets. A dish made out of minced chicken and a set of spices which is then fried to make them crispy. The crispiness is not the mark of success for this dish, but a chicken dish getting famous in a place where people breathe and eat fish is what success means. So I won't brag further about this. You be your best judge.
Pakodas at Chittorgarh station
Platform no. 1 at the Chittorgarh Railway station serves some crispy and tastiest Pakodas made of onions and potatoes. You need a bit of luck to eat them. Not every train halts at platform no. 1. So if you visit this place then ensure that you get down and go to the platform no. 1 to grab some best Pakodas. People risk missing their train for these fried goodness, so it underlines how good these must be.
Fish curry at Jamshedpur's Tatanagar Station
I don't know how good this dish is. But people have spoken about it a lot and this is why this dish has made it to this list. I don't even know which fish they serve. So if you get a chance then do try the fish curry from the Railway canteen and let me know if this was as good as people claim it to be.
Pedas at Mathura station
We have heard it often, even some places do sell Pedhas under this name. How authentic they are we all know. So here is your chance to taste some authentic and original Mathura Pedhas at Mathura station. I have heard that it is so fresh that you can literally coat your fingers from the buttery fat that oozes out of these Pedhas. Now this is how fresh a Pedha should be. Sold in packets and loose, inside the coaches.
Ghee Onion Rava Dosas at Chennai Central Station
Chennai Central Station is the best place to eat South Indian food. The highlight of the feast is Ghee Onion Rava Dosa. They make them at a breakneck pace and serve it with the legendary sambar and magnificent coconut chutney. If you are a fan of south Indian food then you need to eat this one by hook or by crook.
Camel Milk Tea at Surendranagar Station
In the entire list, this one is the only thing that has fascinated me. A chai made from camel's milk. A camel's milk is creamier than the cow's milk and it is slightly salty in taste. From the description I could make out that the chai made from this would taste like an Irani Chai. What are your thoughts on this? Will you dare to try the camel milk? Or will you pass this one? Let me know in the comments below.
Kozhikode Halwa, Calicut, Kerala
You can get this one inside the train, but if you want to lay your hands on some original stuff then you will have to set your feet outside the Calicut Station. This gelatinous sugary dessert is made in coconut oil, deep fried and has lots of dry fruits but people go crazy over it. So you need to try this at least once.
A Lot more to be discovered:
The most common perception about Indian Railway Station food is it being unhygienic. This is an age old perception which is true to certain extent. Based on a small sample size the conclusion is applied to the overall picture. If you investigate by yourself then you will find that the railway canteen food is one of the cleanliest and if anything happens to you after eating that food then you can legally sue them.
Having said that, the food sold by the vendors and hawkers is not covered under this scheme and you need to calculate your risk appetite. Because 'Risk hai toh Ishq hai…' If you love your food then you must be willing to take risk. I have eaten on railway stations so many times in my life and never have I ever felt sick.
Now you have a fair list of good foods that are waiting to greet you at various railway stations. These was the list of most famous foods at famous places. Indian railway network is so huge that I believe, we must have some hidden gems waiting to be discovered but only if one takes the road less travelled. I wish someday I get a chance to cover all the train journeys of India so that I can try all the amazingly delicious food and make a detailed guide about the railway culinary cuisine.
Closure:
Do you remember any of the Indian Railway station food that was just outstanding? If you are from Mumbai then on Matunga Central station they serve some brilliant Daal vada with chutneys and the ragda is on another level. Do try it and encourage everyone else to try. With this your foodie_khiladi signs off for the day. I hope you liked this blog and will share it with the people who love train travel.
If you liked this then you might also want to read this nice article from Zac on natgeotraveller. If you know a place that you feel should be on this list then do let me know. You can DM me on foodie_khiladi007 or write to me at [email protected]. I would be happy to hear from you. See you soon in my next blog post, till then keep smiling and spreading the smiles.