What comes to your mind when you hear Oktoberfest??? The answer must be Beer or Chilled Beer. That is one perception this event has garnered over the years. A beer connoisseur or not, you can love it or hate it but definitely can't ignore it. Do you want to experience and learn what this hype is all about? Let us do this together, as I also recently learnt all these facts and information. It certainly has so much more to offer than beer. Prime reason being, there are approximately close to 150 restaurants and food tents there. So it was quite unavoidable to include this in the collections of yumandawesome.com.
This is a place where food & drinks meet with the history and all of them go around in sync with the Bavarian traditions. As a result, what we see today is the world's largest volkfest which is a combination of booze festival and travelling funfair. The focus on beer is so stiff that the fun around the other events is often neglected. Were you aware that Oktoberfest generates $1 Billion in revenues, that too in just approximately 16 days? This is a year's income for many mid-sized firms.
It will also surprise you that, once Mr. Albert Einstein worked here. You read that right. He was not involved directly, but was vested with responsibility of supplying electricity to one of the oldest beer tents in 1901 as a 22 year young lad. This is when he was working in his father and uncle's company 'J. Einstein & Cie'. Now you must have an idea that what you will land up with once you finish reading this post. Let's soak in some BEERish fun and facts.
History of Oktoberfest
The first ever Oktoberfest was held on 12th October 1810 and surprisingly it was not a beer festival. When Kronprinz Ludwig who later became 'King Ludwig-I' married Princess 'Therese' of Saxe-Hildburghausen, the people of the kingdom were invited to celebrate this wedding near the city gates in the fields called Theresienwiese ("Theresa's Meadow or Theresa's Greens"). This is also a reason that locals call the festival as 'Wiesn'. On 18th October to honour the couple, a horse race was arranged as per the Bavarian tradition.
In 1811 there was addition of Bavarian agricultural show which is now held every four years like Olympics. Slowly the things like tree climbing, bowling alleys, and other giant amusement rides kept on adding up. The carnival booths with the beer and food made an appearance in 1818 for the first time. Since 1850 the Oktoberfest starts with a parade similar to the one held in 1810, it has 8000 people well dressed in traditional costumes who walk from Maximilian Street through the centre of Munich to the Oktoberfest grounds.
The Oktoberfest is held for 16 days, starting from mid-September and ending on first Sunday of October. If the first Sunday falls before October 3rd, then the festival lasts for 17 or 18 days.
How to Visit Oktoberfest and what is the entry fees?
Well if you are a non-German then you probably need to have a passport, a visa and a plane ticket first. If you are German which is impossible, as no German reads a blog post on Oktoberfest that too in English. So you non-German foodie, need to pack your bags and head towards the Oktoberfest. The entry is always free, anyone can enter the 'Wiesn' as you would like to call it, so that you are considered an insider.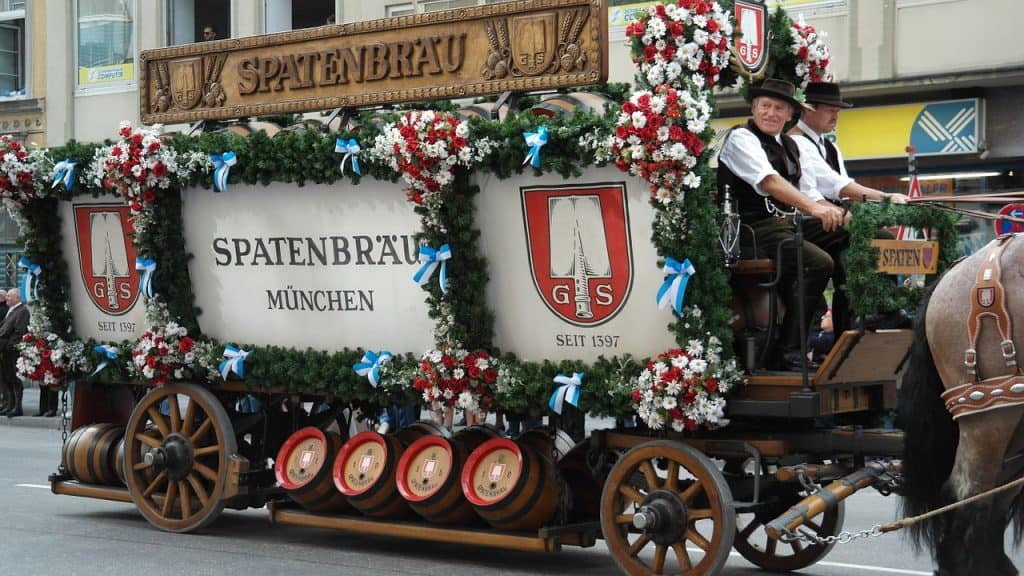 The table reservations is required if you want to avoid standing in the peak hours, which is post 6 p.m. and on weekends. An average table is for 6 to 10 people and can cost you approximately 300 Euros for 2-3 hours, which also varies tent to tent. The booking price includes some beers and food as well. Apart from this, there are no expenses that you will incur for Oktoberfest. Of course your personal choices and selection will decide how much you spend there. For more details you can visit their official website.
Beers at Oktoberfest
First and foremost the beers need to be brewed under Reinheitsgebot (series of regulations) and within the city limits of Munich. There are 6 specific breweries which are allowed to supply and sell the Oktoberfest beers. Which are made strictly out of 3 ingredients, Barley, Hops and water. You will only have 2 beer types for serving, the traditional Märzen lager and a paler 'Festbier'.
Augustiner: Munich's oldest brewery is the oldest in existence since 1328. The 6% Augustiner Wiesn beer is served in the Augustiner festival tent, in the Fischer Vroni tent, and in the Tradition festival tent on the Oide Wiesn. They still use the 200-liter wooden barrels for storing beer.
Hacker-Pschorr: Reunited since 1972 is a brewery which sells the weakest beer in Oktoberfest at 5.8% alcohol content.
Hofbräu: The beer from the world-famous Hofbräuhaus is the strongest beer of Oktoberfest at 6.3% alcohol content.
Löwenbräu: Beer from Nymphenburger Straße is a 14th century brewery but has been on the world map for production of some good quality beers.
Paulaner: The youngest Munich brewery is the beer of monks and was made available to public only during festivals. It has an alcohol content of perfect 6%.
Spaten: Inventor of the "Münchner Hell" is the brewery which introduced the Munich Pale beer to the world and this one has truly been loved by beer lovers. It is available in Schottenhamel tent, where the mayor of Munich also celebrates the first tap every year.
Other beers are forbidden in the festival. So please do not carry your own stock.
Famous Foods at Oktoberfest
Nobody is interested in a place which serves booze but no food. So the Oktoberfest ensures that the alcohol lovers and the non-drinkers out there have ample of delicacies around which will keep you interested.
Obatzda (Spiced Cheese-Butter spread) is not even a main dish, but I bet that this side dish is heart of the food heaven at Oktoberfest. A creamy and softer cheese like camembert is mixed with the traditional butter and beer, then folded with spices like salt, pepper, garlic and paprika. It goes on well with almost every main dish served at Oktoberfest.
Reiberdatschi (Potato Pancakes) these are small pancakes either served in savory flavor of in sweet version which has apple sauce. Believe it or not in either versions the crust is crispy.
Hendl (Roast Chicken) is the most popular food for the people on a mission to gulp down as many beers as they can. The chicken is roasted till it becomes crisp from the outer layer of fat and it is roasted in whole with generous flavoring of lemon and thyme.
Schweinebraten (Roast Pork) is again a famous dish, you will see at every other table. Not only in Oktoberfest but throughout Munich this dish has a separate fan base. Roasted with lots of onions and the dark beer, the fats becomes a crispier crunch with a tender underlying meat. Served with a potato which can be smashed without force.
Steckerlfisch (Grilled Fish on a stick) is something you can see almost in every tent there. Fishes which are marinated are put on sticks and then grilled. A very simple yet the most in demand dish in the Oktoberfest.
Fischbrötchen is a special burger filled with seafood meat. The fish, crab and shrimp are slathered with mayonnaise and onions and rolled which then is smoked to perfection. You can request for a fried version.
Spätzle is something thatall non-German people call as the German version of mac and cheese. This is the most sought after dish by the vegetarians at the Oktoberfest. Made with cottage cheese and is topped with onions and extra cheese before serving. Are you drooling now???
Brezen (pretzels) these are the famous symbolic savory bites of bread. Soft from inside and lightly crispy on the outside. You will find these everywhere in the fest.
Weisswurst are the pale sausages made of minced meat of pork and veal. The seasoning consists of parsley, lemon, mace, onions, ginger, and cardamom. The sausages are served in warm water. Which you need to take out and peel with a fork and a knife as per the traditions.
Let's Experience Oktoberfest
So this is one fine September morning and the first day of the Oktoberfest. You reach there at 9 a.m. and are greeted by a huge wave of crowd. Most of them are locals and are dressed in 'Tracht' which is the traditional costume where the women wear the 'dirndl dresses' and the men wear 'lederhosen'. After few moments you find yourself alienated as the crowd is not speaking in English but German. You keep moving and land upon a fresh crowd which is overly enthusiastic and they are the foreigners, some of whom are conversing in English.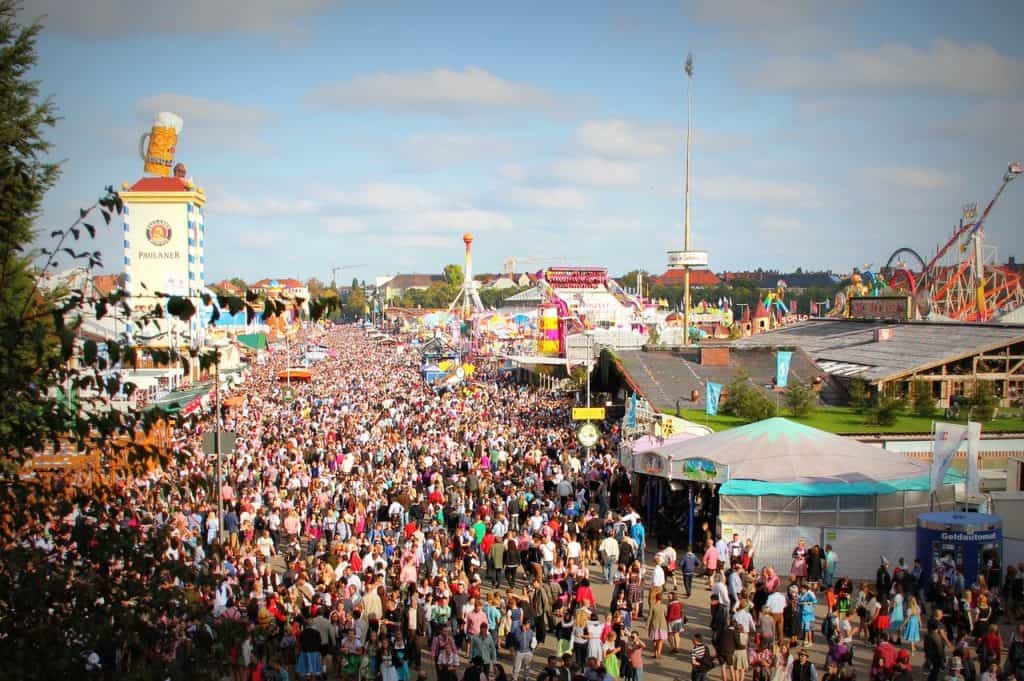 You still have 3 hours to go before the event is officially announced. You take a stroll in the nearby area watching the people, the climate the setups and all other thing which have sparkled up due to the high spirits of this festival. You walk towards the famous rendezvous point of many, the statue of Bavaria. This is where you have a glimpse of the entire 'Wiesn' all the bigger and smaller tents in you sight as you change your view as you walk to gauge how large this funfair is.
During this stroll you also witness the traditional parade with inclusion of decorated horse carriages and people riding on horses. The band squad drumming the beats which is more of a jovial essence of the procession. The restaurateurs are major attractions and of course the mayor of Munich has the most eyes upon him. As you clap while the procession passes by, you realize it is almost 11:45 am. You rush to the Schottenhamel tent.
As you enter, you notice a huge media coverage which is busy in covering the welcome speech of the Mayor. He welcomes all and the first barrel of beer is fitted with a tap and that happens with a help of huge hammer. The Mayor fills in the beer at sharp 12 noon and he says loudly "O'zapft is!" ("It's tapped!") And the loud screams and cheers fills the atmosphere. In the midst of this you hear twelve gunshots fired on the stairway of Ruhmeshalle where you were standing few moments ago. The filled beer glass is offered to Bavarian Minister-President which is signal to all other tents to tap the beers and let them flow.
You are lucky enough that along with few friends you have managed a table booking. You sit at your booked table and as the food and drinks are served the live music starts playing and the atmosphere transform into an electrical sphere of positive energy. You gobble up your food and your friends gulp down the expensive beer mugs till it is time to leave. You now leave the tent and witness a mammoth set of rides, Ferris wheel and amusement swings. To your surprise you see lots of children out there with their parents. The reason being, for Germans this is a traditional event and not just any alcohol promoting event.
You roam around, meet new people. Needless to say you have clicked the most amazing pictures ever and as you see the watch you find that it is almost 7 pm. Now you are hungry again but this time you give it a try to the food offered outside the tents. You are shocked to see that the food and drinks outside the tent are equally tasty but are sold at a very cheap prices. Now you regret for a while but then I am telling you that you had a lifetime experience so forget about it and cherish the memories. This ends your trip to Oktoberfest. I hope you had a gala time.
Lesser Known Facts about Oktoberfest
Wearing a hairy hat is a sign that you are wealthy. It is wore by the Bavarians who believe that the number of goat hair decides how wealthy you are.
The beer consumed in those 16 or 18 days is in excess of 7 million liters.
To the southern exit there is a Red-Cross tent which attends the people who need medical attention, every year more than 5000 people are brought here after drinking mishaps.
There is one tent where champagne and sparkling wine is served. The Weinzelt – wine tent is where you will find these drinks but it is heard that this is the most boring of all the tents.
Though it is world famous and attracts crowd from all over the world, the number of foreigners is around 20% only, rest 80% people are Germans. The locals visit on any one of the days, but the foreigners visit for 4 or 5 days and drink out of their skin and many of them regret it later.
There is a pop-up post office which is used by the visitors to send a postcard to your loved ones along with souvenirs and hand written letters just to seal a memorable experience.
From morning till 6 pm only traditional Bavarian music is played by the band with the instrument 'Alpenhorn' in focus.
Each tent is unique, not just in terms of the decorations but also the games played and the practices followed.
They have a special cocaine to offer which is not addictive but made up of sugar and menthol. It is called Wiesnkoks.
It employs around 12000 people every year and they earn in the range of 2000 Euros to 12000 Euros depending upon the skills and their role.
Many German celebrities make a point to visit this festival, making it a star studded affair.
Closure
This marks and end of a detailed post on Oktoberfest. I hope now you can decide if you want to add this to your bucket list or not. I hope this information will help you on your Oktoberfest trip. As I said, this festival is more than just beer and what meets the eye. It is purely traditional and is thoroughly respected by the locals. The foreigners are believed to be the trouble makers here, of course not purposely but because of getting carried away with the friendly party vibes.
If you decide to visit the place, then remember you are a representative of your nation. So drink responsibly and enjoy freely. What matters the most is the food. Apart from the beers, the food served during these festival days is truly remarkable. So have a wholesome experience. I will add more details to this page as the time passes by. So that it can be used by you as a go to guide to Oktoberfest.
With this your foodie_khiladi is signing off for the day. Writing about Oktoberfest in October was inevitable. If you liked the information then please share with your friends who are fond of beer. Or perhaps the foodie one who is keen on the food experience rather than the beer alone. If you are here for the first time then you can check out more such informative posts on this link. Till the next post is published, you take care and keep smiling.