Meals on wheels is a very interesting topic in itself. For me, the food trucks have always symbolized the progressive culinary journey which is a people's favourite choice. Food offered in these trucks is amalgamation of fast paced lives and the struggle faced in an urban world. Food trucks is one of the choices that these new breed of entrepreneurs have. They are very famously called the food entrepreneurs to sound extra cool. Today we are going to check out what revolves around this food truck culture that it is gaining fast momentum.
If you are reading this from U.S.A or the continents of America then you must be well versed with food trucks. Even in Europe, the food trucks can be seen in U.K. and some of the countries in EU. But for Asia, the upgrade is yet to arrive in a full flow. Going to a fine dining restaurant is tedious, especially because you have to dress up decently to visit one (not a thumb rule though). With food truck you can hop there in your shorts, pajamas, Bermuda, etc. and still nobody would blink an eye. This is what food truck offers, some extra comfort but at the risk of a shorter menu.
So in this detailed blog post on food trucks we will see some pros and cons of food trucks along with the usual historical digging and some funny takes on the perspective. Are you ready for exploring this meals on wheels phenomenon? Which is silently running a chunk of the economy by pleasing the right taste buds. Hate to love it or love to hate it, even with your opinions you can't resist it if the soul of a particular food truck strikes a chord with your palate.
The Precursor to the Modern Day Food Trucks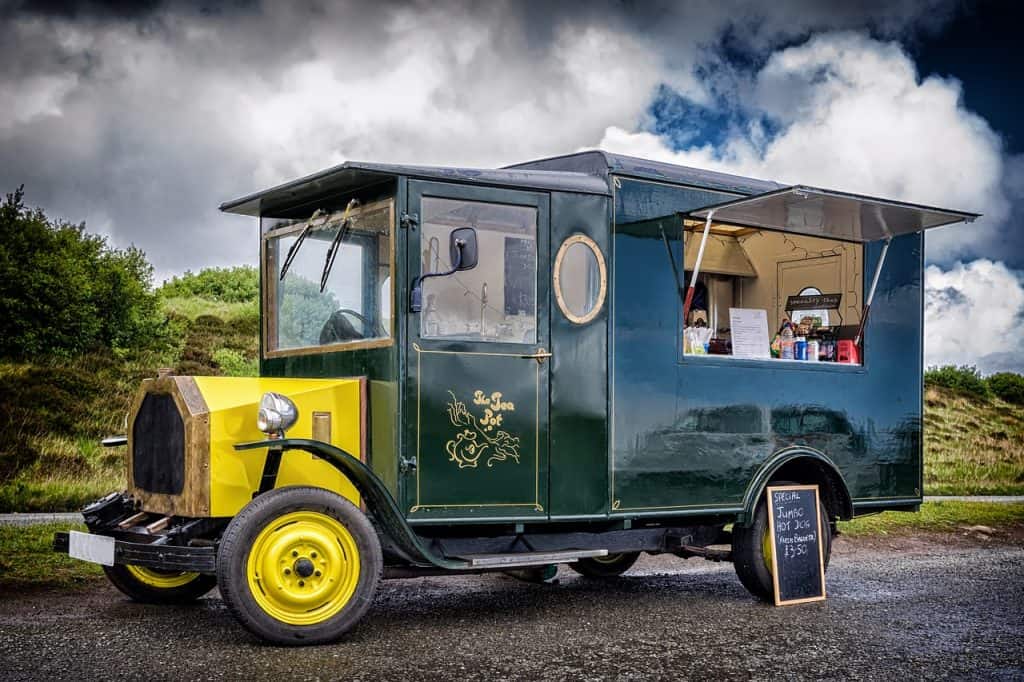 Everything has a history of its own, then how can the food trucks be any exception. Before you read it, do you want to guess a year in which you think it all started? Any random guesses are welcome, which you can leave in the comments below and then come back to read again. The food trucks as we visualize them in a modern sense were started in 1950s and primarily it all started with Ice-cream trucks. In most of old cartoon videos and children books you get to see the reference of these cute little vehicles selling good memories.
In 1960s the real large food trucks started making their presence felt. Believe it or not but these big daddies had very simple ancestors. The 'chuck wagon' invented by Charles Goodnight in 1866 and the 'push carts' which started in 1690s are the true precursors to the food trucks. The idea was incepted by means of these two. The principle of providing food on the go, and at affordable prices is an essential tradition of these meal on the wheels saviors. The chuck wagons had separate compartments, for cooking, storing, cleaning and heating. The push carts just delivered pre-packed foods. The modern day food trucks are capable of doing both these things with higher efficiency.
Food Truck Detour
Have you ever seen the inside of a kitchen belonging to a mid-sized restaurant? It is quite busy with many people working and all the cooking accessories available for perusal. Food Truck is the same exact thing with all the components packed very tightly yet in a seamless manner into a very small space. There is no luxury of space and unwanted accessories, so the organizing and management has to be top notch to survive and fare better.
So a typical food truck has 2 entrances, one at the rear which can be widely opened at times of need and another is opposite to driver's seat or a little diagonal to the driver's seat. So if you walk through this entrance, then you will see the food truck split in 2 halves.
You will glance to your left and find a huge sink, where all the dishes and cleaning is done. Above the sink you will see the storage place for utensils and vessels. Next to the sink you will probably see the working station where the final assembly of food is done. It covers the whole collapsible window. Plus it has a small computer for taking orders, along with a card swipe machine.
Just beside the working station you will see at least 2 huge gas stoves which are always busy and operational. Below the gas stoves huge racks are placed which are converted in ovens. Above this set up you will see a small protruding exhaust vent which sucks the heat and smoke from the cooking. A little further you will see space for either storage for takeaway boxes or a table top refrigerator placed just before the rear exit with a small space for generator storage beneath.
Now you turn and see the other side, which has lots of small racks attached with steel containers which has all the ingredients kept ready. On top of it you will see the special sauces and few kitchen equipment like pans, mixer blenders and couple of cooking torches. Next to it, you will find a sink with piping hot oil which is basically the deep frying station with the exhaust vent above similar to the one on the opposite end.
After this the final section has on the top refrigerator which stores all raw materials and few drinks, if the food truck serves them. The bottom space has exhaust fans to cool off the overall temperature inside. The roof is made up of glass or transparent fiber to allow maximum daylight to pass through and save energy consumption.
This kind of set up is made of stainless steel and with keeping the safety precautions and requirement in focus. When you finish this tour you just are in awe of this entire setup. I am sure if you watch the team work during operations you will be literally mind blown. This here sums up how a food truck set up is.
Most Loved Cuisine type in Food Truck Business
Food trucks are extremely local affairs, but it is not necessary that they will match the traditional cuisine of that region. It is possible that the truck is trying to introduce or bring in the taste of a different region to this place. Like I earlier said, each truck has its own soul. One look at the food truck and it reveals what it is going to offer with respect to appeasement of your taste buds. So here I will try to list down about the types of cuisines that generally are seen in the food truck business and are in good demand.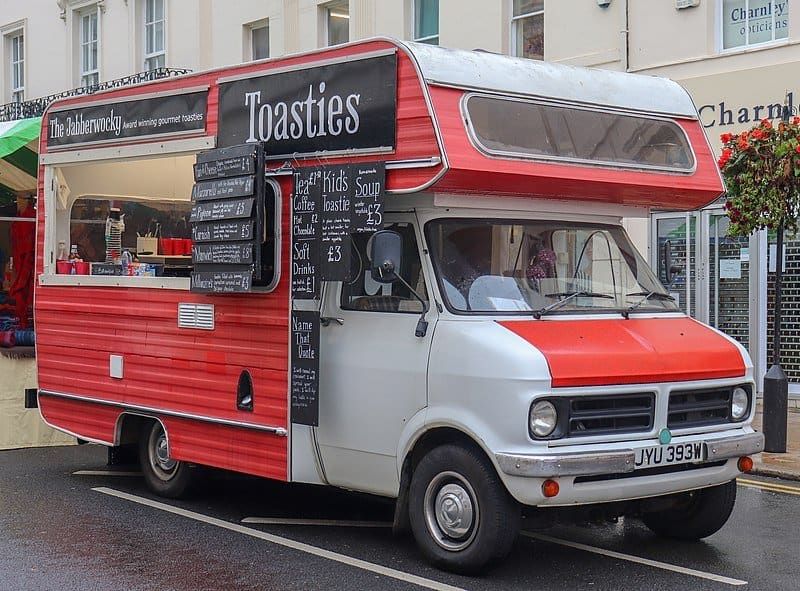 Barbeque or Tandoor
Anything rolled on the coal is pure bliss in tasting terms. For meat lovers from the western world, these kind of cuisine is always in demand. Top it up with some melting cheese and exotic herbs and you will make anyone drool. It is not only meat that taste good on coals, have you heard about Malai Chaaps? They are breaking records in Delhi and northern India and I am sure the creativity of the food truck chefs will have a lot to offer to vegetarian foodies.
Sliders & Burgers
Who doesn't like a soft and spongy freshly baked buns? Cut it in halves, add some secrets sauces and fill it with a meat patty or a vegetable patty. You will have a quick bite which is devoured literally by any foodie on this planet. These kind of foods are much preferred by the food trucks as they are easy to make and can be assembled to be served very quickly.
Tacos
This may not be as famous in India and the sub-continent, but it has a separate fan base in U.S.A. What started with food trucks in Los Angeles has now grown enormously into a dedicated food industry. So Mexican cuisine is in demand always.
Pizzas and Pastas
Can we ever thank Italians enough? For the sake of Pizza and Pasta, we can never thank them enough. Though the taste and flavours have changed as per the local palate and taste, but Pizza and Pasta are weakness of almost every global citizen. In many countries there is now a trend of portable wood fired ovens in which they bake the pizza to enhance the taste. So this is quite something that is going to gain more fan followers over the time.
Cheese Based Stuff
Say Cheese!!!! Now stop smiling, I know your eyes shine bright at the mention of this guilty pleasure. May it be a simple cheese grilled sandwich or freshly fried French fries with melting cheese dripped on it, cheese always runs in our mind. So food trucks which can cater to a cheese loving audience will always sell out fast on daily basis.
Seafood Rules
Shrimps, lobsters, and fishes, you know what is common between these sea foods? The smell!!! and the complication of cleaning them up before cooking. So if a food truck specializes in serving lip smacking sea food then the foodies just visit there in huge numbers and are willing to pay extra if the taste is good.
Gourmet Foods
These are the exceptions in the food trucks. They do not sell pocket friendly menus. They specialize in foods which is costly to source and needs intricate detailing in preparations. As compared to the fine dine restaurants the prices are considerably low. This is a new niche in food truck which is interesting many foodies out there.
Dessert Fare
Do I have to say anything more? If you are a person with a sweet tooth or without one, but everyone craves a good dessert after a nice meal. Plus restaurants serve you very costly desserts. So it is an obvious choice for you to rush at this kind of food truck which is well capable of satiating your sugar needs. That too at a marginally low cost.
These were some of the food truck niches which are doing well and aren't going anywhere for many more years to come. If you have any great idea which you think can change the food dynamics of this huge market then I guess you should become serious about it. Plan it out, chalk it down, and get working on it and I will the first one to eat at your newly opened food truck. For inspiration you can check here how the U.S.A food truck scene looks like. For global ideas you can check the list here.
What makes Food Trucks so special?
The answer to this question is absolutely one word, 'Food'. A closer look reveals much more than food that goes in to making the food truck so special. The modern restaurants have a theme which becomes their identity. Similarly each food truck has a soul based on how it looks and what it serves. To simplify this I will draw a similar comparison. If the restaurants are television celebrities, then then Food Trucks are the YouTubers which have more heart to heart connect.
From a point of a food entrepreneur, the food truck is a much viable option than a small restaurant. It saves rent money, saves operation cost and it saves the décor related investment. So at a fraction of a cost you can get started. The next big point is a short but very impactful menu. You do not offer a wide range of food options, you only sell those dishes which you are best at. This is what pulls the crowd. With the taste which is perfected by you and nobody else could offer, you make people crave for more. It liberates you in many ways and glorifies your choice of starting with a food truck.
All kind of people are welcome, irrespective of social status, financial abilities, religious differences, choice based diversities, varied opinions and differences in beliefs. They are there for the food, because you are providing them the best value for their money. You can be as creative as you want with your menu. There is no pressure. You can always experiment and get instant feedback about what works well for the foodies and what does not. So definitely it is a win-win situation for any food entrepreneur.
What is not so lucrative about it???
Running the food truck business is not at all easy. You need to work extra than the actual operational hours. Mostly standing and in a very narrow space with so much of heat. Doing that in a warm country like India is going to be tough. You are supposed to handle multiple responsibilities and manage with limited manpower. You won't get super rich by opening a food truck business. It doesn't happen like that. It isn't a side hustle where you can hire a team and expect wonders. You have to be a part of it all the time.
Expenses which are saved from renting a place, needs to be invested in fuel, supplies, salaries of your team and the parking fines or charges that can be incurred on daily basis. Then the next thing is, do not open it just because your friends love the food you cook. You can only get an honest opinion only if you ask someone who paid for the food. So test yourself in shallow waters before you dive deep without gears.
You can operate it the way you want and nobody will care. If you believe in this kind of thinking then I shall remind you that, it takes a lot away than what it has given if we take it for granted. You still need to maintain safety standards and maintain hygiene. Food authorities can shut your shop anytime. So you need to give your best shot on each and every day.
Competition!!!
In an industry with approximately $2 billion in revenues do you think the competition will be low? The answer is yes and no both. Yes the competition is high in countries where this culture is a decade old now. But in India and sub-continent the trend is recent and has the potential to peak soon. In a country like U.S.A the best of crowd is reserved to certain business parks or social hotspots. So each food truck competes for the best spot to gain maximum attention and pull a lot of the crowd.
Competition is good in this business as the stakeholders never become complacent like many restaurants which mellow down after few years. Your food truck can't compromise on taste and quality if you intend to survive for a longer period. If you do not have competition like in India and sub-continent then creating a buzz will be your challenge. So to sum this up in short, it is not going to be easy. Challenges on different levels will be your true competition.
When did the boom occur?
It is said that the food trucks famous for tacos and Mexican delicacies were a quite noticeable since 1990s and early 2000s. In fact Los Angeles is a breeding ground for the food truck culture since these many years now that the foodies residing there have so many options to gobble up on. For a detailed account on food history you can read this article from firstwefeast.com.
To be precise the boom occurred post the 2010 recession when people lost their jobs and many big restaurants were in trouble. This is where people took a daring step forward and went on to open many food trucks across U.S.A. Then in 2014 the movie starring Jon Favreau was released, which was directed by Jon himself, this movie increased the popularity of the food trucks across the world.
Closure:
This is it from me about the food truck industry. Did you like the information? Do you want to start your own food truck someday? If I get 10 positive comments in support of food trucks then you will see a complete guide on this website which will guide you on how to start a food truck business from scratch.
Food trucks are liberating the food scenario, personally for me I feel there is a lot of potential still left in this idea. I will quote just one of the many things that I have thought of. Mostly food trucks serve fast foods, so can there be a food truck which can revolutionize healthy food options and compete with the tempting fast food options. Plus there is always a vegan angle impeding recognition. The possibilities are endless and food entrepreneurs should tap in on it to cash on it later.
An industry which is believed to grow at 6% CAGR is surely a time bomb waiting to explode. In addition, it will change the game of food services in a dynamic way. The only concern I have is with over- ambitious guys who do not know how to co-exist which can make this food business toxic. Let's hope that doesn't happen. Thank you for reading. If you are here for the first time, I do write such detailed posts which you can read on this link here. With this your foodie_khiladi is signing off for the day. For any complaints or suggestions you can DM me on foodie_khiladi007.