Hello foodie, welcome back. Is the Indo-Chinese cuisine your favourite cuisine? Are you from that lot of people who directly skip to the Chinese section of the menu card? Are you the one who can't feel satisfied without either rice or noodle? If answer to any of this question was 'yes' then you are so going to love this. In this blog post you will know some facts and trivia that will surprise you about the Chinese food concept that has prevailed in India.
I assume that you must have anticipated what all things I could say, so to better your anticipation I will try my level best to startle you. Chinese food you get here in India is neither Indian cuisine nor Chinese cuisine. It is a completely separate cuisine which is more of a fusion of two cuisine styles. When were you introduced to this Indo-Chinese cuisine? For me it all began with the Nepali people coming to Mumbai with their red painted pushcarts which served the Indo-Chinese food. The way they used to make the food was simply fantastic.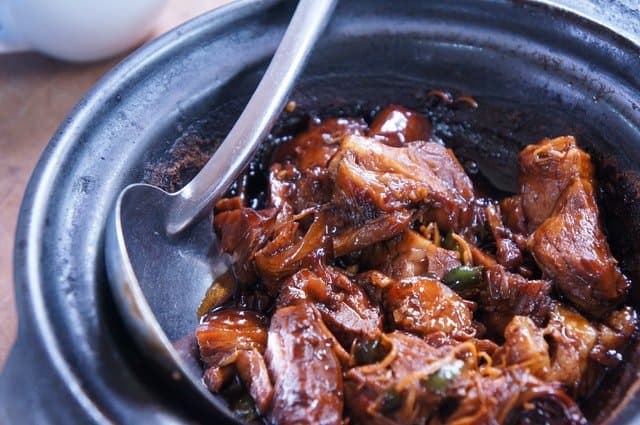 So let us just go in details and dissect the layers of the Indo-Chinese cuisine. So that we can actually know what is beneath this robe of fusion food. Where the layers of variations started to mask the originality. One thing is for sure, even if we Indians manage to ban everything Chinese, the Indo-Chinese cuisine couldn't be banned as it is not at all Chinese. I hope that makes you feel relieved. It is said that 3 out of 5 people in India love the Indo-Chinese cuisine.
Indo-Chinese Cuisine was born here
It all started in 18th century in the British colonial capital of India which we fondly call as Kolkata today. When the Hakka people entered India for better career prospects. They brought with them the flavours and style of Chinese cuisine. Soon they realized that the authentic recipes and dishes were out of balance in accordance of the Indian palate. This is where they decided to dump some original ingredients and started using Indian ingredients to transform the dishes into the modern day Indo-Chinese cuisine.
In 1990s the next wave of propagation became evident when the consumerism was on all time high due to the economic reforms undertaken by the Indian government. This is when the economy was flourishing and so did the Indo-Chinese cuisine started spreading across the country through the taste buds and word of mouth publicity.
The real flourish came in the early 2000s when the Nepali guys came along and started serving the Indo-Chinese cuisines on a pushcart. With all the visually satisfying skills on the wok they attracted the foodies and served some delicious dishes that won hearts of us Indians. The clanks and clicks of the wok and the ladles could deafen you but the aroma of the burnt ingredients spreading in the air calms you down and makes you hungrier and the same noise becomes melodious to your ears. Here is an amazingly insightful article about Indo-Chinese cuisine and its links to Mumbai. Posted on indiaquarterly.com
'Eau Chew vs others' the Chinatown Story
Yang Dazhao, popularly known as Yang Atchew, who arrived in 1778 in Kolkata and set up a sugar mill on land given to him by the British, brought people from the mainland to work for him. He could be considered a pivotal piece in tracing the entry of Chinese food culture in India. Nearly more than a century later the first Chinese restaurant opened up in Kolkata which was in the year 1924 it was named as "Nanking". It was the precursor to the modern Indo-Chinese cuisine which was soon going to create huge ripples.
Then in 1927 the Eau Chew restaurant opened in the migrant friendly place of Chinatown in Kolkata. Some people believe that it started early operations in 1922 and hence can be called as the official oldest Chinese restaurant in India. The Eau Chew is still run by the family which is ancestral owner since many years. The place is very simple with a home like feel that makes you calm and never intimidates you.
The entire place is run by the family members who look after all the aspects of the work. It starts with shopping for the ingredients, manning the cooking work and then serving the patrons on the table. The food there tries to be as close to original Chinese cuisine but with a slight inclination towards the Indo-Chinese cuisine in terms of few ingredients and taste. Some famous dishes here are the 'Josephine noodles' and 'Chimney Soup'. Located in a non-posh locality this certainly is the rightful heir to the heritage tag it has won.
Indo-Chinese cuisine dishes that aren't Chinese
As of now in the 21st century and in this phase of globalization you must be well aware that authentic Chinese doesn't at all taste like Indo-Chinese cuisine. Similar to the diversity of Indian cuisine, the authentic Chinese cuisine also varies from region to region. The Sichuan cuisine is spicy, the Cantonese cuisine is a little sweeter, and Shandong cuisine calls for a tangy and crispy treat. The Chinese cuisines use ingredients like Sichuan pepper, bok choy, watercress and similar other ingredients.
The Indo-Chinese cuisine uses local ingredients like cabbage, capsicum, carrots, baby corns, vinegar, soya sauce and Indian peppers to increase the spiciness. Indian palate is more accustomed to salty and spicy gravies with lots of oil used in the base. This is the reason that some dishes that you get here in India are either hard to find in China or are completely unheard by the locals there. Let us take a look which are those famous dishes born out of Indo-Chinese Cuisine.
Manchurian
In 1975, a chef named Nelson Wang of China Garden in Mumbai invented this dish. Garlic, ginger and chili are cooked in soya sauce to create a variant which is really famous. Earlier only chicken and cabbage was cooked but now the innovation has led to use of paneer, mutton and fish. The original dish in China is named after a region called Manchuria in China.
Chow Mein
Basically Chow Mein is all about boiled noodles cooked with scrambled eggs, greens and soya sauce. But in India if the noodles are not fried in oil then they aren't even considered edible. So the rules of Indo-Chinese cuisine calls for pan frying all the ingredients with a little bit of red chili paste and some ajinomoto.
Fried Rice
You know how much we Indians love fried stuff. The Chinese version of the recipe calls out for steamed rice along with veggies and chicken. Here in India the Indo-Chinese cuisine instructs the cook to fry it all together with sauces and make a greasier version of the dish. Of course this is all done in order to suit Indian taste buds.
Chili Chicken
Here in India the chicken is stir fried in pan with various sauces and chilies and the chicken is preferably boneless. The authentic version in China uses the offal of the birds, which include the parts like heart, kidneys, lungs, intestines and brains. These parts are either barbequed, roasted or steamed with a sweet sauce.
Hakka Noodles
Same tradition of frying the noodles continues here, just the spices are in check and no colour is added. In China noodles are mostly cooked in broths and are a good means of finishing the leftover vegetables. Even if not served with broth the boiled noodles are served with thick sauce or condiment based paste.
Spring Rolls
These Cantonese style dumplings are made in China for either welcoming spring season or around the Chinese New Year. The authentic way of preparing it is very delicate. In India the recipe remains somewhat close to the original one but at the end the rolls are deep fried. Flora Restaurant at Worli put fried Chinese spring rolls on the menu for the first time. Check out the art of making authentic spring rolls in this video.
Chinese Bhel
Forget about getting this in China, I feel even if you explain this dish to them they will faint right away. So with all due respect to Chinese cuisine we Desi Chinese lovers have managed to create some absolutely stunning dishes that are making the Indo-Chinese Cuisine famous.
This was all about the dishes that are exclusively invented in India for Indian taste buds. You can safely say that, these dishes went on to become a set template which became a separate section on the menu cards of almost all Family restaurants and bars. Then the list kept on growing with different varieties being added as the time passed by. Some restaurants became full-fledged Indo-Chinese cuisine serving restaurants with entire menu card boasting of Indo-Chinese food options.
From Restaurants to the Streets
From the historical archives it can be inferred that the Indo-Chinese cuisine is now fairly close to 100 years old in India. There are many Chinese restaurants which started operations just before the First World War. In 1970's the number went up slightly. Till 1990s the availability of the Indo-Chinese cuisine was restricted to only few elite people from a particular income bracket. The game changed completely when the new millennium arrived with a fresh energy zest of globalization.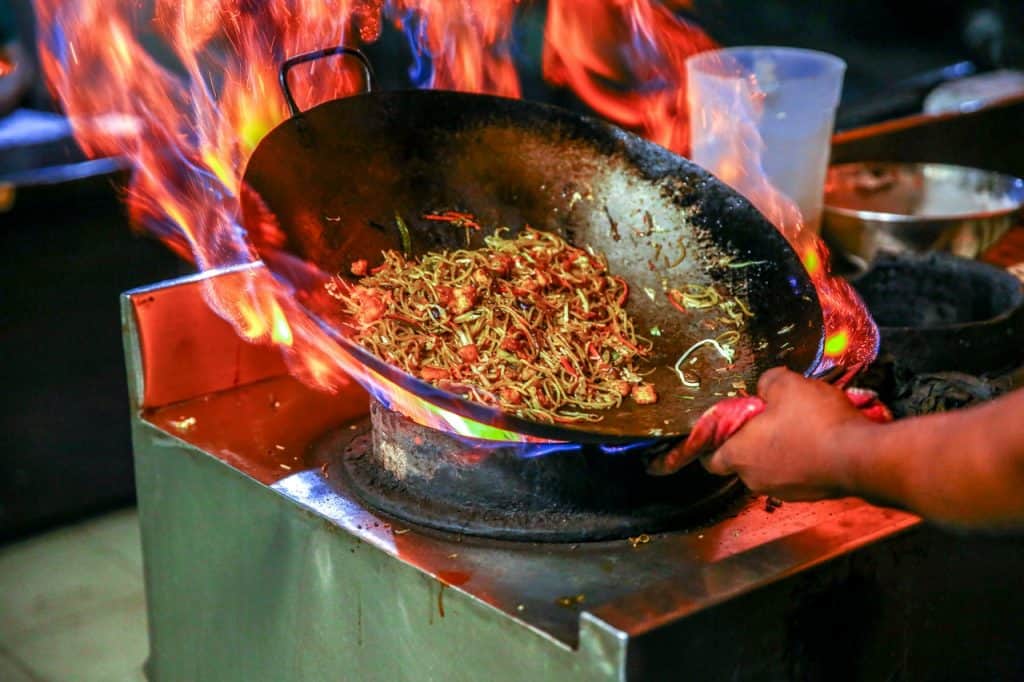 Though Mumbai and Kolkata were the two power houses of Indo-Chinese cuisine and only some authority lied with other metro cities. It was in early 2000s that a wave came in India from Nepal. Some young and dashing Nepali people came to cities like Mumbai and started selling the real tasty Indo-Chinese food at a very cheap prices.
For me the earliest memory of Chinese food was the Red wheel cart with a dragon painted on it and it being stationed on some of the busiest streets of Mumbai. The red plastic stools scattered around in a not so fancy manner. You can consider that the first appearance was as shabby as you can imagine. Still people crowded these carts because of some seriously tasty and 'right on the bucks' food served there.
In fact it was very ritualistic to reach that place by smelling the aroma of the spices being burnt in the wok, which you could easily smell from a distance of 50 good meters. As you walked near, you could hear the sound of the woks being used with the heavy ladles and the bustle going on at a breakneck pace. This combination of aroma and the sound made you drool till your order arrived. The orders generally were served in a short time, so it eventually got categorized as fast food too.
These red carts started springing in every streets and corners of the cities. Eventually in 5-6 years the same carts reached the Tier-2 and Tier-3 cities and towns. So for me personally, these Nepali owned Red carts were the true ambassadors of Indo-Chinese cuisines which successfully satisfied our taste buds.
Indo-Chinese Cuisine back to class
You know how entrepreneurs continuously lurk over opportunities. The same is the case with Indo-Chinese cuisine. After almost a good long decade of the street food appearances, few entrepreneurs thought of bringing the class back to dine in options. They started some restaurants which served Indo-Chinese cuisines along with some authentic Chinese dishes. They adjusted the ambience and the courtesies which lured the family diners to these places. Let me mention quite a few which are creating buzz since many years now.
Mainland China
You might be knowing that this chain of restaurants claims to serve some authentic Chinese food. What might surprise you is the fact that, it opened for the first time in 1994 at Saki Naka Mumbai. Plus another fact is, it is also not absolutely authentic as the Chefs and the ingredients are sourced locally. It is just that they have spiced down a little and oiled down a bit to come closer to Chinese food without offending the Indian Palate. You can visit any outlet, the service and quality is top notch.
5 Spice
Another chain of restaurants which is offering good quality Indo-Chinese cuisine along with huge quantity. I have been to many of the outlets several times now. Never ever have I been disappointed with the taste or quality. The expansion is in full flow with 10 restaurants operating across Mumbai. Soon you will see a country wide scale up.
Apart from all the big players in this segment there are some micro niche startups which specialize in a particular section of the Indo-Chinese cuisine. Few famous examples are Wok Express, Swiggy's The Bowl Company, and Faasos's Mandarin Oak. These new comers are ready to be the next big players in the space of Chinese food. I am all fine with as many as they come. As the saying goes, "the more the merrier".
Closure:
As I have credited some old restaurants and some street stalls on the street for propagating the Indo-Chinese cuisine, it would be unfair to the foodies if I do not give them the due credit. The demand for Indo-Chinese cuisine has surged because foodies wanted it to stay. So here we have a branch of cuisine which can be called the love child of Indian and Chinese cuisine. No matter how illegitimate it is but it is still born out of love. What are your views on Indo-Chines cuisine? Comment down below.
Are you fan of the Indo-Chinese cuisine or perhaps as we call it nowadays the Desi Chinese? Share this with someone you know who is fan of Indo-Chinese cuisine. How much of this information were you already aware of? Do you know some of the things that our other readers might like to read? You can mail me your suggestions on [email protected] or DM me at foodie_khiladi007.
Thank you for being a patient reader and your readership means a lot to me. I keep writing about food related stuff. You can read more such blog post which I have written on food history here. Please feel free to share with the Chinese food fans on your list. I will see you soon in my next blog post, till then take care and keep smiling. This is your foodie_khiladi signing off for the day.