There are said to be two kinds of people in the world. Let me safely start this blog on basis of this famous reference. There are two kinds of people in the world, one who like thandai with a dose of bhang and the others who just like plain classic thandai. To which kind you belong to? Are you a devotee of Shiva and so by default like the dose of bhang? Or are you devoid from the experience of bhang and enjoy thandai very much? Come on don't be neutral just pick a side.
Picking a side and then reading about something is much more fun than reading neutrally. Thandai or Bhang, here I am referring to Thandai wali Bhang as Bhang so please do not confuse yourself. Plus let me ask you one more thing. Were you aware that Cannabis is not legal in India? If you said yes and added, what kind of silly question is it, then you should know that it is just partially true.
Before we go to sober thandai I think you should know enough about the bhang, so allow me to educate you. Cannabis is of course illegal, the resins of cannabis which often are used in charas, hashish oils and liquid hashish are illegal. The flowering or fruiting tops of the cannabis plant which is often called ganja is illegal too. The leaves which is often referred as Bhang is the part of the cannabis plant that is legal in India. Isn't this confusingly interesting? Now keep reading.
Let's find the roots first
Speaking of cannabis itself, it has been mentioned in Atharvaveda around 2000 and 1400 BCE. With the rise of 10th century, it became famous due to wide usage and was popularly called the 'food of the Gods'. Maybe, this is a prime reason that its association with lord Shiva got a firm footing. Eventually it was used by the devotees of Shiva for recreational purposes. This is how it started to show up on the eve of holy festivals like Mahashivratri and Holi. Mostly disguised in the cold and refreshing drinks like Lassi and Thandai.
While we talk about Lord Shiva, the story goes like this. In the age of Gods, when there was a battle between the Gods and Demons over the elixir of life called Amrit the first reference of bhang could be found. The Amrit was supposed to churn out of the ocean and along with it came the poison (see the balance of nature), which was called the Halahala. For the greater good, the Halahala was consumed by Lord Shiva which turned his throat blue and he was called Neelkanth.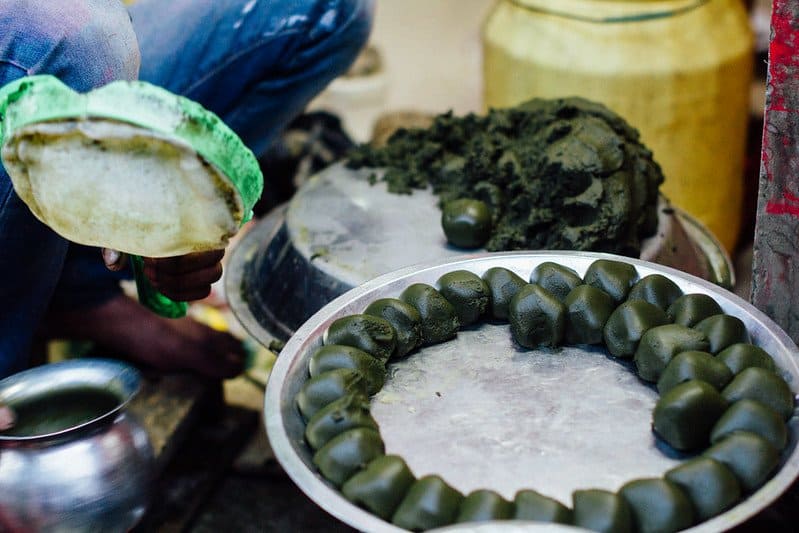 This is the version that most of Indians would know, but the backstory will surprise you. According to many pundits, the consumption of poison by Lord Shiva, led to immense pain and burning sensation. His better half, Goddess Parvati, made a bhang preparation and gave it to him. After consuming the same, the pain was relieved. What started with a therapy for pain has turned out to be many folklores and myths.
One of the famous folklore states that while the Amrit was consumed by Gods, it spilled at various places and the places started growing cannabis plants. This is why near Himalayan ranges you can see abundance of the weed. People started believing that the weed is a gift from the Gods. Which I highly doubt. Only stoners will feel offended here. But people started propagating such stories for their selfish agendas and for love of Bhang.
The recent History of Bhang
Though Indians have been using the Bhang in various forms like Bhang Thandai, Bhang Halwa, Bhang Laddoos, and so on, but the Britishers who ruled India had a chance to stop this. But clearly they didn't. It is written in many literary works that in 1890s the British people conducted the study on widespread use of bhang in India. They interviewed 1000 people who were asked a series of questions on usage of bhang. The Indian Hemps Drug Commission Report concluded in favour of usage of Bhang.
It stated "To forbid or even seriously restrict the use of so holy and gracious an herb as the hemp would cause widespread suffering and annoyance, and too large bands of worshipped ascetics, deep-seated anger. It would rob people of solace in discomfort, of a cure in sickness, of a guardian whose gracious protection saves them from attacks of evil influences." So to save themselves from the fury of millions of Indians they allowed the usage of Bhang.
The continued usage of Bhang is also attributed to the caste system in India. The upper caste Hindus were not allowed to consume any other forms of intoxication and thus they tried to find solace in Bhang. As it was already being used by many Sadhus and was justified and supported by following statements 'He who despite the example of Rishis uses no bhang at all, shall lose happiness in this life and the next', 'he who drinks foolishly or for pleasure without religious rites is as guilty as the sinner of lakhs of sins' and 'he who scandalizes the user of bhang shall suffer the torments of hell as long as the sun endures.'
Now this legacy was carried on even after India won its freedom. In the 60s and 70s the pop-culture enthusiasts and some hippies came to India and discovered a God who was offered weed. This is where they saw an opportunity to propagate numerous stories which would justify the consumption of weed by mortals. Many experts will tell you that the image of smoking Lord Shiva never existed before this.
Plus in many northern parts of India, Bhang is offered to Lord Shiva a symbolic surrender of all of life's intoxications to the divine. This is as mentioned on this wonderful article on this topic at culturetrip.com. So this offering became an excuse for many to start consuming bhang. While there is still no written or recorded evidence which states or instructs the devotees to consume bhang as a matter of devotion to Lord Shiva.
Personally speaking, even if Lord Shiva consumed Bhang I don't believe you should do so. Just for my belief which stands its ground on the statement "Can you do what Lord Shiva is capable of doing? First make yourself capable of that and then you might become worthy of it." You and I are mere mortals and Lord Shiva is beyond life and death so I personally feel that if you consume anything in name of the God then it is morally incorrect in many ways.
Still it is Legal in India
After reading till here it is self-explanatory that why Bhang is still legal in India. But just to ensure that you know the right thing I am going to write something. Please do not skip this section as this might save your from legal trouble later in life. India enacted the Narcotics Drugs and Psychotropic Substances Act in 1985 which prohibited the usage of many narcotic substances.
Cannabis was one of them and therefore it stated that consuming any resins from the plant is illegal, the same applies for the fruiting buds of the plant. The stem is also a dangerous thing to keep with you. Only the leaves were made an exception which are the true source of making bhang. So now you know which part of the plant is legal and which is illegal.
Other things to know as per the law is, if you are planning to build a fortune by selling bhang then you will need a special license to do so. You should know that you can't grow cannabis plant as this is again illegal. See how tricky and confusing the laws around cannabis are. Just to add to the confusion, you should know that harvesting leaves of cannabis from wildly growing plants is legal.
So tell me how amusing did you find this information? I found it weird but interesting. So basically you are free to collect leaves from the nature and sell it under the license but you can't grow it yourself. If it would have been legalized, then in India it would have been a win-win situation for businessmen and government. Because from a survey conducted by seedo (an Israeli data based firm), it says that taxation of this business would lead to a revenue of 725 crores from Delhi alone.
Now that these figures are out in open, it should be considered by the government as an option to raise funds. Only if the stigma around the cannabis lessened then only the government can take such a bold step.
Hiding behind the Mask of Thandai
Bhang has been often mixed with Thandai since thousands of years now. Many people who want to consume it prefer mixing it with edible stuff as the sole taste of bhang is just ridiculous as per the user feedback. So when the consumption of bhang is on its peak, that is the spring season, the people started associating it with the drinks that are happily consumed by everyone alike. Thandai was the preferred choice.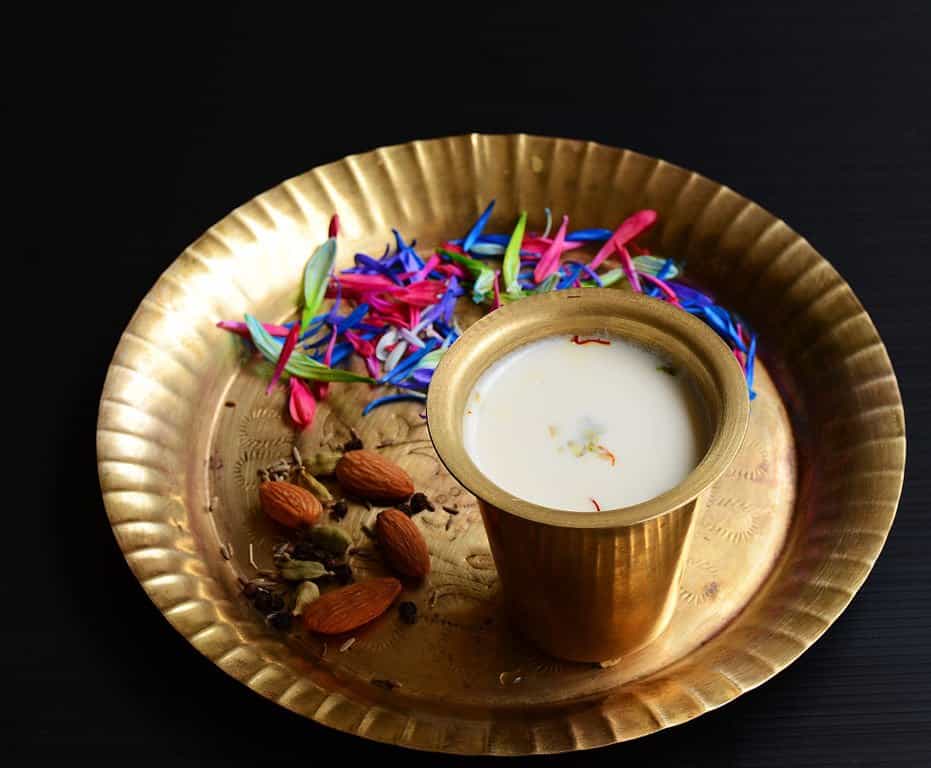 So Thandai became the official mask of bhang and both went well together. Why was it justified of adding bhang to Thandai? It can be inferred from the fact that thandai has its own health benefits. Thandai is made from a mixture of finely ground almonds, cashews, melon seeds, fennel seeds, dried rose petals, cardamom pods, black and white peppercorns and nutmeg with a dose of cinnamon. So in a diverse flavor profile the taste of bhang finds the perfect hiding.
It is also believed that Thandai was a favorite drink of Lord Shiva and someone thought of mixing two of the things associated with him to make the bhang infused thandai. I don't know if this was genius move or just an act of selfishness without any sense but as it stands this is the root where bhang infused thandai came into existence.
Thandai a perfect drink
The spring season in India is quite long and marks an end to the winters and the temperatures start soaring. This is the transitional phase of climate which weakens the immune system. So scientifically the Thandai becomes a perfect drink. It has all the cooling effect on your body and has all the nourishing ingredients that boosts your immune system. Like Bhang the hub of Thandai still remains Varanasi. Where it is often served at Mahashivratri and Holi.
These two festivals involve a lot of physical exertion due to various functions and dancing that is a part of these festivals. So in a hot environment the body burns a lot of calories and thus thandai is the savior that refreshes and nourishes you at the same time. Fennel seeds have antioxidants are anti-flatulent and have cooling properties, rose petals improves digestion, almonds are rich source of Vitamin E and have cholesterol regulating effects. I recently made the thandai at home. of course without bhang. You can check this post below and refer the comment section for recipe.
Conclusion:
This blog was just a way of letting out things that I feel about consumption of Bhang in the name of God. Thandai a drink so divine has a maligned image because of its association with something notorious that has been propagated for selfish motives of people who like to get stoned. So without bhang the thandai has its own identity and is more than magnificent when it comes to the taste. Don't trust me? You make it for yourself and see how you like it.
With this, I rest my case in a hope that I enlightened you today. If you loved this post then make sure to share it with your friends and families. If you are reading me for the first time then do check out my other blogs as well. I hope to see you soon in my next blog post, till then keep smiling and spreading the smiles.